When I encountered my first giant sequoia in the Mariposa Grove, my head didn't tilt back far enough to see the top, and walking around the trunk practically required a GPS. Leaving noise and civilization behind to walk among these ancient trees brought us to the famous Grizzly Giant, the grove's elder statesman, which rivals the Statue of Liberty in height and sports a branch extending outward that is larger than the trunks of most trees.
Welcome to just one of the many magnificent displays of Mother Nature's handiwork nurtured throughout Yosemite National Park, about four hours north of Los Angeles. The expanse of the park is invigorating, its history immersive, its beauty immeasurable, and its tiny towns intriguing. Visiting here is a visceral experience: Not only do you see its grandeur, but you also feel it inhabit your body. People have long been going here for social distancing.
Driving through the park along hilly, winding roads, overlooking the tree line beside you and toward the mountains ahead, is but a harbinger of the visual delights yet to come. Those that have succumbed to the ever-more-present California fires add a touch of sadness to the otherwise exhilarating drive.
Unless you plan to spend days exploring the park from all four entry points, accept the fact that the park is huge and you're only going to see the merest fraction of it—90 percent of visitors see only 3 percent of the park. But it will be enough to enthrall nonetheless. And there are options right outside the park, as well, that beg to be noticed.
When you think of Yosemite, maybe you visualize dramatic overlooks, soaring mountains, and rushing waterfalls. Perhaps you imagine mining towns and giant sequoias, bountiful hiking trails, and old historic villages. You probably don't picture 15,000 fossils from 700,000 years ago, a collection of Ansel Adams photos, or any number of museums that are themselves small gems of mining, ranching, Native American, and logging lifestyles.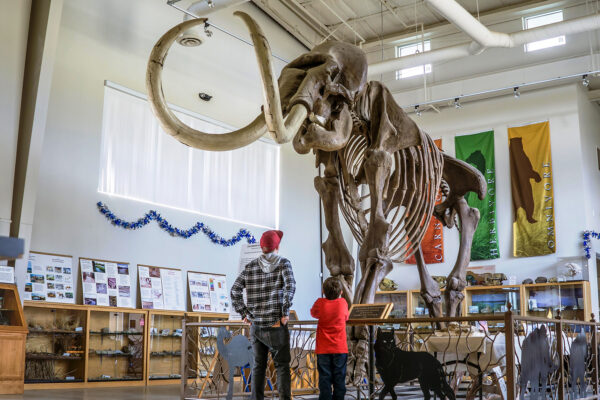 There is no way to prepare for the indescribable thrill of Glacier Point. The expansive roadside vistas make "scenic overlook" signs seem woefully inadequate. Dramatic multicolored layers of massive rock formations reach ever-skyward, punctuated by occasional waterfalls breaking through the sepia-toned line of sight. One of those is Yosemite Falls, at 2,425 feet one of the largest in North America. The famous Half Dome dominates the landscape and, as trite as it sounds, is one of the most spectacular natural creations.
We overhead a 3-year-old say, "That's a big wow!"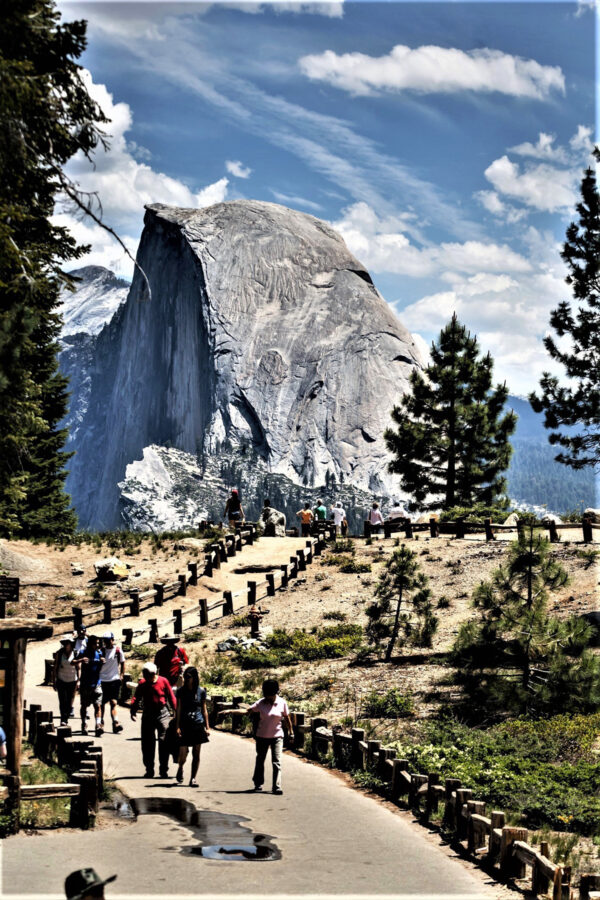 Did I mention that the views are deceptively unending and can be observed from multiple angles, each eliciting a new round of oohs and aahs? Mountainous cliffs go on and on, seemingly beyond infinity and certainly beyond one's imagination.
Give yourself time to recover a bit before approaching El Capitan, with sheer cliffs hundreds of feet high that some people actually choose to climb. I was happy to watch the little antlike climbers from far below.
Unless you easily tire of endless photo ops, take the time to stop—a lot—to appreciate yet another opportunity to revel in nature's gifts and reflect upon where you are and where you probably will often want to return.
For a change of pace from ogling—and to give your neck a chance to realign itself—a fun excursion on the 1928 Sugar Pine Railroad Moonlight Special is in order. Four miles of tracks take you through decades of history that recount the lumber industry and Gold Rush era that defined the area in the late 1800s.
Railroad buffs will be interested to know the railroad uses one of the world's largest narrow-gauge Shay locomotives still operational today. And you'll be riding in open-air log flumes replicating the way sugar pine lumber was transported from the mountains down the rivers to their land-based destinations. You're reliving history. Before you leave the station, you'll get to eat a traditional lumberjack barbecue dinner—steak, hot dogs, succotash, and baked beans—accompanied by some traditional lumberjack singalongs, all the while under the very sugar pine trees responsible for the historic majesty.
The Kids' Depot, a large toy store, will probably appeal to the kids more than the history of the lumber industry until they learn they can actually pan for gold. The experience isn't exactly a replica of the 1849 gold rush, but don't tell that to a 5-year-old. Adults, too, enjoy listening to the specific panning instructions and trying their hand at the age-old get-rich-quick venture. It's a meaningful and nostalgic way to wrap up a visit to Yosemite National Park—and your neck will thank you.
When You Go
For more information about visiting Yosemite National Park, visit nps.gov/yose. For information about exploring Yosemite's southern gateway communities in Madera County, visit YosemiteThisYear.com.
Fyllis Hockman is a freelance writer. To read features by other Creators Syndicate writers and cartoonists, visit the Creators Syndicate website at Creators.com. Copyright 2021 Creators.com