The Santa Fe International Folk Art Market has established itself as a vital road to prosperity for master folk artists and as an international meeting place for the artists and shoppers. The enthusiasm of the crowd is uplifting to the artists.
"To me, the market is incredible" said Gasali Adeyemo, a frequent vendor and respected fiber art artist from Nigeria.
Adeyemo has been invited by staff to attend the market just about every year since 2005. This year's market, which ran July 13–15, has left him feeling exhilarated.
Adeyemo specializes in indigo dye and uses the traditional designs and techniques of Yoruba batik, adire, and tie-dye. The indigo dye delivers visual contrast among shades of blue—deep, rich, and vibrant.
Each design has a specific meaning or identity and is highly labor-intensive.
"The design can become like a passport so that when you travel you can show your village of origin," Adeyemo explains on the market website.
The origins of indigo use date back to the 4th century B.C. in East India and Southern Africa.
The indigo dye comes from the plant Indigofera arrecta. In history, it's been used as an indication of royalty, English nobility, and status—commoners were forbidden to use it.
Indigo has always been very important in Adeyemo's culture and to the Yoruba people as well.

"I use the same batik, adire, and tie-dye techniques that the people of my tribe have been using for a very long time. Each of the designs I use in my fiber art was passed down through many generations, each piece having its own specific meaning," Adeyemo said. "Indigo has been used as a dye in Africa for at least 2,000 years.
The geometric batik designs are created with wax and then carefully removed after the fabric is dyed. For adire designs, he uses traditional tools: broom stalks, chicken feathers, and cassava paste. He'll use either a stencil or create the patterns by hand. In tie-dye creations, Adeyemo stitches raffia (a natural, soft, straw-like fiber) into the fabric or uses the raffia to create the design.
"The Yoruba name for indigo is 'elu.' Since the olden days, indigo has been used for medicine as well as a dye—as a cure for an upset stomach and to ward off viruses. In my country, houses are painted with indigo as a preventive measure against sickness and disease. Indigo is also the color of love in my culture."
Doorway to the World

The Sante Fe International Folk Art Market is now the largest international folk art market in the world, and its success has led to Santa Fe's designation as a UNESCO City of Folk Art, the first U.S. city named to UNESCO's prestigious Creative Cities Network, according to the website.
Every July, more than 150 select folk artists from over 54 countries travel to New Mexico's historic Santa Fe, where thousands of national and international visitors gather to admire and buy distinct folk art forms that express the world's diverse cultures.
The artists take home 90 percent of their profits.
"My pieces range in price from $50 to $150. The proceeds from the market help me pay for my nieces' and nephews' education in Nigeria. They attend Tinuola International School," Adeyemo said. He has also assisted many of his family members with food and shelter.
Adeyemo now lives in Sante Fe and has made it his business base.
Mentoring Cultivates Prosperity
Adeyemo was a student at the Nike Center for Arts and Culture in Nigeria and has subsequently become a trainer in the arts of the Yoruba people, according to a press release. When he was growing up, his mother made clothing for the family, through which he was introduced to the techniques and love for fiber art.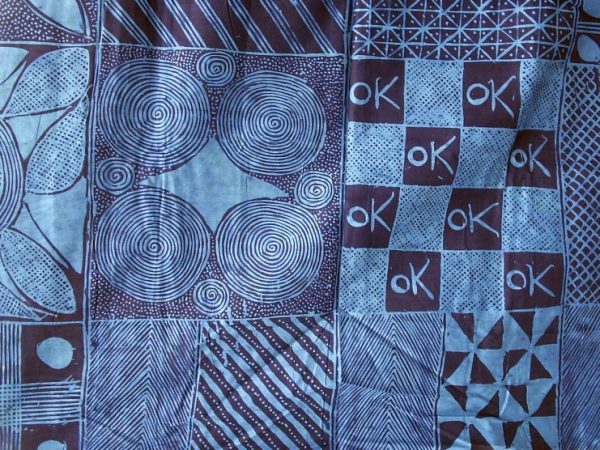 New artists to the market are receiving great support from the organizers. The Mentor to Market educational workshops have veteran market artists share what they have learned about developing their crafts and turning them into viable businesses.
As a frequent vendor, Adeyemo has been mentoring new artists for the past three years, beginning with basic business skills.
"I mainly give the same advice to everyone: Smile. Even when you are tired, you need to engage. People travel from all over the world to see you, and they want to know who you are, your country, your culture, your tradition, and why you bring these things with you to the market," Adeyemo said.
"It's not only the market, it's the connection to the people. That is the key to success. The connections this market brought me when it ended on Sunday—wow!—it's just amazing."
It's that connection the people and artists from around the world develop, bringing enthusiasm and hope, that makes the folk art market such a powerful changing force in their lives.
"I always meet many new friends at the market. This year I met a new friend from Haiti and also an artist from Uzbekistan as well as from India. The art market has the number one effect on me," Adeyemo said.
"As I was leaving, I turned to look out of the window and saw the most beautiful view. … I just wanted to stop and jump right out of the car. I just didn't want to leave."
The Epoch Times publishes in 35 countries and in 19 languages. Subscribe to our e-newsletter.