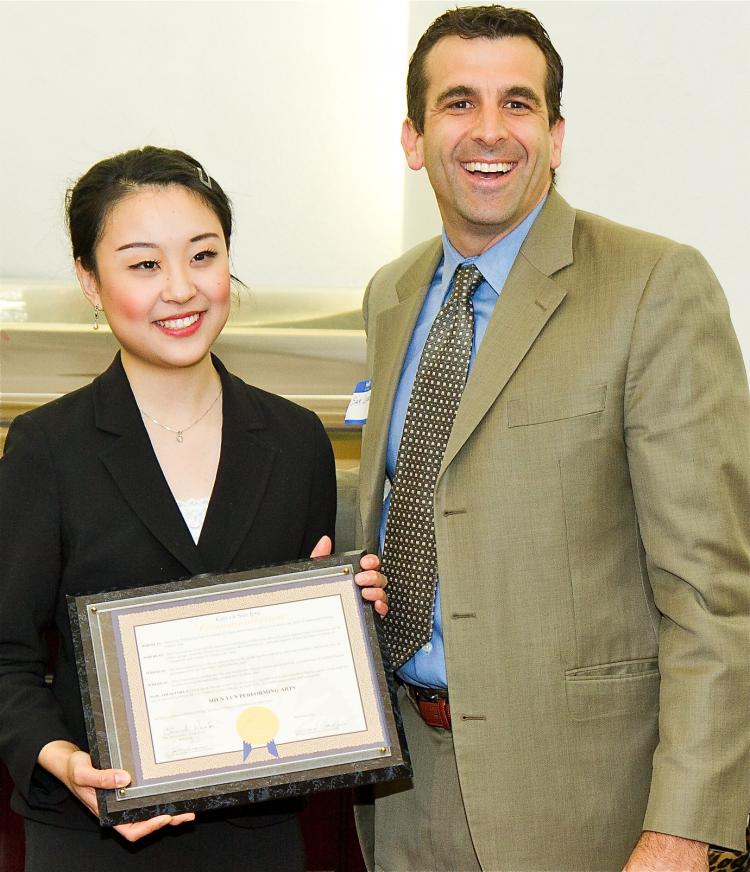 SAN JOSE, Calif.—On a spring evening in the "Capital of Silicon Valley," Shen Yun Performing Arts New York Company arrived for the first of four shows at the Center for the Performing Arts in San Jose on April 8. Sam Liccardo, San Jose city councilmember, enjoyed the "wonderful performance."
"This was an opportunity really to experience a cultural opportunity that really we don't get enough [of] here in San Jose. We really pride ourselves in being an international city, but this is a unique experience," Mr. Liccardo explained.
"I'm really proud that Shen Yun would come here to San Jose to share their extraordinary ability to perform, to dance, to sing, to entertain, but also to inspire. This is a really inspiring performance and everyone should have an opportunity to see it," he continued.
The councilmember is responsible for District 3, which includes the downtown region where the shows are being held. He was particularly fond of the athletic display put on by the performers.
"I'm a big fan of the acrobatic dancing. I've always been an action film guy so I really appreciate the extraordinary dancing and the athletic ability of so many of these dancers," he said.
New York-based Shen Yun consists of world-class dancers and singers, a majority of whom are of Chinese descent, hail from around the world.
Mr. Liccardo had some encouraging words that he wanted to pass on to the performers: "Shen Yun is bringing a valuable experience to many, many people here in California and throughout the country, and I hope they will continue to follow their passion because it is a passion that brings everybody up, everyone who is around it, participates in it, and has an opportunity to see it."
Although he loved the action scenes in the show, he was most touched by the last piece, called The Opening of Heaven's Gates.
"I think there was a wonderful moment at the end … a moment of awakening, after the very serious death of [what] appears to be a student, and then an opening of the gates in heaven. And it was a very inspiring moment when you could really feel a sense of a passion for freedom and for the ability to express oneself in a way that you don't often seen in a performance. It was really a beautiful moment," Mr. Liccardo shared.
The piece portrays the story of a Falun Dafa practitioner in China who is persecuted by the Chinese communist regime. Falun Dafa is a peaceful meditation practice founded in 1992. The persecution, which began in 1999, continues to this day inside mainland China.
With reporting by Kerry Huang and Dean Tsaggaris.
Shen Yun Performing Arts New York Company will perform three more shows at the San Jose Center for the Performing Arts, Sat. April 9 through Sun. April 10. For more information please visit ShenYunPerformingArts.org