Photographer Says Shen Yun 'very touching'
January 8, 2010 2:44 am Last Updated: October 1, 2015 8:59 pm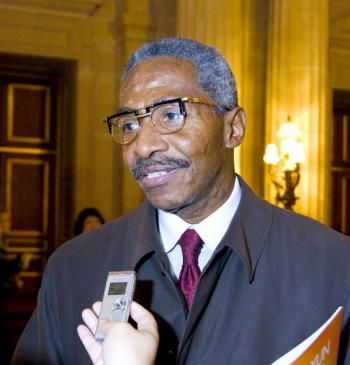 SAN FRANCISCO—After watching the Shen Yun Performing Arts final performance in San Francisco on Thursday at the War Memorial Opera House, Mr. Frazier wished that, as a professional photographer, he could have captured the magic on film.
Mr. Frazier, who is also a therapist, spoke about the impact Shen Yun had on him: "[Shen Yun] was definitely something quite different, and I was very happy that I came out. I felt that it was exceptional in terms of the history of the performance itself—all that's involved, and the traditional dance, and also being able to understand a little bit more about what's going on in China today versus the traditional China."
Shen Yun aims to revive traditional Chinese art forms, a part of culture and history that was largely destroyed under the current communist regime.
Mr. Frazier felt he was able to gain a whole new appreciation for China, learning through Shen Yun that China's 5,000-year history has impacted the whole world through art, culture, literature, and philosophy.
He was both saddened and inspired during the performance, which through dance, portrays true stories of oppression in today's China, but also brings a message of hope. "Just simply think about the freedoms that we have here that we're able to exercise, versus so many other people around the world who are not able to express their religious beliefs and their convictions freely without going to prison. That's something we definitely take for granted," he said.
Mr. Frazier felt that the reason Shen Yun has a powerful effect on audiences is that the performers deeply believe in their roles as artists and communicators and work hard to express their true culture. "You can't say enough about what I believe is the passion, the deep belief, and conviction of the individuals who are involved in this performance," he explained.
Mr. Frazier has a message for others who are considering attending Shen Yun: "It's truly something! Anyone who has the opportunity should spend the money, take the time, and come out and see this incredible performance. It was very touching to me."
Shen Yun Performing Arts New York Company will perform at the San Francisco War Memorial Opera House through Jan. 7, 2010.
For more information, please visit ShenYunPerformingArts.org