Xian Yun Academy of the Arts California held its year-end dance recital and art exhibit at the renowned Herbst Theatre on June 1 in San Francisco.
Dr. Sherry Zhang, the school principal, said, "We were not just there to admire the beauty and to be entertained, but also to celebrate the achievements of the whole year of hard work by our students."
Zhang is particularly proud of this year's seniors. They have all been accepted into top-100-ranked universities and are exceptional artists.
Two seniors, Justin Hui and Graham Sak, had the main roles in a production about the Monkey King, a character in the classic Chinese novel "Journey to the West." The production included more than 100 students.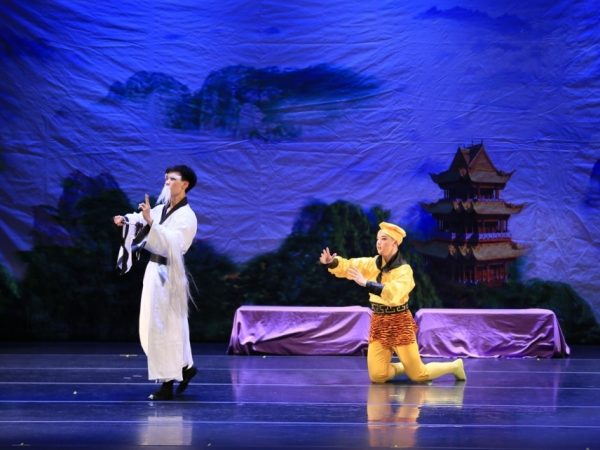 Hui, who played the grown-up Monkey King, was balancing four AP courses besides the dance rehearsals this past semester.
His mother, Cynthia Hui, transportation engineer at SFMTA, does a lot of interviews with young students. She believes that performing onstage will help her son in the future.
"I think it will help him when he goes to job interviews. When you have the confidence and are able to answer questions—that says a lot about your abilities. You shine above other students," she said.
Learning Traditional Values
For the first time in Xian Yun's eight-year existence, the school has brought to stage a dance production that didn't just present separate dance pieces. This year's four acts adapted from "Journey to the West" included students of the full-time program, the extended program, and the weekend classes. The youngest was 4 years old, and the oldest was more than 60.
Vice-principal Fengxuan Cao said, "There is a lot of content within this classic piece of literature."
Through culture in the form of art, students learn values such as respecting the elderly and parents. At a festival in the first act of the Monkey King production, an elderly woman trips and falls, and the young Monkey King, just born from a rock, helps the woman up.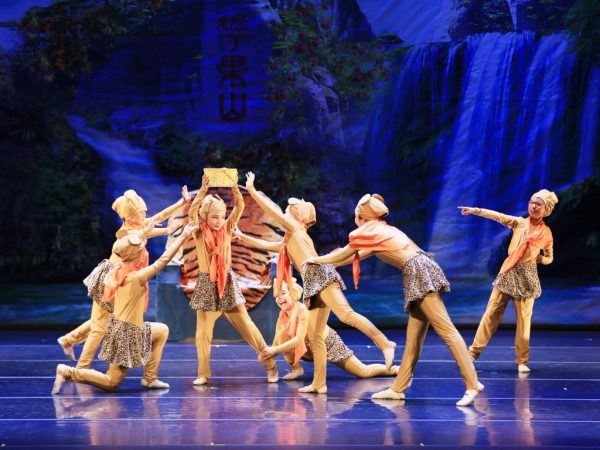 School neighbor Kathy Munderloh witnessed firsthand that Xian Yun students are able to apply what they learn. Munderloh, a retired chemistry lecturer at San Francisco State University, said: "The school is a good neighbor. We are very happy to have it in the neighborhood, and we are very happy with the kindness of the students."
Munderloh's next-door neighbor, an elderly woman, sometimes carries her groceries, and her sons usually help her.
"But one day I just saw a [Xian Yun] student leaving the school, and he saw her with this grocery and said, 'I'll help you,' and he just carried them upstairs for her. I was impressed with the kindness," Munderloh said.
Giving to the Community
Principal Zhang is also proud of Stephen Lam and his artwork exhibited in the entrance hall of Herbst Theatre.
"All of our visual arts students who wished to go professional got into the top 10 arts universities in the world. They will follow their dreams to be fashion designers, book illustrators, and animation graphic artists," she said.
Wang Yue, one of Xian Yun's art teachers, said, "The works we showed were the best works the students did this semester."
She said about one of the works that shows two kittens: "I saw the progress when Stephen was doing it. He used a very tiny brush. He drew very tiny lines. That really needs patience and a careful way to do that."
Mary Dudro, English teacher at Xian Yun, said: "The art that the students of this school produce is amazing. I saw art from sixth grade onwards."
As some of the artists were hanging out around their art, Dudro felt that the best part was to ask them which one was theirs and have them proudly show their creation.
One of her students told her that he was featured in the art exhibit and how proud he was of that.
"I could tell that for him that was such a highlight of the year that his work had been valued and respected and appreciated by all these people that he doesn't even know," she said.
Dudro, who grew up in a family that highly appreciates the classical arts, said: "Xian Yun has a really important role to play as part of San Francisco's education network. It's offering something really unique to the people who go here and to just the general community."
"Xian Yun as such a strong community is just a really positive example for other schools, for families, for neighborhoods. It really is a thriving community, and such a great example for how to get harmoniously along," she said.
Working Together
Vice-principal Cao believes that this kind of production can help students with their academic studies.
"By being in the production, it can spark students' interest to learn more about the story, the literature. They might go online and research more about the story, maybe the full story," she said.
"In Chinese History class we learned about 'Xi You Ji' ['Journey to the West'], so I remembered this part from this dance," said sixth grader Zofia Csikszentmihalyi.
Audience members were amazed by how well the dancers were in unison.
"It's just amazing how talented the students are and how they danced together. That's one of the hardest parts about dancing—being together. That was just wonderful, just wonderful. I really enjoyed it," Munderloh said.
Dance teachers worked together to choreograph pieces for their class that would fit into the whole production.
"The biggest thing that made us work was our teamwork, everyone trusting each other to follow through what we all talked about. Every single part has to eventually come together like a puzzle piece," said dance teacher Faustina Quach.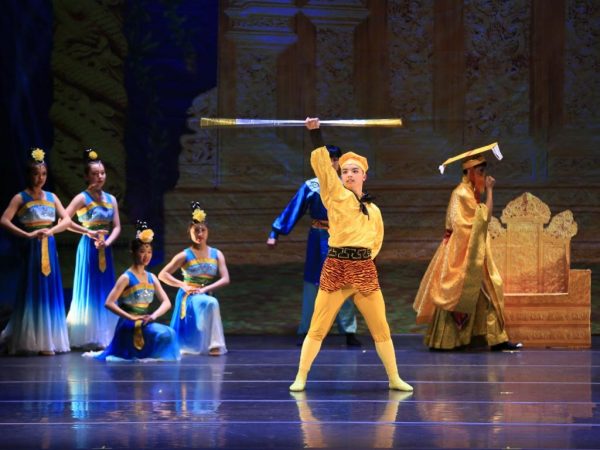 "It is really important that everybody works together as a team," said Diana Mathias, who works at the school's front desk. "To be able to have the scenery, the stage props, the music, everything done exactly right, and have the lights on in the theater and off in the theater, the curtains closing. The MCs always had to be able to come out at the right time and give the right introduction—to put on something like that is so massive."
The students, too, noticed how the pieces fit together.
"It was nice to see all the pieces come together, especially since everyone works so hard," said ninth grader Megan Xiao.
"You can see how the characters grow. You had the little Monkey King played by Alyssa who grew into the older Monkey King played by Justin. So you can see that transition in the different styles they dance," said eighth grader Tulin Chang-Maltepe.
For the first time, the Xian Yun year-end recital had a backdrop. It was produced by the school's fine arts department, bringing dance and fine arts together.
"We were really amazed with the backdrop and thought it made the whole production much better, especially for the audience," said Elva He, a dancer in the ninth grade.
Learning Life Lessons
Tony Wang, an 11th grader, spent a lot of time practicing for his calligraphy artwork.
"I used about three weeks to practice single characters. Then, for two weeks, every day I wrote one line. It was hard, very hard for me to do this," he said.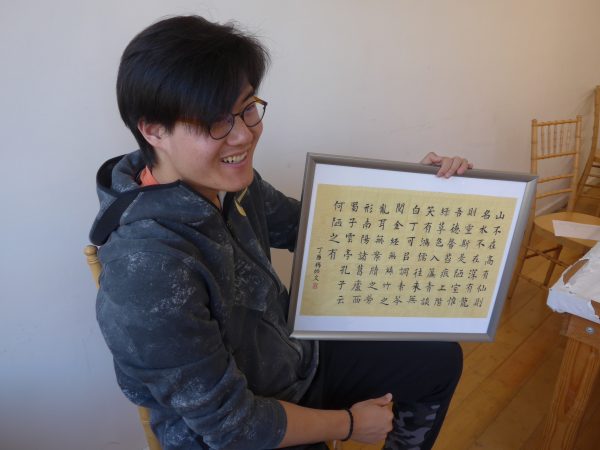 When asked what he had learned through this process, he said: "The poem taught me that you cannot only focus on the surface. You need to learn more about the depth. Some people may live in a poor and old place, but they are happy, and they are knowledgeable. So you still need to respect them."
Eleven-year-old Alyssa, who played the small Monkey King, learned from being part of the production "that it's okay if I make mistakes in the play and that it's okay to add your little fixes and tweaks to your act that you are doing."
When Justin Hui, the adult Monkey King, fell down, not even his mother knew whether it was part of the play to make people laugh or a mistake. She asked him and found out.
"It was an accident, but it made people laugh because he managed to incorporate it as if it were an act," she said.