Room to Read, Rooms for Change
April 17, 2013 11:03 am Last Updated: April 17, 2013 12:40 pm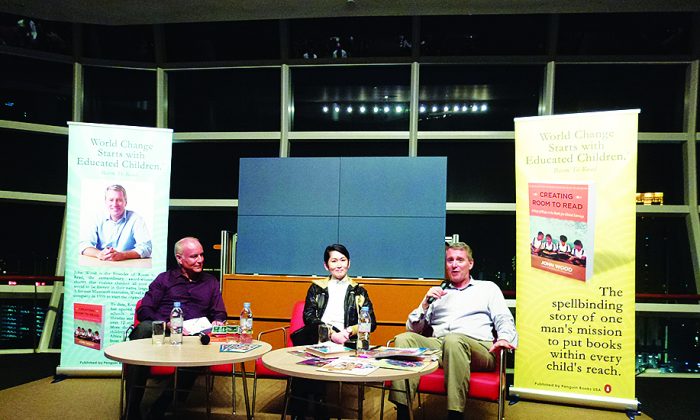 SINGAPORE–Former Microsoft business development director and social entrepreneur John Wood's second book, 'Creating Room to Read: A Story of Hope in the Battle for Global Literacy', is an inspiring and ethical business success manual. It is also a clarion call to change the world – one read at a time.
He looked forward to garbage night on Thursdays.
Camouflaged in the dark, he scoured white people's dustbins to satiate a different kind of hunger – for books. Through the tomes he salvaged, he taught himself mathematics, geography, and even how to drive a car.
Today, armed with undergraduate and Master's degrees, and notable teaching and leadership portfolios, Chris Mothupi is the South African country director of Room to Read. The award-winning organisation is one of the world's fastest growing non-profits engaged in global literacy and gender equality in education projects, in the developing parts of Asia and Africa.
Mothupi's tale was only one of many extraordinary accounts read by John Wood from his new book, 'Creating Room to Read: A Story of Hope in the Battle for Global Literacy', at National Library's The Pod last month. The founder and board co-chair of Room to Read, who wrote 'Leaving Microsoft to Change the World', was in Singapore on Days 36 to 37 of his international book tour.
Mothupi's passion for self-education parallels Wood's. As a small-town, middle-class American young boy with a voracious appetite for books, Wood cycled to his 1893 village library every week and busted the borrowing limit – at 12 books a week.
"For me, that library was everything. That opened my eyes to biographies and Abraham Lincoln and Martin Luther King. And that library became for me the most important thing in my life… It's the poor who need libraries the most… let's never forget that those who are most disadvantaged in life are those who need it.
"We got to keep libraries thriving around the world for the poorest of the poor, so that girls are not denied education if they are born at the wrong place at the wrong time," Wood said, citing the public library at Queens, a neighbourhood of first-generation immigrants, as New York's busiest library.
He is now at the right places at the right time.
Through Room to Read's libraries, children in Vietnam are devouring nine books in one night and Zambia's children are decoding words on the sides of trucks, when they had none before.
A Story of 'We'
Calling his acclaimed first book "obsolete" because it was "all about me", Wood described 'Creating Room to Read' as "a story of 'we', how we are all involved". Room to Read's staff brings their experience "from multinational corporations to leading non-profit organisations and academic institutions" to the non-profit movement, with Wood's Microsoft background as a case in point.
Room to Read's website states that their "strong organisational foundation… combines business principles from the private sector with best practices and industry-leading research from the non-profit sector".
Since its birth in 1999, over 7.8 million children have benefitted from Room to Read's more than 1,600 schools and girls' education programmes where, according to Wood, "96-97% of our girls pass to the next grade".
Over 20,000 girls have participated in the girls' education programme that provides them long-term support till secondary school.
"Finishing secondary school leads to smaller, healthier families, lower HIV infection rates, and higher wages. Educated women are more likely to educate their own children – ending the cycle of illiteracy in one generation," Room to Read's website states.
Room to Read has also opened over 15,000 libraries from 1999 to 2013 – and nearly all these libraries stay open.
"By 2005, our fifth full year of operations, Room to Read was opening libraries at a faster rate than Starbucks opened coffee shops in its fifth year," Wood writes in his book.
What is the secret behind Wood's twice-placement on financial magazine Barron's twenty-five most effective philanthropists list, despite being a "bootstrapped social entrepreneur"?
The book launch and a quick browse through Wood's tome unearthed the following business tips for the ethical entrepreneur.
It is also useful for anyone who seeks to do good the right way: Sustainability? Go Local; Get Feedback
In today's world, "charity" and "wastage" are sometimes two sides of the same coin.
We hear news about ad-hoc, one-off projects with scant impact, culture imperialism, local corruption, or not catering to real needs on the ground, with little or no survey conducted to ascertain what is most needed.
Room to Read's philosophy is different: Understand the ground and work with the ground – otherwise don't start.
In Chapter Five, Wood writes about his organisation's "Challenge-Grant Model", which seeks to help others help themselves through local offices and social mobilisers.
"One of the key elements in our success has been our insistence that local communities get involved in our projects: We are instigators, not administrators," Wood writes.
"We go into communities already identified by members of the local Room to Read team as ready and motivated… For example, we don't agree to build a school unless the ministries are able to assure us, and the village, that they'll be able to provide teachers."
And the locals are proud to be respected as co-builders.
"Many of the community residents tell us how much they appreciate being treated with dignity and being asked to help…or in the words of a mother in India: 'You do not treat us as passive spectators. We are active and proud participants who go to sleep at night knowing we've been part of creating a better future for our children,'" Wood reveals in his book.
This enabling approach to success is why Wood prefers calling donors "investors", and why he prefers calling Room to Read an "organisation" or "movement".
Room to Read's second practice for sustainability is garnering feedback from the ground – and actually acting on it.
Their survey of Nepalese students using their libraries revealed that 52% of them would use the library more often if there were more books available in the Nepali language. This prompted them to realise that cultural relevance is critical for long-term success.
Today, Room to Read is one of the biggest children publishers in the developing world and one of the world's most successful international literacy organisations, winning accolades like the UNESCO Confucius Prize for Literacy in 2011.
"Room to Read is the biggest children publisher you have never heard of… because we are publishing in languages like Laotian and Vietnamese," Wood said at the book launch. "We have now published over 850 original titles. By the end of this year, we will have published our 1,000th original title in over 20 languages."
The non-profit's research, monitoring and evaluation of its programmes have resulted in quality changes towards greater sustainability.
For example, Room to Read started implementing three years of library support and training from 2005-06, after lacklustre survey results. In 2011, their study of representative libraries that had graduated from their programme reveals 37% more moderately to highly-functioning libraries in 2007 as compared to 2003-04 (82% to a previous 45%).
Room to Read's girls' education programme has also evolved. Now it has life skills workshops, in line with World Health Organisation's 10 core life skills, to better support the girls. The retention rate is high at 95% (Girls' Education Yearbook 2011).
Some graduates from the programme are now attending university in hope of benefitting their community. Others are giving back by being "social mobilisers" to their juniors, attending to their needs and helping them graduate.
"Local leaders know how to navigate complex political issues and how to hire and build on community support… It's all about decentralising: empowering people at the level that is closest to your beneficiary, or your customer," Wood quotes Erin Ganju, current CEO and co-founder of Room to Read, in his chapter "GSD: Building a World-Class Team".
Transparency Matters
For "seven consecutive years", Room to Read has received top four star ratings from Charity Navigator, a popular rating service for charitable efficiency, making it one of "less than 2% of non-profits" with this accolade.
"Our transparency and accountability place us among the best charities," its website also states. Its financial reports are available for download there.
To ensure efficient usage of funds, the organisation emphasises data-driven results.
"We deploy more than 82 percent of donated funds to our programmes rather than to overhead," Wood writes in "'No Range Rovers': The War on Overhead".
Room to Read's policy of full transparency and accountability has earned the trust of its investors. Around the world, 56 fund-raising chapters contribute to a third of Room to Read's annual budget.
"Singapore has become one of our biggest hubs for fund-raising… It has been Number 2 worldwide," Wood revealed at the book launch, with a strong turnout from the Singapore chapter.
To Thine Own Self (& Purpose) Be True
But Room to Read might not have achieved its success today if Wood had not also been transparent – with himself.
Wood's first serious self-appraisal started with the disappearance of "twenty-five to thirty thousand dollars" in South Africa. Their former regional director was involved in it, yet it slipped Wood's attention because he was constantly travelling the world as the organisation's fund-raising ambassador.
His chief operating officer, Erin Ganju, asked to take over as CEO.
Knowing his strength was not as CEO but as fund-raiser and global speaker to raise awareness for their cause, Wood obliged.
Wood's self-awareness, and lack of attachment to power, must be seen in tandem with his organisation's purity of purpose: World Change Starts with Educated Children.
"What better way is there to change the future than to get 5-year-olds and 6-year-olds reading from a young age?" Wood said at the book launch. "I think poor people need books more than rich people do, because that's the only way they are able to get themselves out of poverty."
Wood also sees literacy as a tool for real social change.
"Once you create a mass movement… you break oppressive structures," Wood stated. He cited sexism, trafficking and slavery involving girls as the reason why his organisation is an advocate of double sex schools and libraries, and why he believes so much in girls' education.
Never Give Up
Even if you have to stockpile pens from hotel lobbies and use friends' frequent flier miles to travel for your cause.
Even if a big financial crisis leads to millions of dollars of withdrawn pledges.
Even if you are creating an organisation when the internet bubble has burst and September 11th has made your nation xenophobic.
"2000 is a terrible time to launch a charity… The first three years were so hard that I never thought I could have done it.
"So my first piece of advice for people who want to create change in the world is, 'Don't worry, it's all going to work out.' It's a long road. You have got to have to take a 5-, 10-, 15-, 20-year view, but it will work out. So never fail to believe in yourself even when the external environment is tough," Wood shared at the book launch.
"Maybe it is a crazy goal. But the fact that we'd come this far this fast is confirmation of my conviction that bold goals attract bold people," Wood writes.
And not forgetting the humility to remain attached to ideals but not power; the humanity to give dignity to people by working on their feedback and empowering them in their context; the courage to speak and write and encourage activism by example – For you might just receive a big box of pens with your company logo as a gag gift, by people who believe in you.
Find out more at http://www.roomtoread.org.