The book "Roland Hayes: The Legacy of an American Tenor" by Christopher A. Brooks and Robert Sims begins with a remarkable scene. In 1926, the famous African-American singer traveled to Georgia to meet with Joseph Mann, who had owned Hayes's mother and other relatives and on whose property the singer had been born.
Hayes wanted information about his family history and learned that some of his ancestors were known for their singing ability. At the time of the meeting, Hayes was prosperous and the former slave-owner was destitute. The meeting was cordial, especially considering that Mann had been brutal toward his slaves and had had Hayes's maternal grandfather beaten to death for running off. Hayes had the satisfaction of buying the property and then informing Mann that he could stay on for free as a tenant.
After that prologue, the biography goes back to the beginning of the singer's life. From an impoverished background, Hayes (1887–1977) overcame many hardships, including the early death of his father. His deeply religious mother was an inspiration as was the church. His first exposure to classical music was hearing a recording of Enrico Caruso, after which he decided to pursue singing as a career.
This took extraordinary determination since there was no precedent. The South was segregated; and even in the North and in the rest of the world, opera houses and symphony orchestras did not perform with black artists.
Hayes realized that to establish a career in this country, he had to make his reputation in Europe.
The biography details Hayes's efforts to gain an education and to perfect his art. Not only did he study opera but also German lieder as well as French and English art songs. You can't do better than to be coached by Gabriel Fauré in the proper way to sing his compositions.
In addition to mastering Western classical music forms, Hayes had the foresight to include in his concerts spirituals performed with piano accompaniment, a practice that many prominent black opera singers still follow today. He used the term "Aframerican," which the authors point out he didn't create but was uncommon at that time.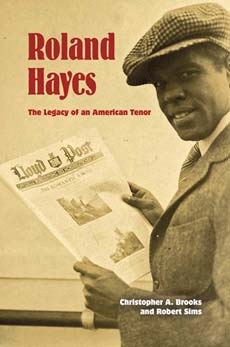 Hayes realized that to establish a career in this country, he had to make his reputation in Europe. He achieved international renown after performing before the King of England. The biography recounts a dramatic incident in Germany in 1924, where he encountered a hostile audience and won them over with his sensitive singing of a song by Schubert. Hayes came back to this country as a celebrity and made music history as the first black man to sing with a major orchestra: the Boston Symphony. He subsequently sang at top halls around the country, including New York City's Town Hall and Carnegie Hall.
There are myriad details about his business dealings. Hayes knew his own worth and demanded the most the market would bear, usually getting it. At the same time, he was tight-fisted with money and paid his accompanists as little as he could get away with. He outsmarted himself by failing to reach a deal with a record company when he was in his prime. However, it should be noted that even his late recordings reveal an artist with the ability to touch the emotions.
The biography veers into soap opera with Hayes's romance with a married countess, Bertha Colloredo-Mansfield. They had a daughter, and the liaison was even picked up by some newspapers in Europe. While Hayes apparently considered adopting his illegitimate daughter Maya, he ultimately decided against it. He treated Bertha and Maya quite shabbily, basically breaking off contact with both of them. Hayes later married his cousin Alzada and had another daughter, Africa (later changed to Afrika).
Hayes had to walk a racial tightrope because of the politics of the era. He maintained cordial relations with both Booker T. Washington and W.E.B. Du Bois, though his own views were closer to the former. He occasionally received negative publicity for performing at segregated concerts. On the other hand, he sought to obtain better treatment for black GIs during World War II, and he encouraged younger African-American classical singers. When Marian Anderson broke the color bar at the Metropolitan Opera, Hayes was in the audience. He also sent a note of congratulations at a Met performance by George Shirley (the first black tenor to star at the Met).
Despite his fame and aristocratic bearing, Hayes was the victim of police brutality during 1942. The incident began innocuously when Hayes and his wife were living on his Georgia property and took his daughter into town to buy a pair of shoes for her. They were ordered to leave the white section of the store, and the police arrested both Roland and Alzada and mercilessly beat the singer. His expression of forgiveness is similar to that of the families given by the recent Charleston, South Carolina, victims: "I cannot help my adversaries by hurt nor hate, hence the only way to remind them of their brutality is to be kind to them."
Hayes had to walk a racial tightrope because of the politics of the era.
Hayes received sporadic offers to sing on the opera stage. One was for Verdi's "Otello," a role inappropriate for his lyrical voice. He claimed he preferred singing concerts where he was the center of attention, but this was probably sour grapes. He knew that no opera house would allow a black man to play the romantic leads for which his voice and technique were perfect.
"Roland Hayes: The Legacy of an American Tenor" is an impressive work of scholarship, shedding light on a significant figure in American music and the time in which he lived.
The co-author of the biography, Robert Sims, happens to be a wonderful singer of spirituals. The Gold Medal winner of the American Traditions Competition, he has a new CD, "Robert Sims  Sings the Spirituals of Roland Hayes" (on Canti Classics).
One notable aspect of the CD is that it contains spoken introductions to some of the songs by Hayes himself, taken from interviews during the 1960s. Also, the first piece, "Keep Me From Sinking Down," has Sims singing a duet with a recording of Hayes. Although Sims is a baritone, he is a lyric one.
Also notable is the inclusion of "The Life Cycle of Christ," a collection of spirituals assembled by Hayes to tell the life of Jesus. When you hear the powerful performance of "Mumberlin' Word" about Jesus's suffering on the cross, it's clear (at least to us, though apparently not to the plantation owners) that the slaves were singing about the torments to which their people were subjected. And the chariots and morning train and good news that they sang about in other spirituals represented their prayers for freedom. Sims brings out the beauty and pain of these pieces with great artistry, carrying on Hayes's tradition.
Sims will perform African-American spirituals on Oct. 4 at 2 p.m. at Lincoln Center's Bruno Walter Auditorium (65th Street and Amsterdam Avenue); George Shirley (who recently received a National Medal of Arts from President Obama) will act as narrator.
The concert will be followed by a panel discussion with Christopher A. Brooks, Robert Sims, George Shirley, tenor Paul Spencer Adkins, and Deborah Mims, joint producers of a PBS documentary about Hayes. The venue is especially appropriate because in 1925, Walter had conducted a performance of Bach's "St. Matthew Passion" with Roland Hayes as soloist, an important event in the singer's career.
For tickets, call 773-262-9655 or go to RolandHayes.bpt.me or RobertSims.com
'Roland Hayes: The Legacy of an American Tenor'
By Christopher A. Brooks and Robert Sims 
Indiana University Press
424 pgs; $40.00
Barry Bassis has been a music, theater, and travel writer for over a decade for various publications.