PG-13 | 1h 58min | Comedy/Satire, Drama, Mystery | 23 August 2002 (USA)
During one of the "making of" segments on the DVD release of "Simone" (frequently stylized as "S1m0ne"), a few of the performers in the 2002 movie comment on the possibility of its premise becoming reality and they appear somewhat troubled. Could computer programs replace actual flesh-and-blood actors?
In his 1997 filmmaking debut "Gattaca" and his 1998 screenplay for director Peter Weir's "The Truman Show," Andrew Niccol demonstrated a keen knack for presenting artifice as reality with equal measures of satire, fascination, suspicion, and dread. Just because we have the ability to conjure fake existences doesn't mean that we should, and the fallout resulting from such omnipotent delusions could and would likely backfire. Both films were lauded by critics, and although "Gattica" was a commercial flop, "The Truman Show" crushed it at the box office, essentially giving Niccol carte blanche for his next project.
With "Simone," Niccol upped the ante on the illusion and delusion scale while simultaneously calling out Hollywood for its laziness and tendency to reward commerce over art. It was a bold, creative gamble, and in the end Niccol lost the bet. The movie took in only $19 million, and two of his superb later features ("Lord of War" and "Good Kill") fared even worse. His most recent effort ("Anon" from 2018) was panned by the press and died a beyond-quick death at the box office. Niccol is now a once-promising has-been.
Pacino's Viktor Becomes a Victim of Simone's Success
The casting of Al Pacino as struggling film director Viktor Taransky was Niccol's coup de maître. Taransky is, in effect, Francis Ford Coppola trying to convince Paramount that Pacino was the only guy he would consider to play Michael Corleone in "The Godfather." Here, Taransky has to succumb to the outlandish whims of the studio-backed Nicola Anders (Winona Ryder), a peevish and demanding actress he doesn't like or respect, who is more concerned with her off-screen perks than the complexities of her character in an artsy and tragic romance. Although he doesn't know it yet, Viktor will get the final word on the matter.
Anders's abrupt departure from the shoot raises the already simmering ire of studio chief (and Taransky's ex-wife), Elaine (Catherine Keener). She cancels the production and sends Viktor packing. On his way off the studio lot, Viktor is approached by Hank (Elias Koteas), a terminally ill hanger-on of sorts who wills Viktor a software program. Hank guarantees the program will cure all of Viktor's creative woes. Initially writing Hank off, Viktor checks out his ingenious invention and sees a way to resuscitate his down-in-flames career.
A quick learner, Viktor creates the virtual Simone (Niccol's off-screen wife, Rachel Roberts), an impossibly beautiful "actress" with the ability to convey any emotion and nuance with hints of Greta Garbo and Meryl Streep. He then digitally removes Anders from the film and replaces her with Simone. The movie is an overwhelming critical and commercial success. This leaves Viktor with the challenge of creating an equally successful follow-up—which he does, frequently at his own peril.
What Viktor didn't count on—and this is the main point of "Simone"—was his creation overwhelming and dwarfing his artistic vision. He made Simone, but he is now a victim of her success. Unless you're in front of a camera—no matter what your level of talent—you don't matter in the big picture. In this film, the days of the director as the auteur are over. Adding to Viktor's woes are two tabloid reporters (Pruitt Taylor Vince and Jason Schwartzman) who relentlessly hound him and continually pressure him to produce Simone in the flesh. Viktor faces his biggest hurdles in the third act, where he "summons" Simone in public and finds his way out of the creative hole he's dug for himself.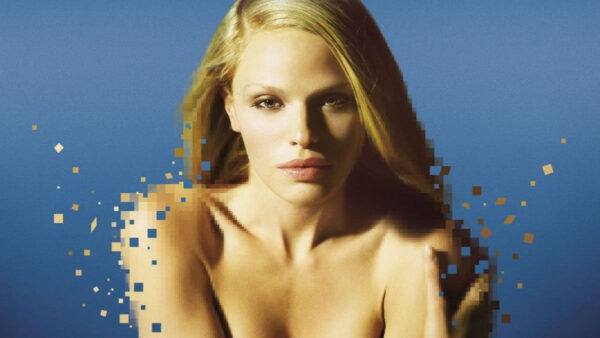 No Longer Far-Fetched 
When COVID-19 struck in March of 2020, few industries were hit harder than the movies and brick and mortar theaters. Not only did production on live-action projects cease, but the majority of A-list and tent-pole films were postponed (some for years) or indefinitely shelved. In the time since productions rebooted, Tom Cruise went on a rant on the set of "Mission: Impossible 7" where masking and social distancing requirements were not being met, and earlier this week, Sharon Stone stated that she wouldn't work on any film unless every member of the cast and crew was fully vaccinated. Considering "Casino" (released over 25 years ago) was the last live-action feature Stone starred in that made serious money, her demand seems especially out-of-touch.
All the evidence one needs to prove that audiences care far more for characters than those portraying said characters can be found in the Batman franchise. Since the first Batman feature film in 1943, a dozen actors have portrayed Bruce Wayne/Batman, and it hasn't had any negative effect on the bottom line.
Niccol isn't the first filmmaker to offer commentary on celebrity obsession, and he likely won't be the last. Twenty years ago, the premise of "Simone" seemed far-fetched; but with the meteoric advancements in computer technology, it could prove to be the harbinger of things to come. The patience of studios and filmmakers (and paying audiences) has limits regarding the whims and demands of performers. It might be time for the on-camera talent to realize that everyone can indeed be replaced, and never more so than now.
'Simone'
Director: Andrew Niccol
Stars: Al Pacino, Catherine Keener, Rachel Roberts, Evan Rachel Wood, Jay Mohr, Winona Ryder
Running Time: One hour, 58 minutes
MPAA Rating: PG-13
Release Date: Aug. 23, 2002
Rating: 4 out of 5
Originally from Washington, D.C., Michael Clark has written for over 30 local and national film industry media outlets and is based in the Atlanta Top 10 media marketplace. He co-founded the Atlanta Film Critics Circle in 2017 and is a regular contributor to the Shannon Burke Show on floridamanradio.com. Since 1995, Mr. Clark has written over 4,000 movie reviews and film-related articles.