Not Rated | 2h 16min | Adventure, Mystery, Thriller | 1 July 1959 (USA)
When it comes to film directors, Alfred Hitchcock is widely considered to be one of the greatest of all time, especially during his heyday period, which lasted from the 1940s well into the 1960s. Some of his films have been seen as instrumental in influencing the creation of future genres.
For instance, one of Hitchcock's most famous films, "Psycho" (1960) is considered by many critics to be the precursor of the modern slasher film. Similarly, his 1959 effort "North by Northwest" has certain facets that may have influenced the James Bond franchise, which took the world by storm in the 1960s. In fact, many fans refer to it as the "first James Bond film," even though the main protagonist isn't a trained spy.
The protagonist in question is a tall and debonair advertising executive, Roger Thornhill (Cary Grant), whose quick pace is almost as snappy as his rapid-fire wit. From the outset of the film, we see Thornhill constantly in motion as he leaves his ad agency, with his secretary in tow, and proceeds to plan out his schedule with her. Their back-and-forth scheduling banter continues seamlessly as they hop into a taxi on the busy streets of Manhattan.
The cab soon pulls up to a swanky dining establishment where Thornhill is to meet up with some fellow advertising execs. But just as he's settling in, he inadvertently makes a hand gesture that is misinterpreted by certain criminal elements watching the place. At that moment, he is marked as an international spy. These henchmen manage to isolate and then kidnap Thornhill.
He is whisked away to a palatial estate where he is held captive until eventually the head honcho of the spy ring, Phillip Vandamm (a game James Mason), arrives to interrogate the captive ad exec.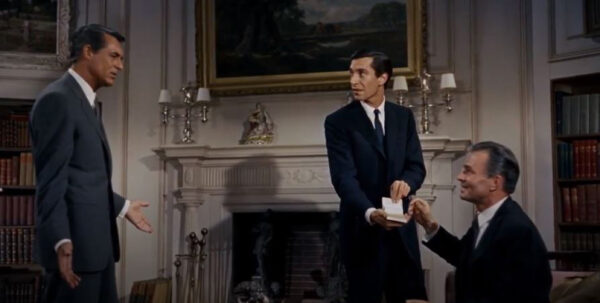 Vandamm suspects Thornhill of being a government agent named Kaplan. Although Thornhill tries his best to convince Vandamm that the whole ordeal is simply a case of mistaken identity, his pleas fall on deaf ears.
After Thornhill narrowly manages to escape certain death, he soon finds himself framed for the death of a high-ranking U.N. official.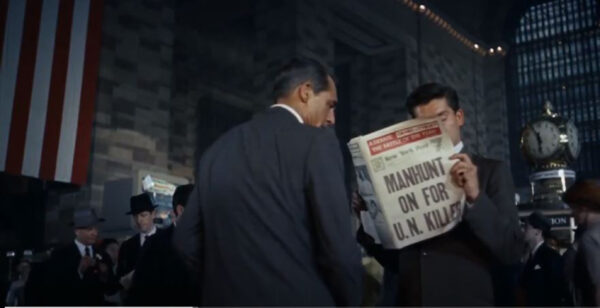 As he seeks out clues that will hopefully lead to clearing his name, he takes a cross-country train on which he meets the beautiful Eve Kendall (Eva Marie Saint). She turns out to be the one person who seems to believe his rather outlandish story.
Kendall helps Thornhill evade capture by authorities who are hot on his trail, and the two bond in scenes that are considered pretty racy by 1950s standards. Questions soon arise: Does she truly have his best interest in mind, and is she who she says she is?

There is an especially tense scene in which Thornhill is to meet up with the "real" Kaplan, whom Thornhill is suspected of being. Under strict instructions, he travels by bus to a desolate area of Indiana that has nothing but sprawling crops and cornfields as far as the eye can see.
As he awaits Kaplan's arrival, several vehicles approach him, and each time Thornhill expects them to be carrying the mysterious man. But his hopes are dashed every time they pass him by. Finally, a plane that has been supposedly crop-dusting in the distance begins to fly directly at him. It flies so low that Thornhill has to dive out of the way of the plane's lower fuselage. Additional fly-bys have the plane shooting at our protagonist, and a real sense of dread begins to creep over the proceedings. How will Thornhill ever be able to defend himself against an airborne enemy out in the open plains?
Despite all the life-or-death scenes, "North by Northwest" is one of Hitchcock's most whimsical thrillers. The script, written by Ernest Lehman ("The Sound of Music," "West Side Story"), allows Grant to flex his natural comedic muscles and get away with things other actors couldn't. He oscillates between expressing fear and anxiety with equal measures of wit and quirkiness. Thus, the film exchanges much of the heaviness of films like "Rear Window" and "Vertigo" with a buoyant charm that elates, rather than discourages.
'North by Northwest'
Director: Alfred Hitchcock
Starring: Cary Grant, Eva Marie Saint, James Mason
Not Rated
Running time: 2 hours, 16 minutes
Release Date: July 1, 1959
Rated: 4 stars out of 5

Ian Kane is a filmmaker and author based out of Los Angeles. To see more, visit DreamFlightEnt.com or contact him at Twitter.com/ImIanKane