PG-13 | 2h 32min | Action, Biography, Drama | 15 November 2019 (USA)
I've never been a huge fan of racing films. I'm not a gearhead and don't watch racing as a sport. The goofy, unrealistic car-action stunts and the shallow storylines of perhaps the longest-running racing series—"The Fast & Furious" franchise—hardly did anything to change that. However, after seeing the trailer for 2019's "Ford v Ferrari," I decided to give it a shot. And boy, am I glad I did.
The film is directed by James Mangold, who comes mainly from a background of making episodic TV series. As such, the movie has sort of an episodic structure to it and is a little long, as it tries to pack in as much about the two main characters' lives as possible: Friends Carroll Shelby (Matt Damon) and Ken Miles (Christian Bale) chase after their dreams of racing fame and fortune.
It opens in the year 1966. The Ford Motor Company, headed by Henry Ford II, who is the eldest grandson of Henry Ford (Tracy Letts), is struggling to save his family's business. He redirects the company's energy and money into building race cars. He figures that if Ford can construct cars good enough to win some world-class racing tournaments, his company will not only gain prestige but also be able to charge more for Fords. The only problem is that Italian carmaker Ferrari has long dominated the racing scene, including one of the most famous races, the 24-hour Le Mans.
Ford Motor Company's sales and marketing guru Lee Iacocca (Jon Bernthal) is tasked to hire someone who can build such a car. Iacocca decides to hire Shelby, a former racecar driving pro who has been sidelined due to health issues. Shelby, in turn, hires his pal Miles—a master mechanic and driver who has an ingenious knack for designing cars to reach their optimal performances.
The only hitch is that passionate Miles is notoriously hard to work with and often rubs people the wrong way. This becomes all-too-evident when Miles meets top Ford executive Leo Beebe (Josh Lucas), and the two men immediately bump heads.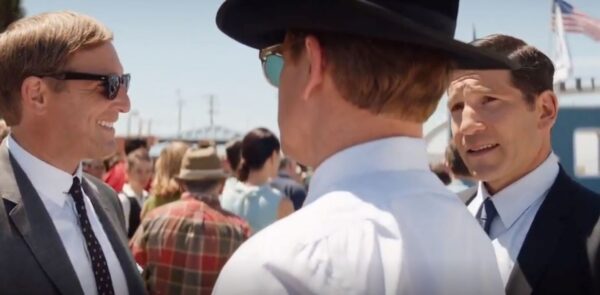 After the film's first act, it settles into a touch-and-go cadence that largely features the drama between the various Ford execs, Shelby, and Miles, as well as tidbits of Miles's family life sprinkled in—including his loving wife, Mollie (Caitriona Balfe), and son, Peter (Noah Jupe).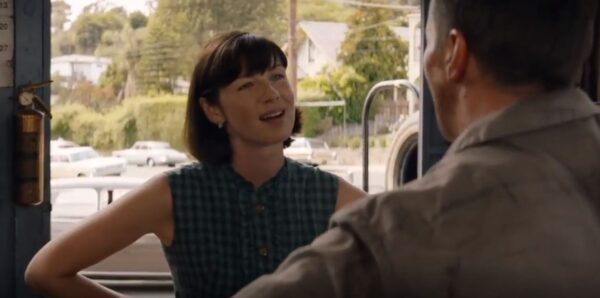 Shelby's enduring friendship with Miles takes front and center as he attempts to keep his volatile friend out of trouble. It doesn't help that Beebe is constantly scheming to have Miles removed from their newly formed Ford racing team.
Miles's skill and talent as a racecar driver soon become undeniable as he rockets, mercurially, to first place in race after race. These racing scenes feel grounded and are extremely well-shot—none of the usual CGI-laden Hollywood nonsense here—just beautiful shots of both the racecars and their jaw-clenching drivers as they try to outmaneuver one another over various racetracks.
After Miles wins several races, including the 24 Hours of Daytona, a highly competitive race, and the 12 Hours of Sebring a few months later, he earns his team's place at Le Mans.
As the tension ratchets up heading into the Le Mans, we wonder if Shelby and Miles will be able to actualize their dreams of winning this most prestigious of races. Or will the Ferrari team take first place as usual?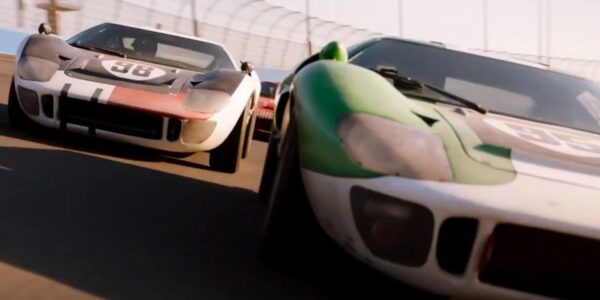 Interestingly, even though the racing scenes are intense and well-directed, most of the drama takes place off of the racetracks. At its heart, the film is a tale about the steadfast, everlasting friendship between two men—Shelby and Miles—and the various tribulations they have to overcome in order to realize their championship dreams.
The acting here is spectacular, with Damon's more steady character, Carroll Shelby, meshing well with Bale's cantankerous and unpredictable mechanic, car tester, and racecar driver, Ken Miles. The two have an easy chemistry that makes their scenes a pleasure to watch, despite the film's overly long runtime. The supporting cast also does a great job of pulling viewers into the world that these intense, real-life characters inhabited in 1966.
More of a buddy drama than a racing film, "Ford v Ferrari" delivers some great, high-octane entertainment.
'Ford v Ferrari'
Director:  James Mangold
Starring:  Matt Damon, Christian Bale, Jon Bernthal
Rated: PG-13
Running Time: 2 hours, 32 minutes
Release Date: Nov. 15, 2019 (USA)
Rated: 4 stars out of 5

Ian Kane is a filmmaker and author based out of Los Angeles. To learn more, visit DreamFlightEnt.com or contact him at Twitter.com/TheRealIanKane.