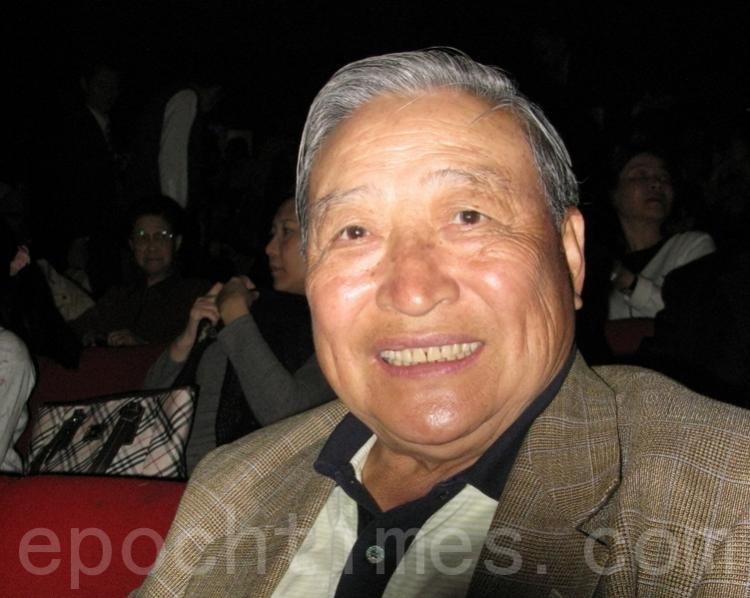 TAIPEI, Taiwan—The second additional show of Shen Yun Performing Arts International Company, staged at the Dr. Sun Yat-sen Memorial Hall on April 20, drew a full-house audience. Among the audience was Mr. Liu Jizheng, a retired army lieutenant general and the director-general for the Alumni Association of Army Academy. After the show, he praised Shen Yun performance's exquisiteness, saying "Shen Yun broadens my horizons and enthralls me."
Accompanied by friends to the show, Mr. Liu highly acclaimed Shen Yun artists' outstanding dancing skills. "They have great capacity and disposition, which lead to outstanding attainments. I am really amazed by their solid dancing skills. Their dances are just superb!"
About Shen Yun's incorporation of high-tech dynamic backdrop to present Chinese classical and folk dancing, Mr. Liu said, "From the perspective of arts, this is rarely seen." The successful collocation of Chinese and Western musical instruments to create music with a strong Chinese quality also attracted Mr. Liu's attention. "The music is just beautiful," said he.
Entranced by the euphonic music and exquisite classical Chinese dances, Mr. Liu said excitedly, "Shen Yun's majestic performance has broadened our horizons. The collocation of the entire programs is excellent. Such a performance cannot be found elsewhere. I am very pleased having the opportunity to see it."
At the end of the interview, Mr. Liu concluded, "I feel that I am still immersed in the delightful atmosphere."
'The music is great'
British-born James Spencer, Curator of Taipei Chang Foundation Museum, also watched Shen Yun Performing Arts International Company's on the afternoon of April 20. This was his first time to see the New York-based Shen Yun's performance of classical Chinese dance and music.
Mr. Spencer highly praised the show, especially the application of high-tech backdrops.
"Very good, very good, I think they dance well, and the colors are beautiful." He said in Chinese expression, "What I like most are the backdrops." gesturing towards the back of stage.
He continued, "My favorite is Qin Shi Huang's army (Recalling the great Qin), full of feeling."
According to Mr. Spencer, this dancing represented the characteristics of Qin dynasty, and the backdrops displayed the army as "very majestic, grand, and excellent."
He also pointed out, "It must have been a considerable effort to prepare such a lot of programs. So many people participate in the show, very good indeed. The colors are very pleasant, which are different from what I have seen before."
He particularly mentioned Shen Yun's colorful representation on the stage, "the color of costumes and the backdrops have been nicely coordinated."
Aimed to inherit and spread the authentic Chinese divinely-imparted culture, Shen Yun demonstrated the solemn and splendid scenery of the Buddhist world, as well as Buddhist cultivation.
For this part, Mr. Spencer indicated, "I am a Christian, not so familiar with Buddhism, but I can appreciate."
The solo programs by tenor, baritone and sopranos, which Mr. Spencer appreciated, "they are all very good, the lyrics contain ideas."
He loved the orchestral blend of Chinese and Western instruments, "The music is great, I am a foreigner, but I have a feeling for traditional Chinese music."
As curator of Chang Foundation Museum since 1989, Mr. Spencer said he had been living in Taiwan for 22 years, and become "accustomed to being here. I like Chinese culture. It is very good to have this chance to see Shen Yun today."
Reporting by Huang Caiwen and Yueh Yun.

New York-based Shen Yun Performing Arts has three touring companies that perform simultaneously around the world. For more information, visit ShenYunPerformingArts.org