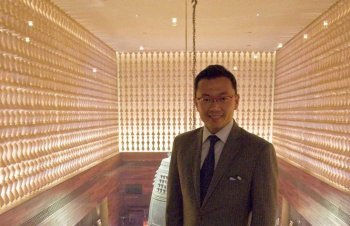 A new Japanese culinary wind blows in New York City. Dismiss the word sushi for the moment and open your mind to new gustatory experiences at MEGU (meaning blessing), a fine dining venue headed by Hiro Nishida, a Tokyo native, President and CEO of Food Scope America, Inc. The establishment prides itself on the use of only the finest ingredients in their extensive menu and introduces the diners to various Japanese-style cuisines from different regions in Japan such as Kaiseki and Kyodo.
It is not merely the menu that excites. The interior also leaves the diner with an unforgettable impression. Respected Japanese interior designer Yasumichi Morita blended modern design with traditional modes of Japanese décor: white porcelain columns consisting of 5,000 interlocking rice bowls, sake vases lining the upper walls overlooking an 800-pound temple bell hanging above a Buddha ice carving. The ice sculpture rests in a shallow pond, in which float red rose petals. Nishida graciously consented to an interview.

Nishida arrived in New York City two months after the 9/11 disaster. He decided to establish a business in the Tribeca section, the hardest hit during the inferno, when most businesses decided to leave. He and his partners had always wanted to do Japanese food in New York City. They studied the market and found two styles of Japanese eateries from his homeland here, two almost traditional taverns, Sakagura, and Donya. Nobu and Sushi Samba are fusion-style places. Japanese sushi chefs are in charge of the sushi, and non-Japanese chefs create the rest of the food offered at these places.
According to Nishida, he did not find authentic Japanese cuisine in New York that would appeal to an international patronage with an educated palate. The 48 specific regions in Japan each feature their own unique food preparations going back 500 years, though ancient Chinese influences are apparent in most Japanese cookery. "We wondered how we could introduce the many fabulous dishes and their spectacular presentation found in Kyodo cuisine to our restaurant patrons. To make this possible, we at MEGU decided to select a few that would become icons on the menu, such as the Okaki asparagus preparation and presentation. The eyes eat too, you know!" He continued, "Laying asparagus flat on a plate is not as visually enticing as standing it upright."

Nishida and his staff have carefully selected all ingredients from Japan and present them to diners in a novel way, such as seafood dishes from the northern regions, Kobe beef from the south, the world's most expensive and tastiest beef to be had anywhere. He also compared prices at Nobu with those at his establishment; his might be a bit higher, but the offerings and presentations are well worth it.
And for his Kobe and Matsusaka beef selection, Nishida chose as his supplier a West Coast rancher in the United States because the cattle comes from the Tajima lineage, one of the two main lineages in Japan. He found the sanitary practices and the feed at this supplier to his satisfaction, and thus feels confident that he offers his customers only the best. The beef selections, listed at the top of the menu, make up seventy percent of the restaurant's sales and the sushi sales amount to thirty percent.
Nishida has worked in Japan's foreign affairs department. He also spent six months in an African nation as an importer of Japanese and Indian technology. Next came a stint as a headhunter for a company, and then a nursing home business that eventually grew to 1,200 facilities throughout Japan, making them the largest provider. He discovered in his research that one of the most pleasurable experiences for older persons is the enjoyment of food. To understand New Yorkers' appreciation for food, he traveled the City by bicycle and would visit about 20 restaurants a day.
Nishida's intent is to bring the best of Japan's flavorful cuisine to American palates. Working in the foreign affairs department and with export-import enterprises in Japan made him realize that Japanese cuisine and foods need larger exposure. He intends to cater to a certain clientele to those people who do not mind spending an average of $100 per person to dine at MEGU. His background has prepared him well to venture globally. His dream is to create a brand and have it eventually be known globally.

And he appears to be well on his way. MEGU, New York is located on one of the city's smallest streets, is not the only restaurant for Nishida. The next one will be in Moscow's Lotte Hotel, owned by a Japanese conglomerate that hopes to expand to Korea. The two restaurants will be called Les Menus Par Pierre Gagnaire and MEGU. MEGU will also be opening on Pearl Island in Doha and multiple locations in India with the Leela Hotel Group within the next couple of years.
MEGU is definitely for the well-heeled, discerning diners who want to experience a top-notch meal in fabulous surroundings with the best service available anywhere.