Restaurant Owner Says Shen Yun Conveys a 'Very Important Message'
April 7, 2014 5:05 am Last Updated: April 9, 2014 5:09 am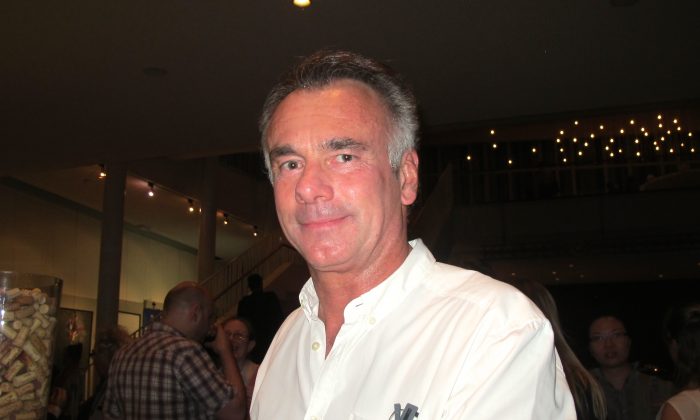 BRUSSELS—Restaurant owner Jeandrain Thierry appreciated Shen Yun Performing Arts classical Chinese dance and music presentation held at the National Theatre.
"The show is wonderful, because of the color of the dancer's costumes and the message that [they] are sending us. I liked it very much," Mr. Thierry said. "The show was very well done—the songs are very impressive … and the message is very important."
"The primary trait that distinguishes the singers of Shen Yun is their use of bel canto technique to sing Chinese text," Shen Yun's website explains. "This means that the singer must, while continuing to meet the challenges inherent in bel canto technique, retain proper Chinese pronunciation and diction. Today, these singers' ability to do this is unparalleled."
Mr. Thierry said he enlightened to a message Shen Yun had conveyed through its performances.
"I think the message is a little bit universal, and it's a message of how to run one's own life—with a little bit of freedom and in a positive way," he said. "I am sure about that. I think [China] is one of the first nations who has understood a little bit of the way of living, in a good way."
Formed in 2006, New York-based Shen Yun drew award winning artists from around the world to revive what was almost lost under communist rule, the authentic Chinese cultural heritage, according to the company website.
"Sophisticated dance techniques, an orchestra joining instruments from both the East and West, beautiful costumes, and a stunning back drop—this is Shen Yun at first glance.
"But digging deeper, one discovers a sea of traditional Chinese culture. Mortals and divine beings merge on stage as one.
"Principles such as benevolence and justice, propriety and wisdom, respect for the heavens, and divine retribution, all come to life, washing over the audience. Originating from Confucianism, Buddhism, and Taoism, these ideals are the essence of traditional Chinese culture," the website says.
Reporting by Mary Mann and Raiatea Tahana-Reese
New York-based Shen Yun Performing Arts has four touring companies that perform simultaneously around the world. For more information, visit Shen Yun Performing Arts.
The Epoch Times considers Shen Yun Performing Arts the significant cultural event of our time. We have proudly covered audience reactions since Shen Yun's inception in 2006.