NEW YORK—I'm often surprised how small certain famous works of art actually are. Rembrandt van Rijn's "Self-Portrait Etching at a Window" is a prime example, only roughly the size of a hand. It's the first work you experience at The Metropolitan Museum of Art's exhibition "Selections from the Department of Drawings and Prints: Rembrandt," commemorating the 350th anniversary of his death, and running until July 28. It's a black-and-white print, full of emotional color.
I navigated around a few patrons until I was directly in front, alone with Rembrandt peering back at me. But as I moved, the maestro never stopped studying me. I imagine it's the way he would intently observe people on the street, recording the nuances of human behavior and emotion for his next work. His facial expression and easy posture disarmed me—from his slightly furrowed brow and softly pursed lips formed from contemplative concentration, to his hand's poised tension, holding a pencil or etching instrument, ready to resume his art.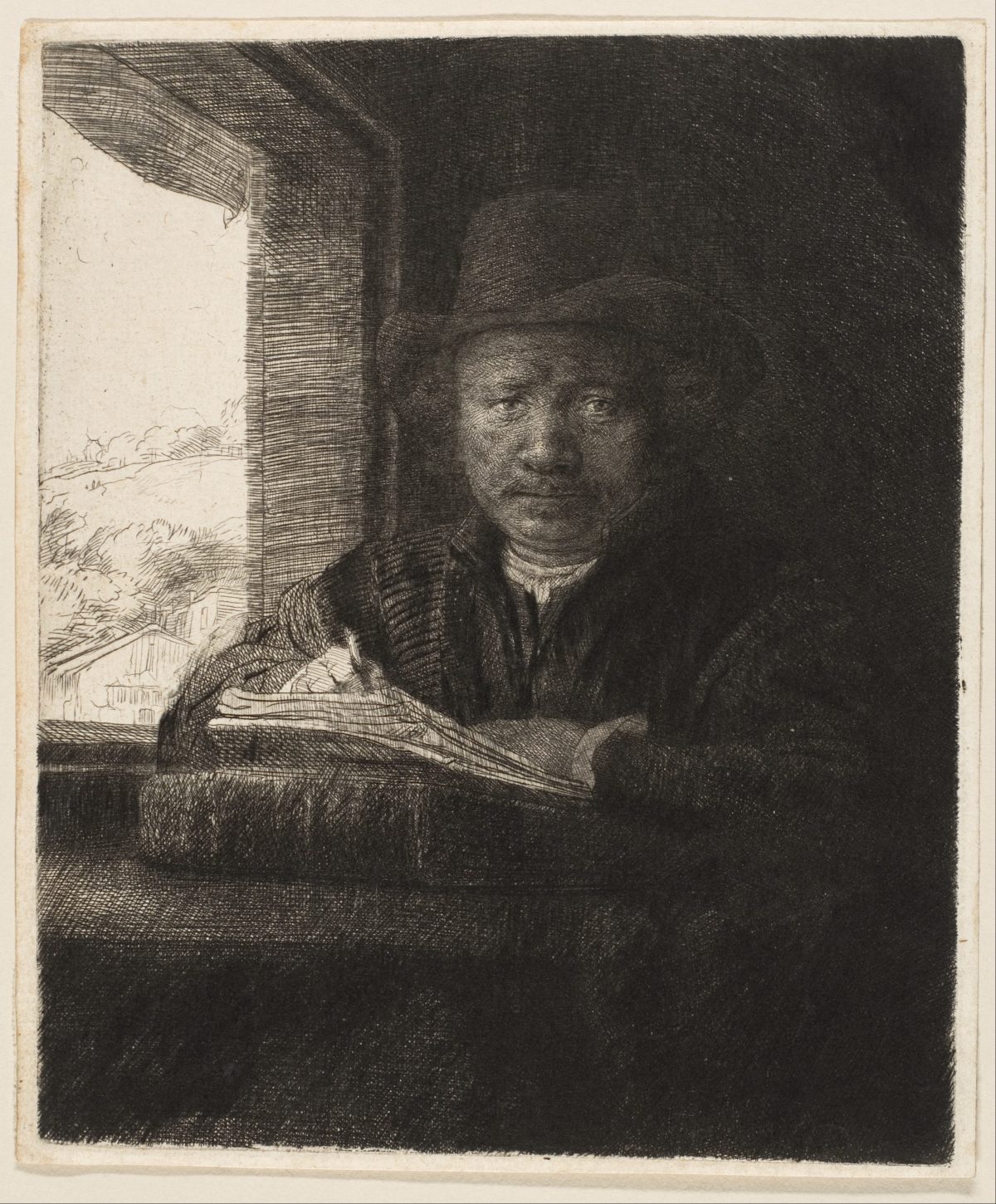 "With just a few lines, [Rembrandt] can evoke a pose that just speaks [to you]," says Nadine Orenstein in a phone interview. She's the exhibition curator and Drue Heinz curator in charge of the department of drawings and prints.
Orenstein says that what's interesting about this self-portrait is that you can read a lot of things into it: He was a master of human nature [and] capturing humanity," she says. In addition to the realism he brought to etching, Rembrandt wanted to "create depth and detail in something that's just dark and black and white."
Painterly Printmaking
Rembrandt transformed the medium of etching by adding details, textures, and three-dimensional depth unlike anyone before him.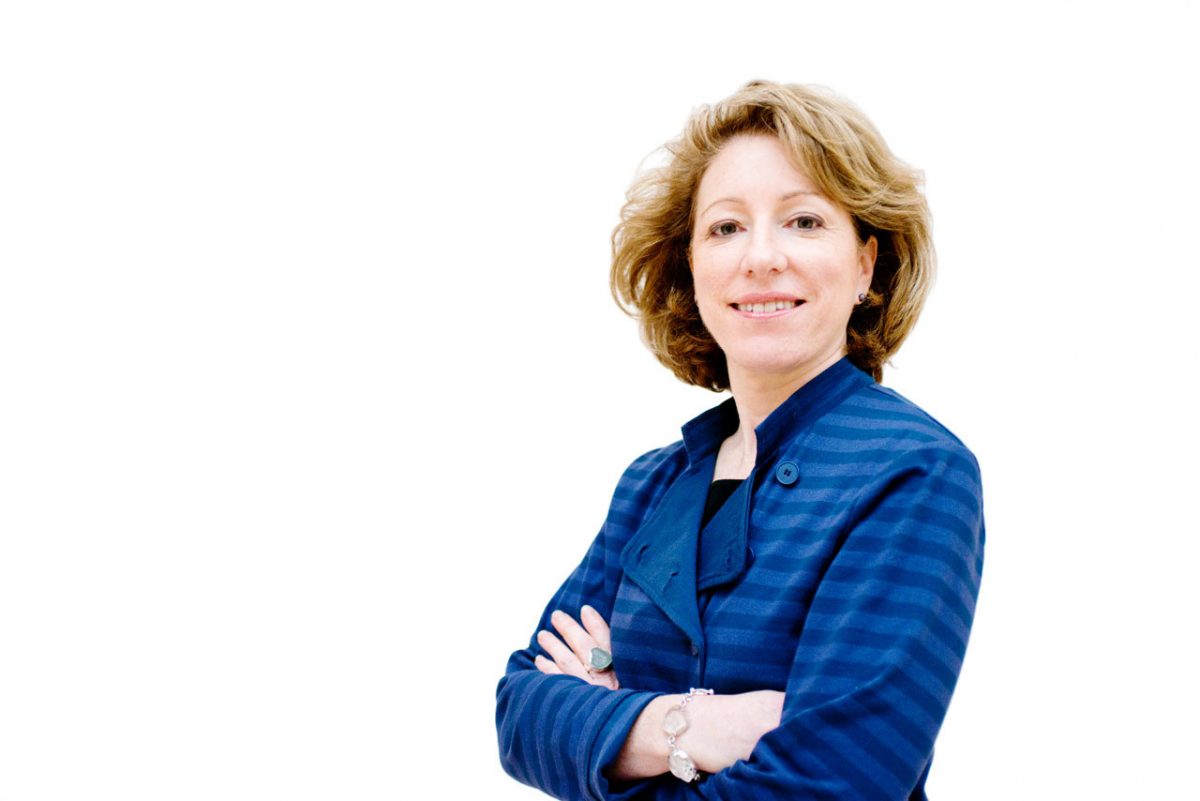 Etching is a form of printmaking in which the artist covers a metal plate with a waxy surface, cuts through the wax with a sharp tool, puts the plate into an acid bath that eats into the metal where the wax is missing, and rolls ink over the plate. The acid-made grooves fill with ink, and these then get pressed onto paper.
"Rembrandt brought the sensibility of a painter to printmaking," Orenstein says. Since he wasn't trained in printmaking, he wasn't bound by rules of what couldn't be done.
"How much can you push this medium to do something completely different? That's really what Rembrandt was trying to do," she says. "How do you create light from darkness?"
In one of his earliest dark prints—"The Flight Into Egypt: A Night Piece"—Joseph leads the way with a lantern in hand, guiding Mary, sitting on a mule, with baby Jesus wrapped inside her cloak. The scene is bathed in shadow.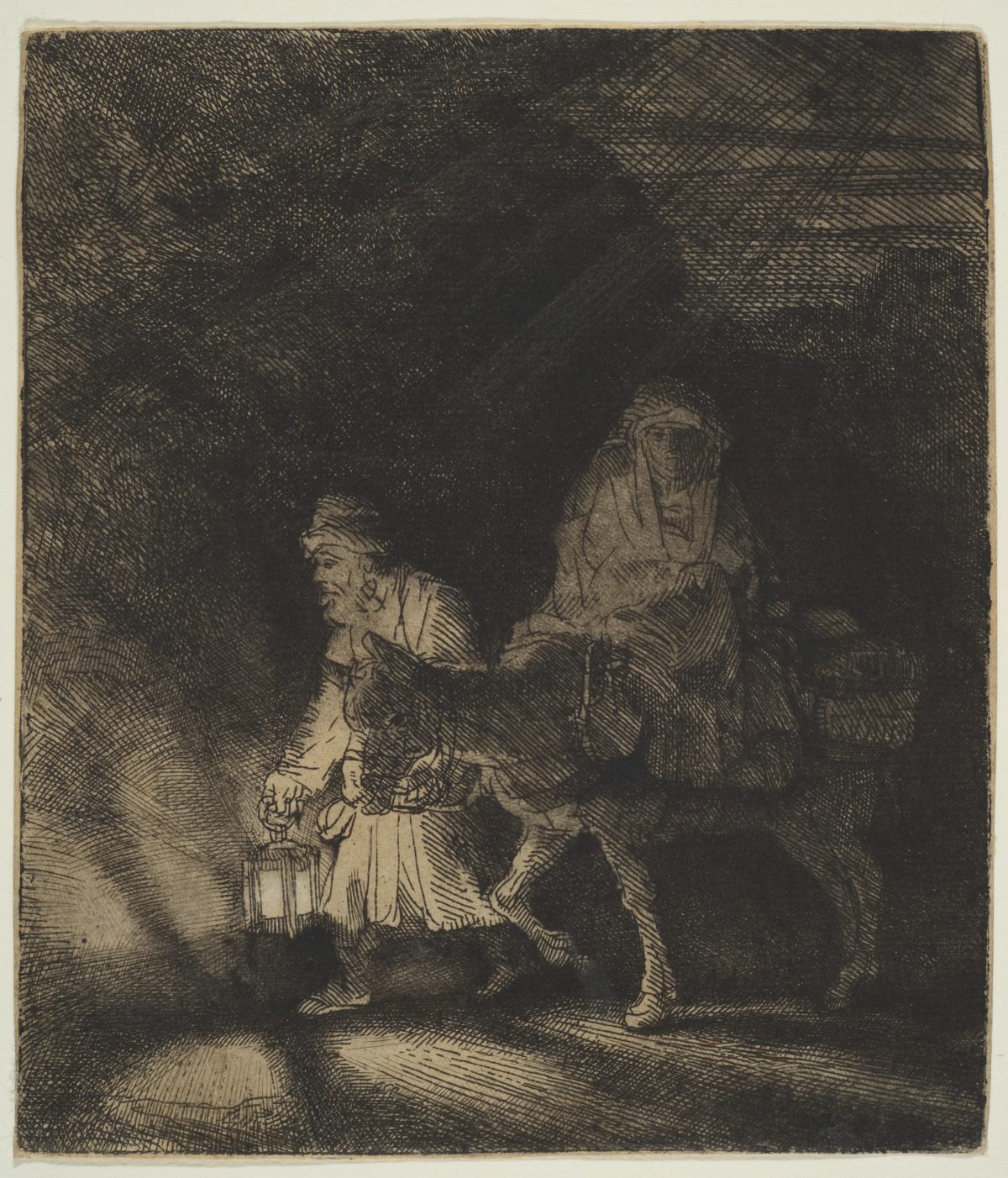 Rembrandt's aim was to make the lantern particularly bright, as the only source of light within the thick darkness and solitude enveloping this holy family's crossing of the Egyptian desert in the dead of night.
Orenstein believes Rembrandt must have taken a cloth and rubbed the lantern so that there was absolutely no ink on it, making the light brilliantly white. From that perfectly bright source, the rest of the scene gets progressively, and realistically, darker as it gets further away from the lantern.
Rembrandt's fondness of using light in both a realistic and symbolic fashion can also be seen in another religious print, "The Hundred Guilder Print." In what's considered one of his most complex compositions, Rembrandt weaves together episodes from Chapter 19 of the Gospel of Matthew.
Jesus gives a sermon, with the crowd on the left bathed in light, while the spectators on the right are cast in shadow. The purest white, and the origin of the scene's light, is Christ's forehead and heart, clearly illuminating the people around him. His followers are so realistically three-dimensional that from a distance, its seems as if these etched figures could almost be made of clay.
"Each one has a different reaction to what's going on; each one has a different emotion," Orenstein says. The people on the left are discussing among themselves, while people in the center are drawn into Christ.
Blending Techniques
Another way Rembrandt revolutionized this medium was by blending different printmaking techniques within his works.
Rembrandt "was very interested in the effect that he could produce," Orenstein says.
For example, in "The Hundred Guilder Print" and "Self-Portrait Etching at a Window," in addition to etching, Rembrandt used drypoint, which is a form of engraving. Orenstein says drypoint has a special quality, with incredible tonal effects that add a "rich, velvety texture."
She says that's what's remarkable about his prints: He is "combining all these techniques to create these beautiful, evocative prints." 
Tracing Rembrandt's Process
What's historically significant in Rembrandt's continual experimentation is that he did not discard previous versions of prints. Anytime an artist changes his printing plate, it's called a state change. While most artists would throw out earlier states, Rembrandt kept his, essentially documenting his creative journey.
With these prints, in contrast, Orenstein says, "You really feel like you're standing over Rembrandt as he's working, looking over his shoulder." For example, with painting, you would never know the artist's ideation, unless you did X-rays to show the drawing underneath. But by saving his many states, Rembrandt left us a documented guide of his creative process and continual changes.
The exhibition displays three different versions of "Christ Presented to the People" at the print's second, fourth, and eighth states. Significant changes happen between the versions. In the second state, crowds gather in the center and sides as the Roman governor Pontius Pilate asks the people whether he should release Barabbas or Christ from prison. You, as the viewer, are watching the scene. Orenstein says she sees new details in the crowd every time she looks at it, and loves that continual discovery process.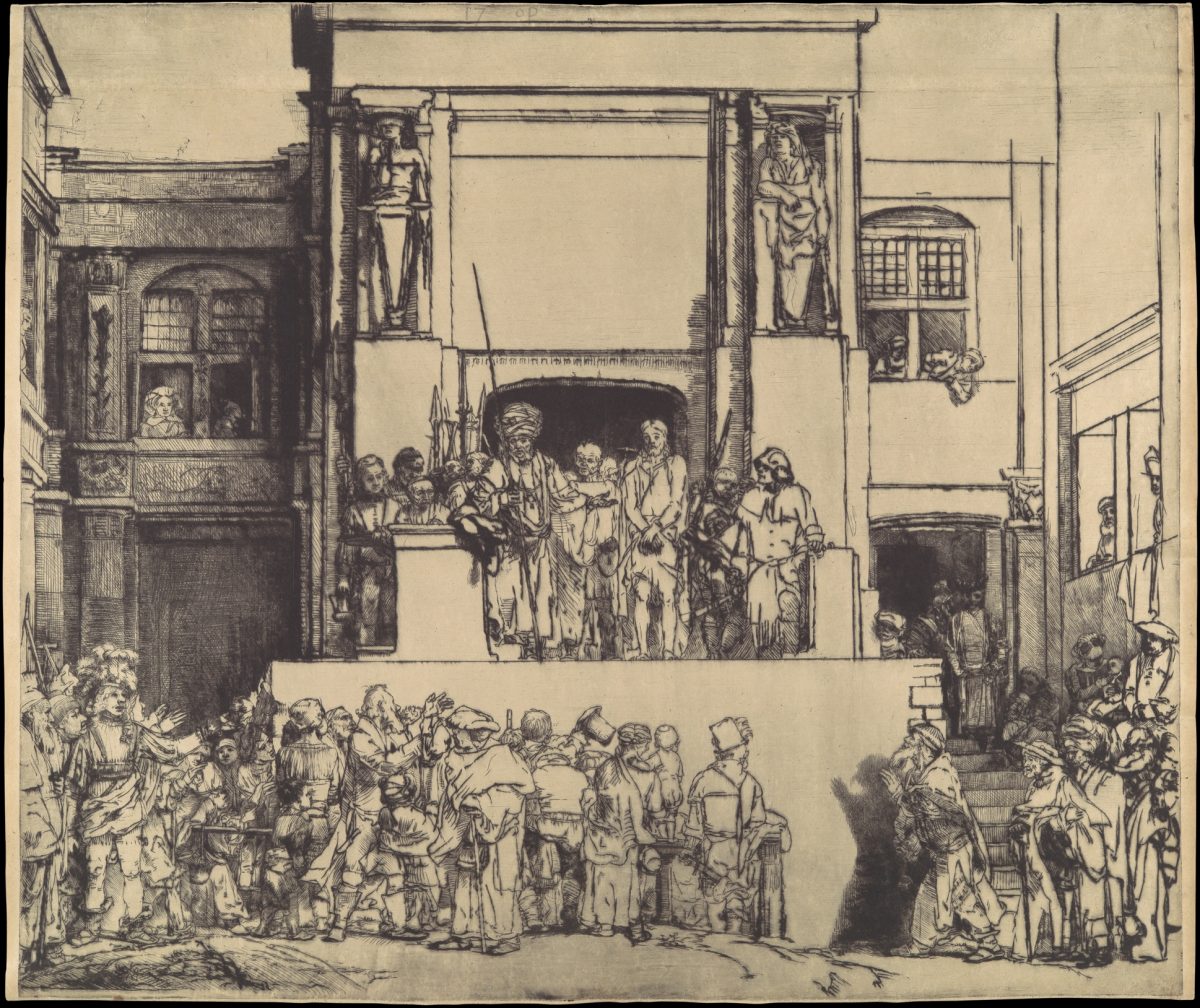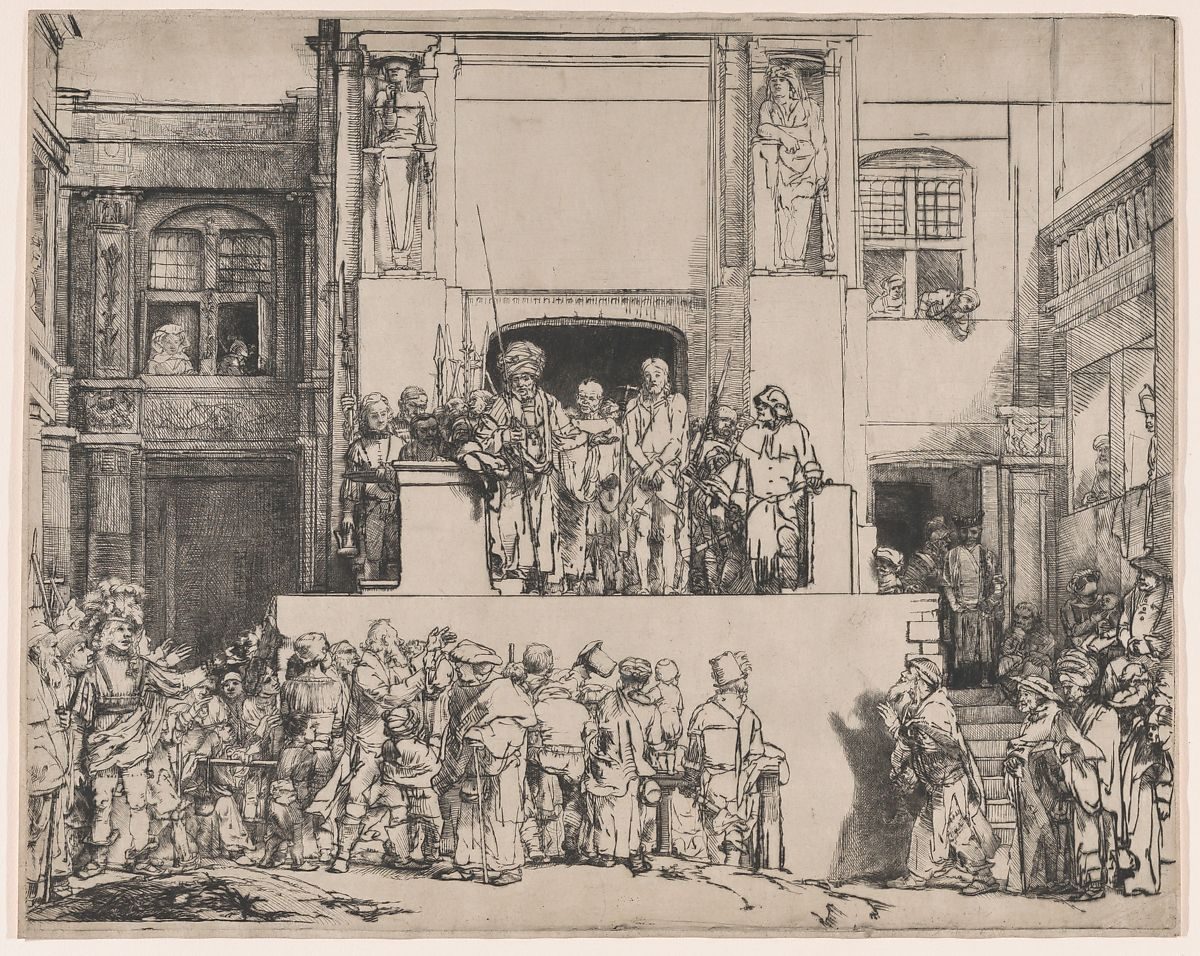 In the eighth state, in contrast, the center crowd has been removed, so you, as the viewer, are, in effect, personally in the crowd, witnessing the trial.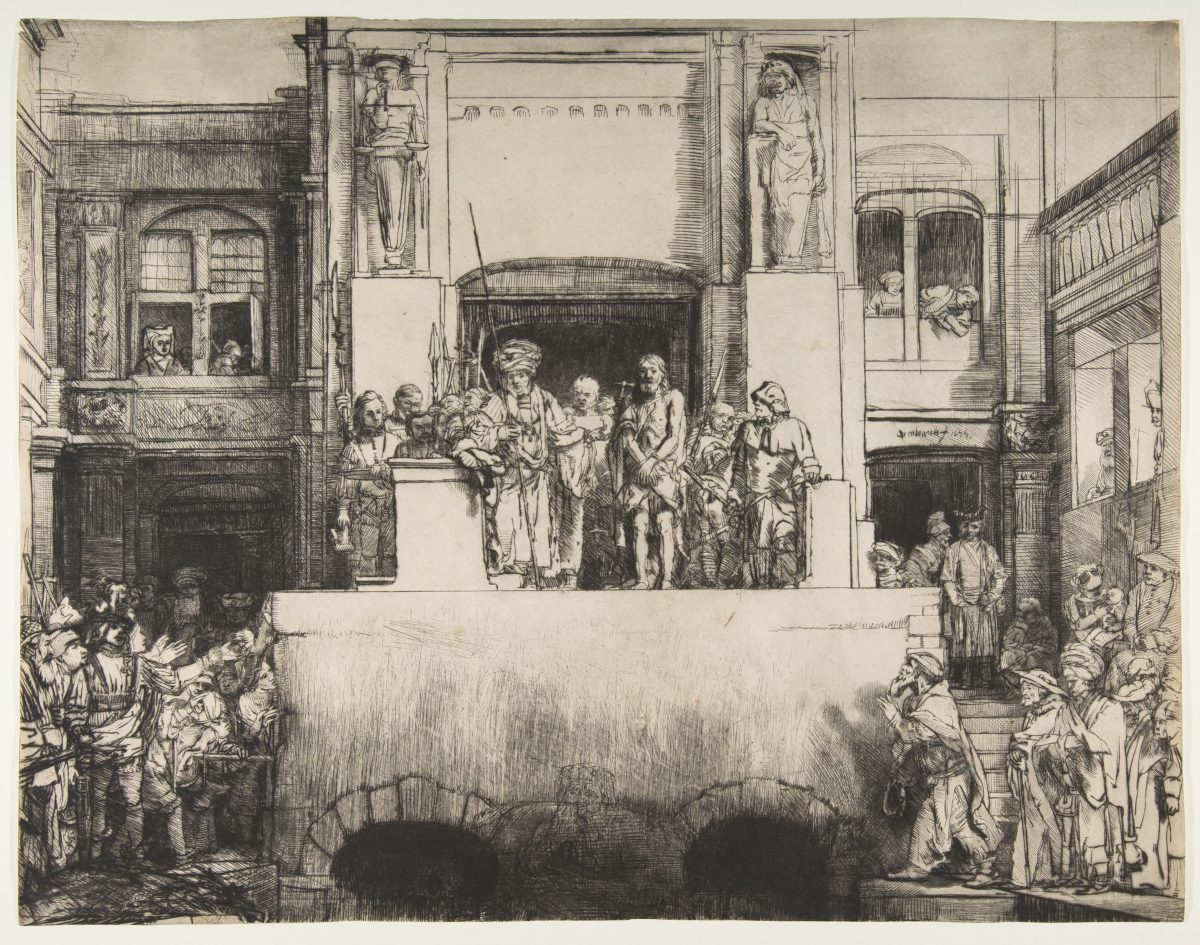 "The viewer is one of the people," Orenstein says. "Rembrandt is making it a much more powerful image.  … He was someone who just loved rethinking an idea."
Whether Rembrandt was peering at me from a self-portrait or has thrown me directly into a dramatic scene, his ability to capture sentiment and spirit made his works as truthful today as they've ever been.
For more information about "Selections from the Department of Drawings and Prints: Rembrandt," visit: MetMuseum.org
J.H. White is an arts, culture, and men's fashion journalist living in New York.