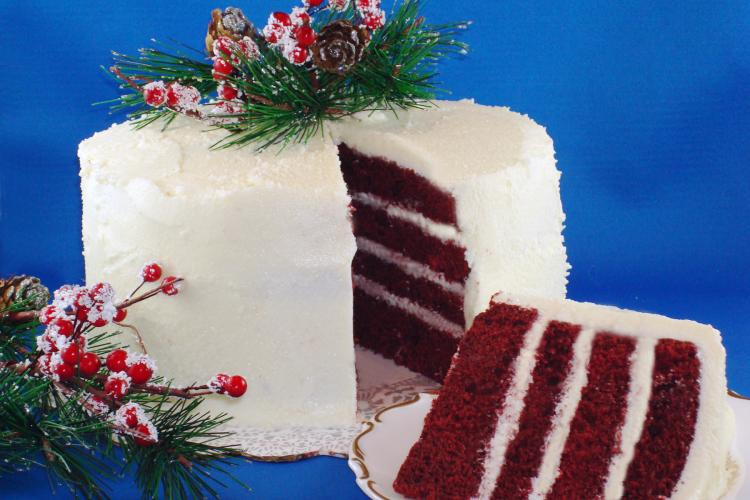 Red velvet cake is a classic cake from the southern U.S. with a delicate taste and texture that comes from a unique combination of ingredients.
The history of the red velvet cake dates back to the turn of the century when it was discovered that the acidity of buttermilk combined with cocoa turns batter a reddish brown. The addition of red food colouring also helps enhance the cake's red colour.
The candy-cane contrast of white icing on a red cake makes this a delicious presentation dessert, especially at Christmas. The vanilla buttercream frosting melts in your mouth with each bite.
Red velvet cakes can be frosted with a variety of choices including cream cheese, a cooked meringue frosting, whipped cream, or a cooked flour buttercream such as the one used in this recipe.
Red velvet cake

Makes one 23-cm (9-inch) four layer cake
550 ml (2 1/4 cups) sifted cake flour
2 ml (1/2 tsp) salt
125 ml (1/2 cup) butter, room temperature
375 ml (1 1/2 cups) sugar
5 ml (1 tsp) vanilla
2 eggs
125 ml (1/2 cup) unsweetened cocoa powder
50 ml (2 oz/1/4 cup) red food colouring
250 ml (1 cup) buttermilk
5 ml (1 tsp) baking soda
5 ml (1 tsp) vinegar
Preheat oven to 180º F (350º F). Coat 2 23-cm (9-inch) round cake pans with cooking spray and line the bottom with parchment paper.
In a small bowl, mix flour and salt together and set aside. In a large electric mixing bowl cream butter and sugar, add vanilla and mix until light and fluffy. Add eggs one at a time, mixing well after each one.
Combine cocoa and food colouring and add to sugar mixture. Mix on low speed until well combined. Add the flour and buttermilk alternately, beginning and ending with the flour. Combine baking soda and vinegar and add to batter, mixing well.
Divide batter into pans and bake for 30 to 40 minutes until a toothpick inserted in the centre comes out clean. Cool cakes in pan for 20 minutes and then cool completely on wire racks. Cakes can be made a day ahead and wrapped in plastic wrap.
Cut each cake into two layers. Frost cake with Vanilla buttercream frosting and chill until serving time.
Vanilla buttercream frosting
75 ml (6 tbsp) all-purpose flour
500 ml (2 cups) milk
500 ml (2 cups) butter, room temperature
500 ml (2 cups) sugar
10 ml (2 tsp) vanilla extract
In a medium saucepan, mix together flour and milk. Cook until thickened and bubbling, stirring constantly with a whisk. Remove mixture from heat, cover with plastic wrap and cool to room temperature.
In a large mixing bowl beat butter, sugar and vanilla until light and fluffy.
Whisk the cooled mixture until smooth. If lumps form, press the mixture through a sieve. Beat the mixtures together on high until smooth and creamy. Chill for 15 to 20 minutes before icing the cake.