THE SETTLEMENT, British Virgin Islands—We're a long way from the land—like a really long way—the sea forming a cyclorama of azure all around us, our catamaran coasting along somewhere halfway between the islands of Anegada and Jost Van Dyke. Slowing, and then stopping, we ready ourselves. Together with a small group of fellow travelers, we gather on the back deck, ready in bathing suits and towels.
And then, we all jump in.
Striding to the stern, one by one, we leap into the flat-calm Caribbean waters, Markee Serecin, our young, female captain tossing out a long rope with a big buoy tied to the end. Treading water in the deep blue, we grab the rope at evenly spaced intervals and then hang on as Serecin puts the boat into gear. Seconds later we are skimming along, riding atop a glassy sea, feeling a little like a ride through paradise where, just a little more than a year earlier, two separate Category Five storms—just two weeks apart—had made this very place a living hell.   

I'm in the British Virgin Islands (BVI), a territory comprised of some 50 cays, islets, and islands (15 of them inhabited) that remains, technically, part of the United Kingdom. About midway between Puerto Rico and Saint Martin, part of the Leeward Islands of the Lesser Antilles, the BVI are lined with sugary beaches and surrounded by some of the clearest water you'll find anywhere. Both Jimmy Buffett and Kenny Chesney sing songs about this place. It's beautiful.
Recovery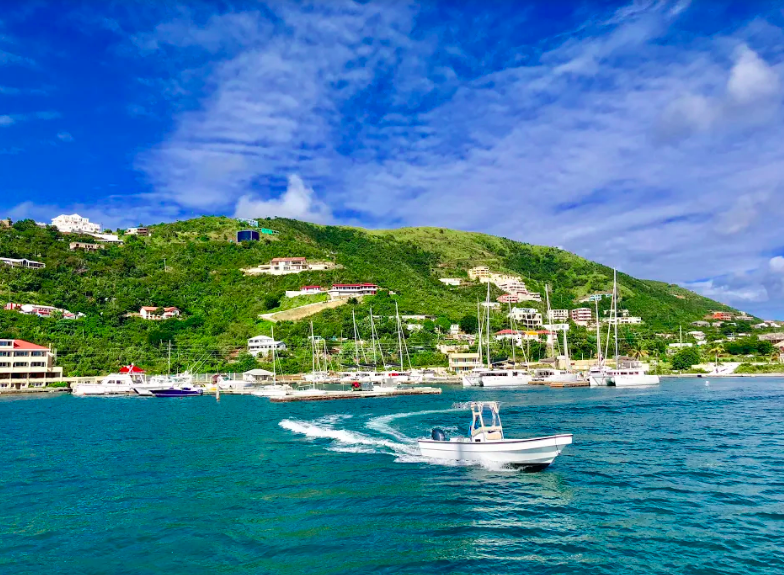 But in the fall of 2017, the eye of Hurricane Irma, one of the strongest storms ever recorded, passed right over the BVI, followed soon after by Hurricane Maria. They caused casualties and blew apart communities, knocking out services—including power—for months. However, these islands, and their inhabitants, are rising again. I'm here for a few days to explore them in the best way possible—from the sea, on a Dream Yacht Charter catamaran, island-hopping through stories of recovery and resilience.
After landing on Beef Island, we board our boat, signs of the former devastation around us—including a sailboat, tossed ashore by the wind and waves, still set askew on a hillside. We take a short morning sail to Virgin Gorda, the second-most populated and third-largest island in the chain, first mooring and swimming around The Baths National Park, a series of boulders and rock pools and caverns accessed best from the water. And then we zip onto a dock on the catamaran's little zodiac, piling into a van driven by local guide Derrick Gumbs.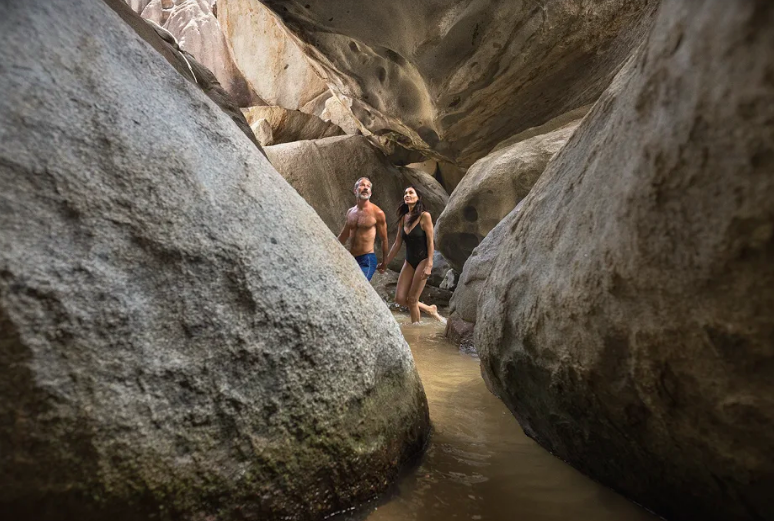 Winding across the spine of the island, we stop for panoramic photos, at one point pausing at a hilltop restaurant called Hogg Heaven, which overlooks Necker Island—famously, the private refuge of Sir Richard Branson. Frequently hosting celebrities, it's the place where those first post-administration photos of an ebullient Barack Obama were taken, smiling a million watts while kite-surfing. By all accounts, Branson has been an excellent resident, contributing a great deal to the storm-recovery efforts. Do they ever see him here in Virgin Gorda, I ask Gumbs? "Oh yes, he rides his bicycle through the hills every Friday," the guide responds, stretching his hand out and tracing the route with his index finger.
And then, back on the boat, we continue to hop. On Anegada, a flat, earthy, palm-lined island three peaceful hours of sailing from Virgin Gorda, we anchor for a couple of nights, attending a local lobster festival and viewing their curious colony of flamingos as well as an iguana sanctuary. We also take a morning tour to see stingrays and mounds of pink conch shells, rising from the sea, tossed here by centuries of fishermen. We finish with a visit the former home of Theodolph Faulkner, whose activism in the 1940s helped return a constitution and a legislative assembly to the BVI.
Tortola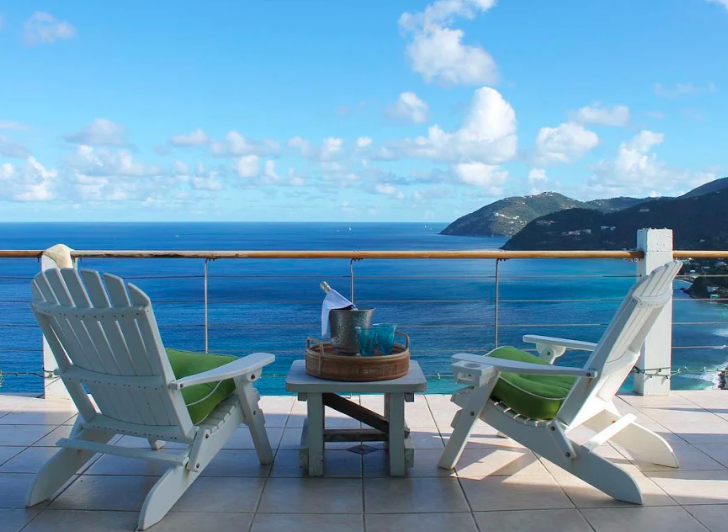 On Tortola, the most populated island, we go ashore for breakfast at Omar's Cafe, whose owner, Omar Hurst, tells us he reopened just five weeks after Irma, trucking in water and running a generator for electricity. He now enjoys an oceanfront location because the little line of tourist shops across from his patio was blown away by the storm, but he is rebuilding, slowly, and literally, running an excavator himself. We visit a shell museum and listen as the owner plays us a song on his ukulele, and a local artist teaches us to paint scenes of paradise right by the beach. And we take a tour and a tasting at Callwood Distillery, where they've made rum for 400 years—the young owner tells us they lost their roof in the storm, but the walls, in place since the 1600s, still stood strong.
Jost Van Dyke
And on Jost Van Dyke (JVD)—an island with fewer than 300 residents named for a 17th-century Dutch pirate—we meet Foxy. Founding his now-famous beach bar in 1968, at the advent of yacht tourism in the BVI, Philicianno "Foxy" Callwood tells us that he never actually closed after the hurricanes, and is rebuilding his place piece by piece. He shows us photos of him receiving his Member of the Most Excellent Order of the British Empire, a quasi-knightship, but seems even prouder of his photo with superstar country singer Kenny Chesney, who wrote and sings a song called Somewhere in the Sun: "Oh I wish I was there tonight on Jost Van Dyke/Sipping on some Foxy's Firewater rum." Pulling out a guitar, Foxy sings a song of his own, a slightly blue tune about Irma and Maria.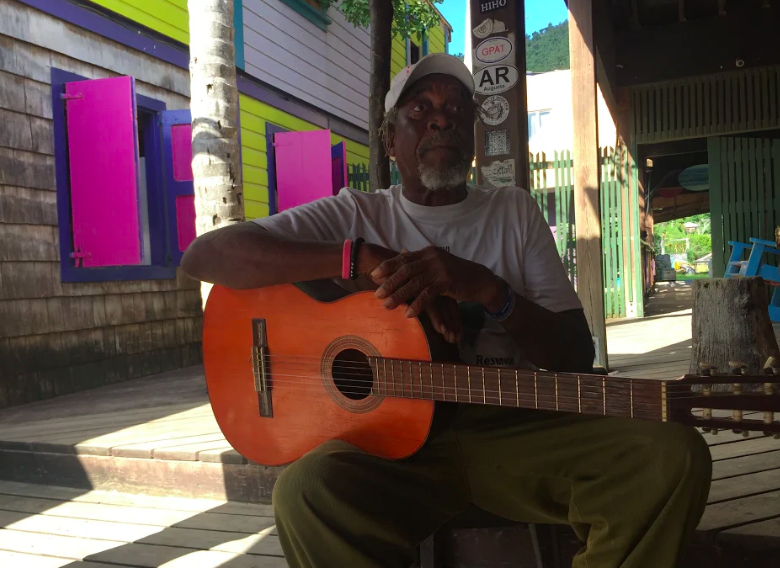 Around the corner, we moor at Great Harbour and see more of JVD, riding in a van with driven by Arvan Hodge, who works in tourism for the local government, and hails from this island. He recounts the dire days immediately following the storms. "Communication was very difficult, and so was transportation—people would walk from the east end of the island to the west, 11 or 12 miles, with the hills," he says. He adds that after the hurricanes, the vegetation was completely stripped, everything black and brown, like after a fire.
"What you're seeing here, it's totally different—when I came back for the first time, I had to fight back tears," he remembers. "We just said—thank God we're alive."
While much has been rebuilt, he shows us the place where a ferry was literally lifted from the water and flipped over, onto the shore, as well as blown-out churches and more sailboats on hillsides. Hodge explains that, curiously, pumpkins were the first and fastest vegetable to come back after the storms. "We ate a lot of pumpkins," he laughs.
Soon, he will drop us at another famous beach bar, the Soggy Dollar—so-named for the cash that came over the counter from the yachters that have long formed the core of their clientele—sitting on the sand and sipping a "pain killer," rum and pineapple and coconut, a signature drink here in the BVI. But for a moment beforehand, Hodge is serious. Surveying the green-again paradise all around, he says, somber, "We persevered—we made it."
When You Go
Starting with just six boats in Seychelles, Dream Yacht Charter now runs a fleet of more than 1,000, making it one of the largest yacht charter companies in the world. They were one of the first tourist operations to resume business following the storms, with yachts back in operation in November of the same year. Yachts vary in size—ours had six bedrooms, and plenty of room to lounge—and can be chartered with a crew (we had both captain and chef on board). DreamYachtCharter.com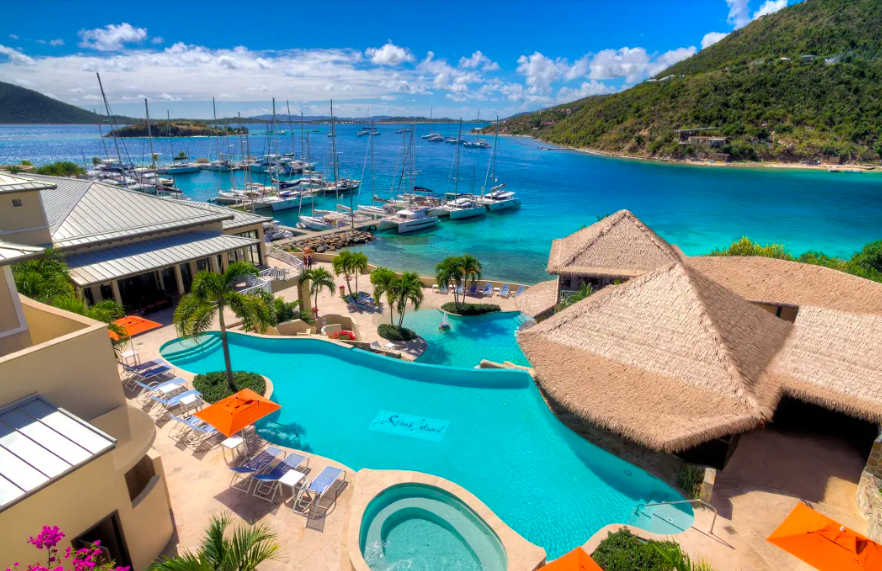 Recently reopened after an extensive renovation, Scrub Island Resort, Spa and Marina acts as the base of operations in the BVI for Dream Yacht Charter. All rooms here face the water, from suites to multi-room villas. Watch the sun set over the mountains and sea from their upper-level pool, then dine Caribbean style, either at one of the in-house restaurants or their regular on-the-sand North Beach barbecues. ScrubIsland.com
Plan your trip to the British Virgin Islands at their official tourism site, BVITourism.com
Toronto-based writer Tim Johnson is always traveling, in search of the next great story. Having visited 140 countries across all seven continents, he's tracked lions on foot in Botswana, dug for dinosaur bones in Mongolia and walked among a half-million penguins on South Georgia Island. He contributes to some of North America's largest publications, including CNN Travel, Bloomberg, and The Globe and Mail.
He was a guest of British Virgin Islands Tourism.