Best made in late summer using ripe vegetables, ratatouille is an iconic French Provençal stew of tomatoes, eggplant, zucchini, and bell peppers, slowly cooked together until creamy soft.
While an uncomplicated recipe, making a good ratatouille does require a bit of time. Make this stovetop version on a weekend, and enjoy it throughout the week—ratatouille tastes even better reheated.
What's in a Name?
The word ratatouille comes from the Occitan "ratatolha," which itself comes from the French "touiller," both meaning "to stir." In the 18th century, "ratatouille" referred to any type of stew in and around the French Riviera city of Nice—be it stewed vegetables, beans, potatoes, or meats.
It wasn't until the 1930s that its definition refined itself to describe the summer vegetable stew we know today.
Ratatouille Versus Tian
Outside of French borders, there seems to be some confusion between ratatouille and tian—both stellar classics from the southern French cooking repertoire. This confusion was likely heightened by 2007's Pixar film "Ratatouille," in which the main character, Remy, cooks up a so-called ratatouille that's actually a tian.
A classic tian features the same vegetables—zucchini, tomatoes, and eggplant—but has them sliced thinly, layered into a dish, and baked in the oven until soft underneath and lightly crisp on top. Tian aficionados, like myself, relish the lightly charred edges of the vegetable rounds.
On the other hand, a ratatouille is really a slow-cooked stew, resulting in a spoonable texture of tender vegetable chunks.
Today's Ratatouille
Like most classic French recipes, versions of ratatouille are countless, but the main ingredients always remain the same: garlic, onions, tomatoes, zucchini, eggplant, and bell peppers. Different methods exist for preparing the vegetables: the traditional method of stewing them on the stovetop, and modern methods of baking them in the oven or charring them on the grill.
In Provence, ratatouille is traditionally cooked on the stovetop. It's a two-step method, consisting of first sautéing the onion, bell peppers, and eggplant in olive oil until slightly caramelized, to bring out their full flavor. The tomatoes and zucchini are then added and all the vegetables are simmered slowly until soft and melty.
As with all rustic French recipes, each family has its own version of the dish, complete with a personal twist—usually a specific herb, spice, or condiment. My secret has always been to add a spoonful of honey at the end. This lifts and brightens all the flavors beautifully.
Tips for a Perfect Ratatouille
While making a ratatouille does require patience, you'll see that there are no advanced skills needed. Still, there are best practices to follow.
Ratatouille is best made with seasonal vegetables. Choose ripe, vibrantly colored zucchini, eggplant, bell peppers, and tomatoes.
The key to a great ratatouille is to cube all the vegetables the same size; this recipe calls for 1/2-inch cubes.
Leave the garlic cloves whole and in their skins. This will impart the ratatouille with a subtle garlic flavor without it being too overpowering—you want to let the flavors of the other vegetables shine. The long cooking time also softens the garlic cloves in their skins and mellows their flavor, making them delicious to eat.
Use a high-quality extra-virgin olive oil; it will make a big difference. I find that 2 tablespoons is enough to precook the vegetables, but feel free to use a little extra if needed.
Use a nonstick frying pan or casserole dish, as the eggplant tends to stick to the pan.
Finally, be patient. The low and slow cooking method is meant to turn the vegetables melty while extracting their optimum flavor, and speeding up this process by upping the temperature won't achieve the same results.
Classic Ratatouille
This comforting summer stew can be served in endless ways. Enjoy it hot alongside meat or fish, spooned over pasta or creamy polenta, or topped off with an egg or cheese. Or, enjoy it cold over toasted bread slices.
Leftovers? Great news: Ratatouille tastes even better the next day, after the flavors have had time to meld and develop further.
Serves 6 to 8
2 large zucchini
1 large eggplant
1 large red bell pepper
1 large green bell pepper
6 medium ripe tomatoes
1 large onion
2 tablespoons extra-virgin olive oil
2 to 3 garlic cloves, left whole and in their skins
2 to 3 sprigs dried thyme, stemmed
1 bay leaf
Salt, to taste
Freshly ground black pepper, to taste
1 tablespoon honey
Fresh basil leaves, for garnish (optional)
Prepare your vegetables. Wash the zucchini and eggplant, cut off the ends, and dice into 1/2-inch cubes. Wash the bell peppers, cut them in half, and remove the core, seeds, and white flesh. Then, cut into 1/2-inch squares. Wash the tomatoes, cut into quarters, discard the seeds, and cut into 1/2-inch cubes. Peel and dice the onion.

In a large frying pan or heavy-bottom pot, heat the oil over medium heat. Add the onion and cook for 2 to 3 minutes until glistening and fragrant.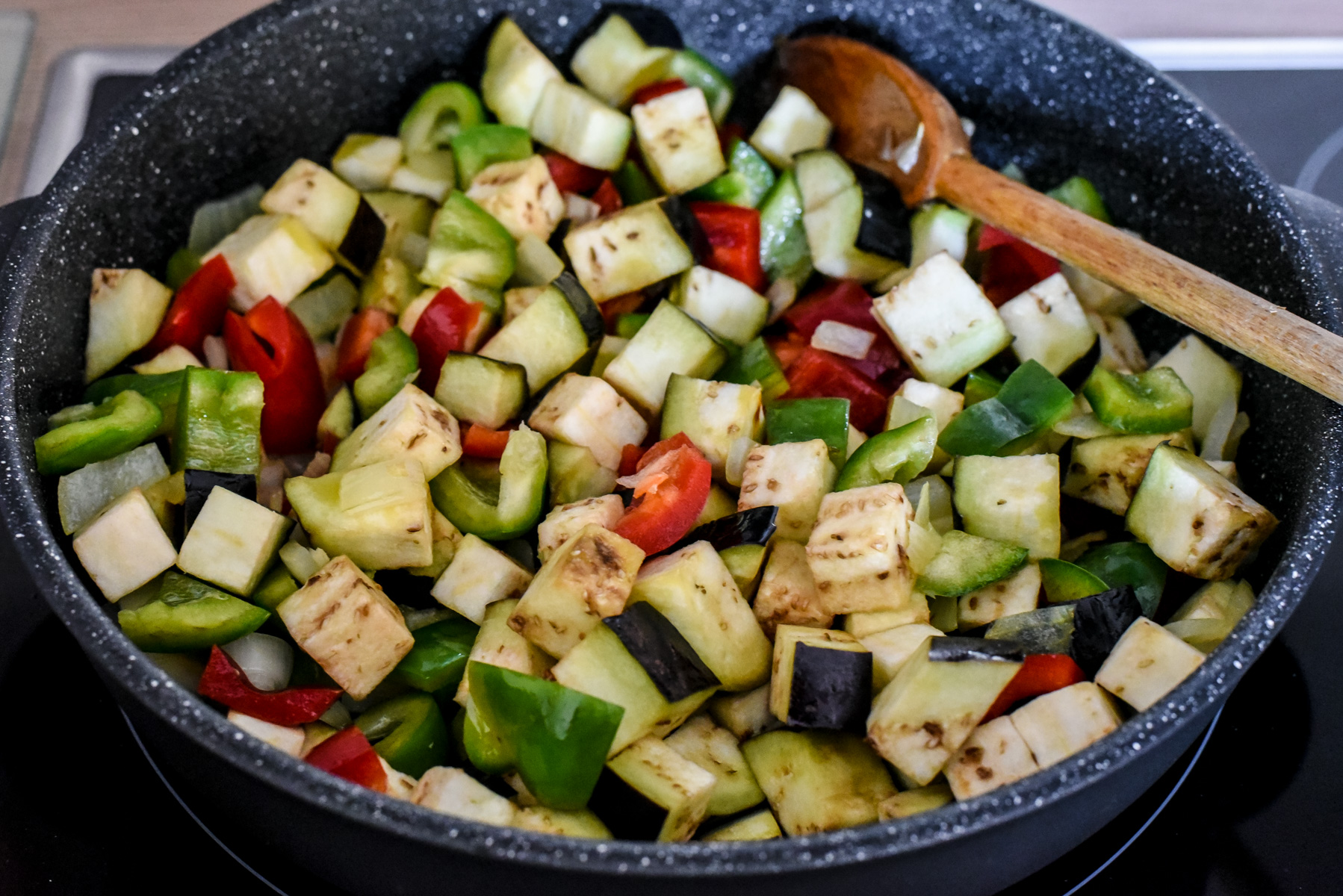 Add the bell peppers and eggplant. Cook for about 7 minutes, stirring occasionally, until soft and slightly caramelized.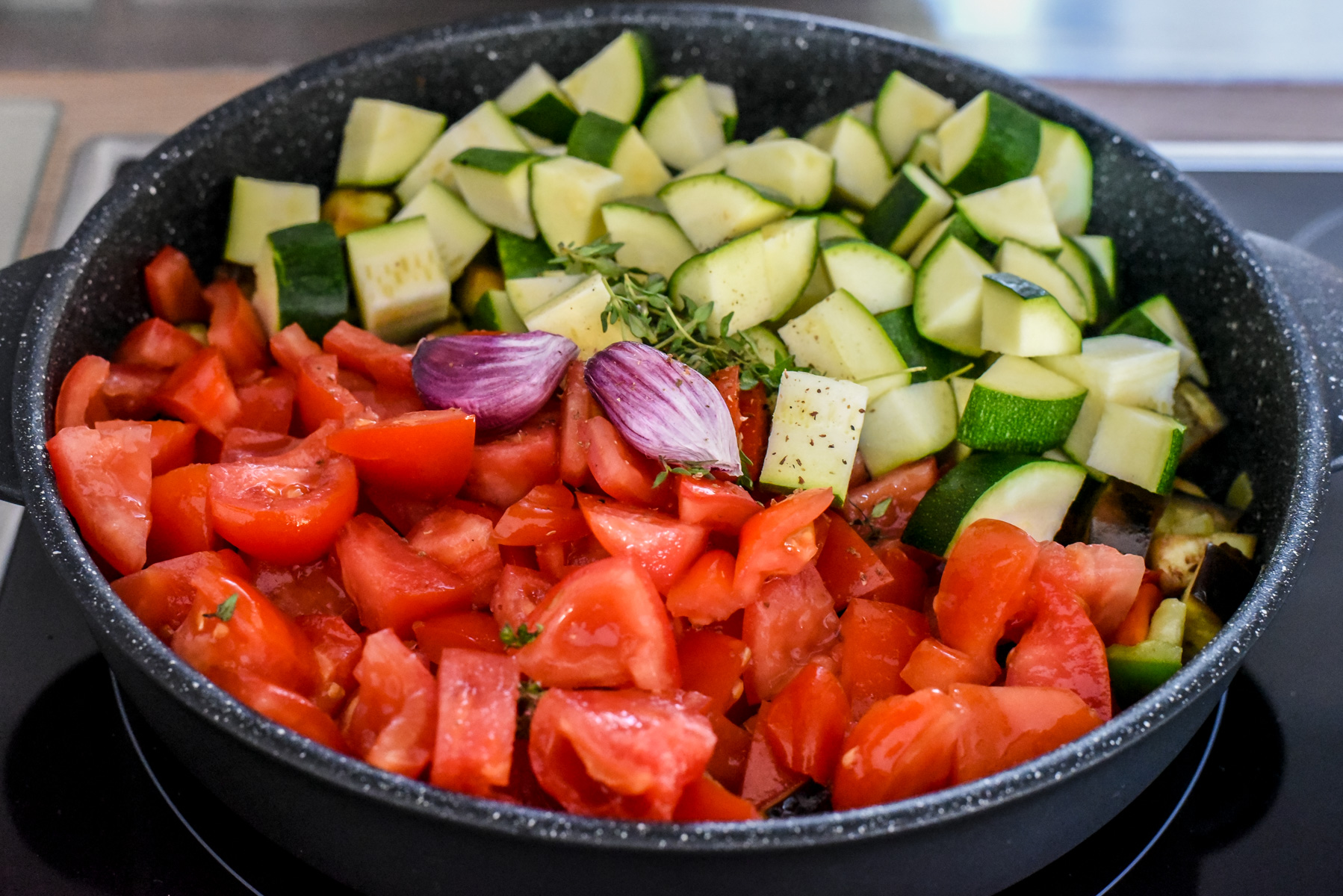 Add the tomatoes, zucchini, garlic (still in their skins), thyme, bay leaf, and a pinch of salt. Stir gently to mix. Turn the heat to medium-low, cover, and simmer for 1 hour. Occasionally, take the lid off and carefully wipe away the built-up condensation on the inner lid before covering again (this will help avoid a watery stew).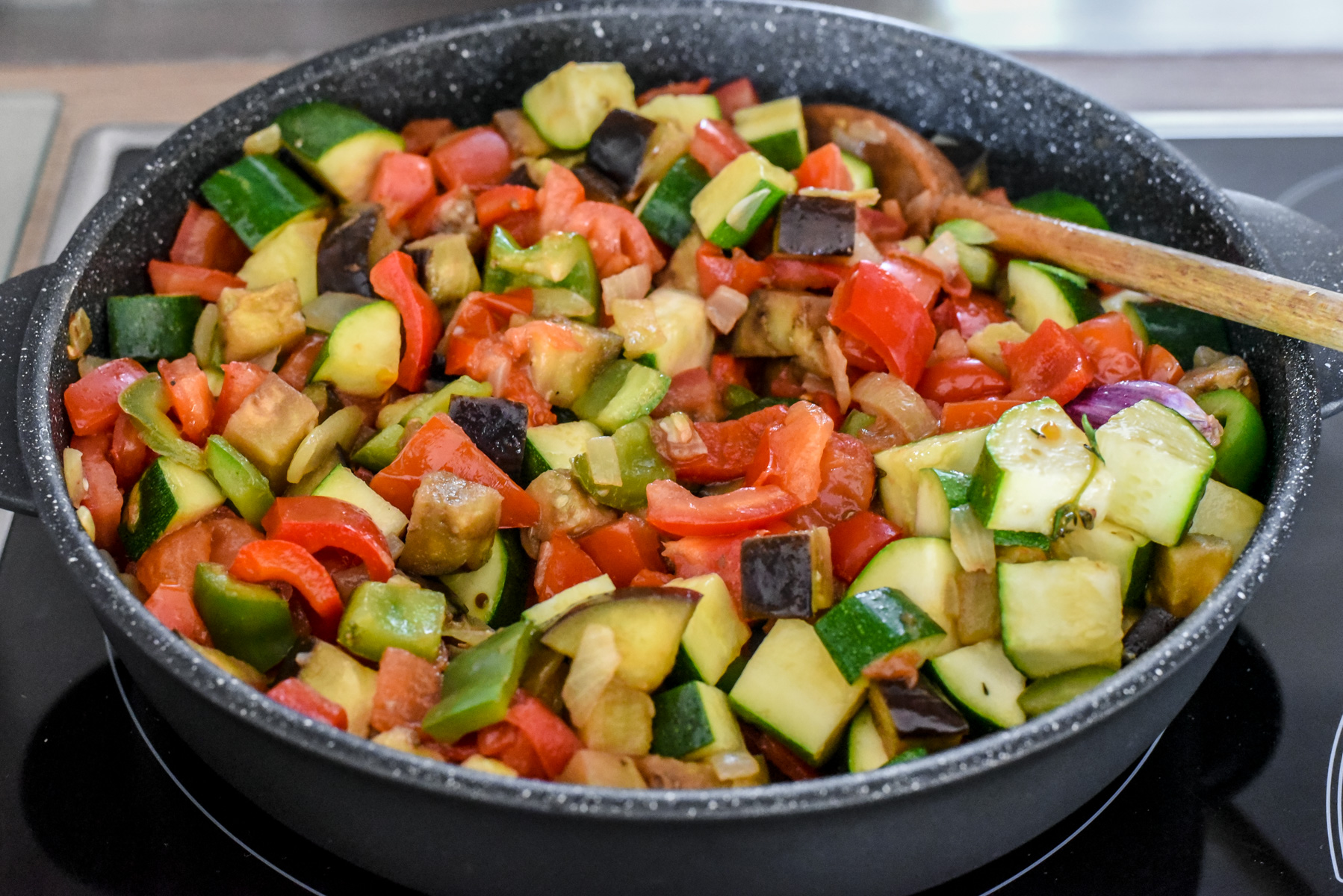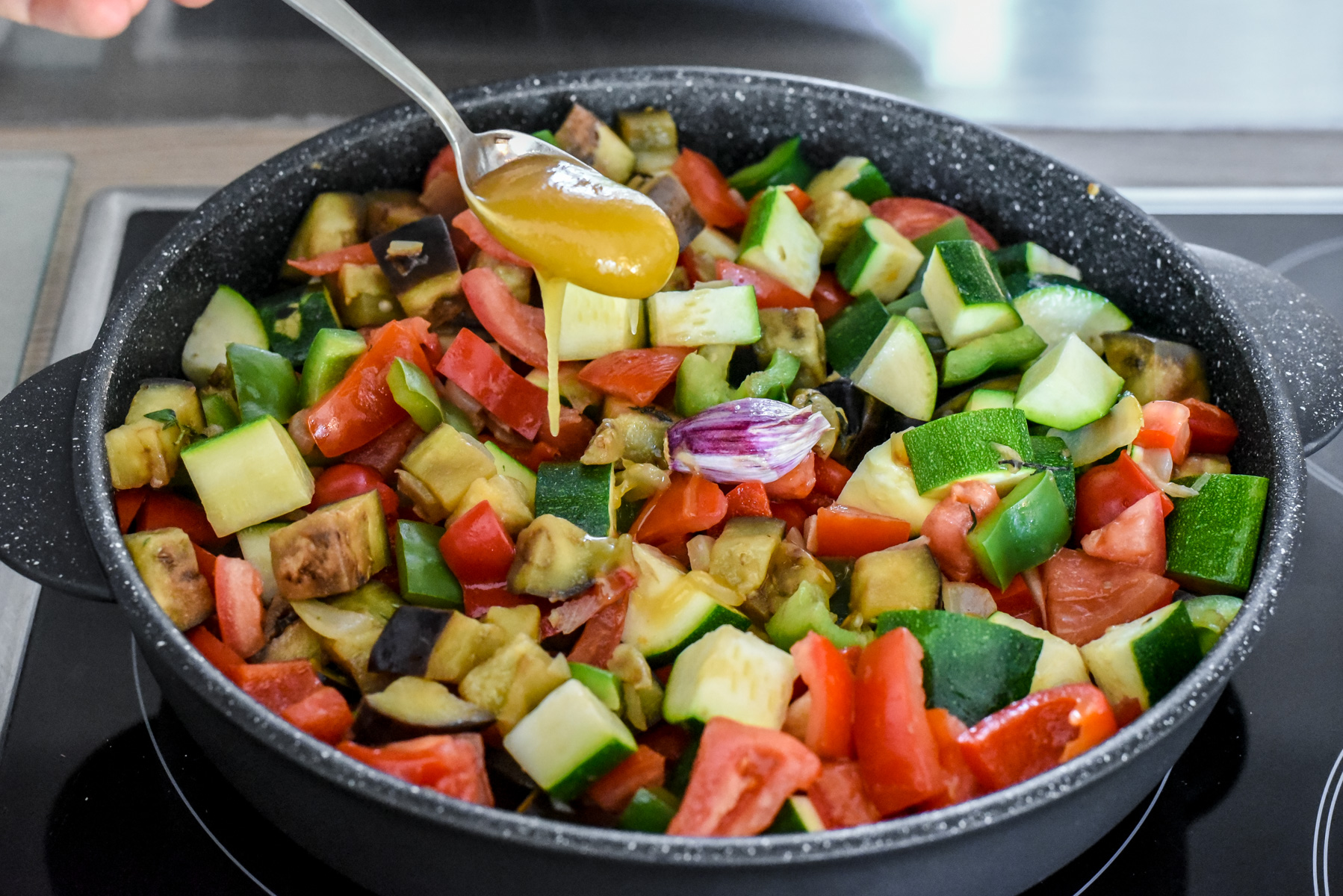 After 1 hour, check the consistency of the ratatouille. If the vegetables rendered too much water, let it simmer for 10 to 20 more minutes with the lid off.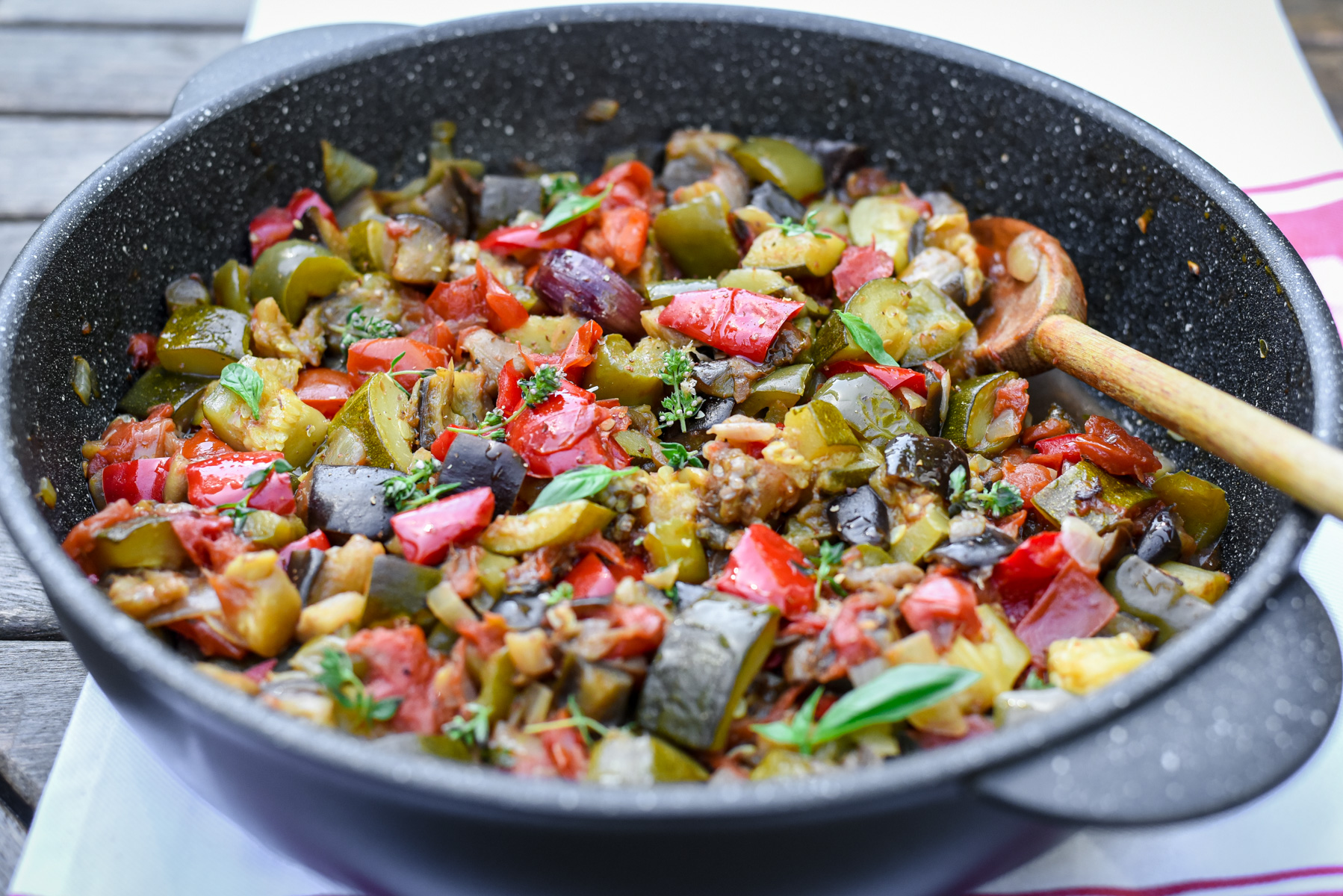 When the consistency is to your liking, add the honey and stir to combine. Taste and adjust seasoning, if needed, with salt and pepper. Garnish with fresh basil leaves, if using, and serve.