'Race' Cuts to the Chase
Daniel Brooks directs Mamet's play exploring race in America
April 25, 2013 12:00 am Last Updated: April 27, 2013 7:41 pm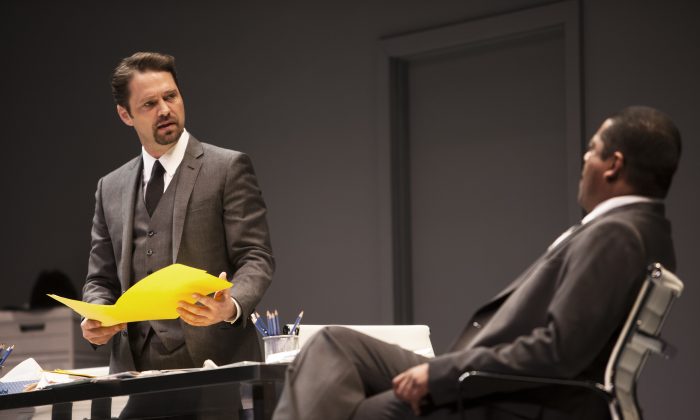 "Race" does not go round in circles—it cuts to the chase. David Mamet's play tackles issues of race, sexuality, and justice in a direct and open manner.
The play, which opened on Broadway in 2009, has since been staged in regional theatres across Canada and the United States. The Canadian Stage Company's most recent adaptation, starring Jason Priestly, runs April 7 – May 5 at Toronto's St. Lawrence Centre for the Arts.
"I think [Mamet] is simply trying to rip off the band aid from race in the United States," says Canadian director Daniel Brooks, who staged the most recent production.
He says the existence of the play demonstrates that there is still a lot to talk about.
For Brooks, this was an opportunity to delve into the discussion about race, an issue he had not thought much about before. The experience was "deeply rewarding," he says, particularly when it came to reading the rich literature on the topic.
It has also brought him a personal breakthrough.
'I'm less afraid to talk about [race]. I'm not afraid to talk about it at all," he says.
In the play, a rich white man is accused of raping a young black woman. He seeks help from two lawyers, Jack Lawson (Jason Priestley) and Henry Brown (Nigel Shawn Williams). One is white, the other black. Their assistant Susan (Cara Ricketts) is a smart black woman who knows her rights.
Race will be a factor in this case, and they all know this. The play thus unfolds.
"The idea in the play is basically, I think, that people have beliefs", Brooks says.
"Beliefs grow out of circumstance, out of chance, out of the group that the person identifies with, and our beliefs make us blind to other people. That's at the core of the play."
Guilt is also a factor, particularly for white people.
"The enormity of the guilt in terms of what has been done to black America is still with us and perverting the relationships," says Brooks.
This often blinds people from judging each other based on character, and prevents them from having honest relationships with each other.
"We're conscious of race," he says.
Yet working on the play with both black and white actors, he realized how superficial these differences are.
"It's strange, even though we're working on a play about race, we're not really aware of race in our relationships as artists. So it can disappear very easily.
Changing Notions
This process, however, has led Brooks to understand that different people experience race differently.
"For one, I know that my understanding is incredibly imperfect, that if I'm to talk to a black person about race, there's an aspect of how a black person experiences race that I cannot understand," he says.
"As a white person, I don't experience my race in Canada. I don't think of myself racially, whereas many black people I've talked to have said that they do, daily."
This has led him to change the way he approaches life.
"Having a broader understanding of that has helped me. I'm now more interested in asking questions rather than stating my opinions about everything. And that certainly is a reason to talk to people," he says.
Brooks believes that tackling uncomfortable issues can help eliminate some of the negative feelings surrounding them, not just in relationship to race.
"Shame and guilt are ever-present, whether it's around issues of race, sexuality or politics, or familial issues, we're always dealing with shame and guilt—it's part of our make-up as social creatures."
In staging the play, however, Brooks has not set out to resolve these issues, but rather to captivate the attention of an audience.
"That's my job," he says.
For more information, visit canadianstage.com