Portraits of Humanity
An interview with photographer Jimmy Nelson
November 24, 2013 1:05 pm Last Updated: November 25, 2013 4:25 pm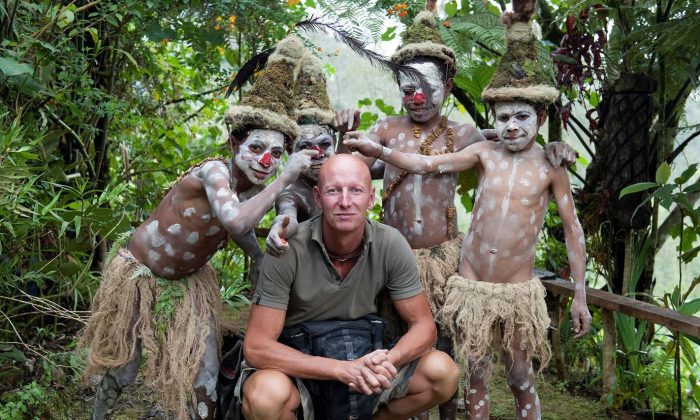 NEW YORK—Since photographer Jimmy Nelson announced the release of his new book, "Before They Pass Away," the Internet has been ablaze with its stunning images, the result of three years spent photographing 30 remote tribes.
For this project, Nelson traveled to places like the farthest reaches of Siberia, the highlands of New Guinea, and the desert of Namibia. It took perseverance, patience, and vulnerability to overcome cultural and language barriers—the long exposure time of Nelson's traditional plate camera required that the subjects stay still for several seconds, moments that became meditative points of connection.
The images present a fresh look at peoples we thought we understood, and challenge us to rethink our assumptions—not only about tribal people, but also about what they have to teach the modern world.
Nelson is quick to point out that he is not an anthropologist, but an "idealistic photographer" who bemoans the loss of culture in a rapidly globalizing world. He acknowledges that tribal people will inevitably adopt nontraditional lifestyles, and hopes that when they do, they will hold on to their rich cultures, without which the world would be poorer. 
"Before They Pass Away" is published by teNeues, Germany's second largest publisher. I spoke to Nelson before a Nov. 21 book signing at The Strand bookstore. 
Epoch Times: Tell me about your first time immersed in a foreign culture.
Mr. Jimmy Nelson: From ages 0 to 7 I lived abroad. My father was a geologist working for an oil company, so each year we lived in a different country, all Third World countries. Ever since I can remember we lived abroad. 
Epoch Times: So there was no one home culture for you.
Mr. Nelson: No, and ironically the first real home I've ever had is now, living in Amsterdam, but I'm not Dutch.
Epoch Times: There's long been a notion among modern people that tribal societies are primitive or violent. 
Mr. Nelson: Not once was I ever harmed in any way. I'm more afraid of walking through the streets here with my computer in my bag. The only harm I encountered was danger of transport. There, it's all about human contact. If you put yourself in a vulnerable situation so far from home, they will take you in. There's so little materialism, they've got so little to gain because they don't need it anyway. 
Epoch Times: In your experience, how do tribes view modern society?
Mr. Nelson: They're curious. Wherever we went, no matter how remote it was, we weren't more than two or three days away from the Internet. They will get Internet access very soon. There's this feeling among them, I think, that they've missed out on something. What I want to suggest to them when I return [next spring] to show them their pictures is that they haven't—that they already have something very valuable, which we (in modern societies) have lost. 
Epoch Times: What are the biggest threats to tribal societies today?
Mr. Nelson: The only real conflict around them is the governments that want to use their land for mining, deforestation, things like that. In all the environments, their lands are embedded with rich resources, and they will all eventually be pushed out. The threat is as much their feeling that they've been missing out on something.
Epoch Times: You said in your recent interview with NPR's Leonard Lopate that you create romantic images because that's what we crave in the West. 
Mr. Nelson: Other people have been to these places before, so [what I'm doing is] not necessarily new. I think it's important to present these people in a new, contemporary way. Younger people don't necessarily know what National Geographic is. They are interested in beauty and aesthetics, so I am repackaging it. 
Epoch Times: So what did you find lacking in the photos that came before yours?
Mr. Nelson: An element of dignity and respect in the same ways we present ourselves—on a podium. I said to all of them: present yourself to me at your most beautiful, at your proudest. These people are all the last of their tradition. 
Epoch Times: Did you take documentary photos too? 
Mr. Nelson: I took a few, and there are a few in the book to give a sense of rhythm. I'm not an anthropologist; it's not about how they milk their cows or give birth—this is the difference between the gossip magazines and fashion magazines. The gossip magazines show reality, which is often ugly—on the beach with the cigarette, screaming boyfriend, and newborn baby—but it's the same people on the covers of the fashion magazines. We've seen these people presented [in the ways of the gossip magazines]. I want to give them the presentation that we give ourselves. 
Epoch Times: What have you learned about yourself through this process?
Mr. Nelson: When I started out on this journey, I thought it was going to be an aesthetic document, but the further I went in time, passion, and physicality, the more I learn lessons that I'm applying back in my own life. 
We are very forced in how we expect things to happen—we have to learn to let go. Often, I arrive somewhere and we don't know when we're going to reach our destination and if we'll find people when we get there. I've learned to let go and trust people.
Epoch Times: Is there a commonality among how indigenous people view life?
Mr. Nelson: Yes. They all look different, but there's one thing they're all good at, which we're not. We tend to think about ourselves, a partner, and maybe a partner and kids. They all work as a unit. The elderly are respected. They're not disrespected like they are in the modern world. Everyone sleeps together in a big, big family unit. Wherever I went that's what I experienced. 
Epoch Times: The central question is whether a modern lifestyle is the only way to exist, isn't it?
Mr. Nelson: There's no utopic existence, utopic location, or utopic relationship. We have some fantastic aspects, but we don't have it all, and neither do they. There must be a balance. What I'm trying to say [is] that if these cultures go, the balance will [tip] because we won't have a reference point—this is where we came from. 
For more information, visit beforethey.com