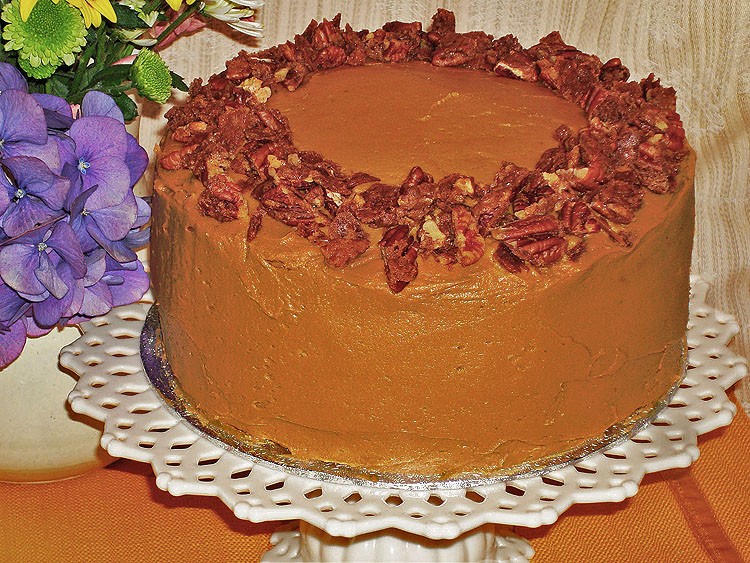 Pumpkin spice cake is an elegant fall harvest cake perfect for entertaining. It is covered with a brown sugar frosting and topped with a maple pecan crunch. The pecan crunch can be made a couple of days ahead of time. The cake can also be made ahead and frozen, and then assembled when needed for an easy but spectacular dessert.
Pumpkin Spice Cake
2 cups cake flour
2 teaspoons baking powder
2 teaspoons cinnamon
1/2 teaspoon nutmeg
1/2 teaspoon baking soda
1/2 teaspoon salt
Pinch of cloves
1/2 cup unsalted butter, room temperature
1 1/3 cups brown sugar, firmly packed
2 large eggs
1/2 cup milk
1 1/4 cup canned pumpkin
Preheat oven to 350 degrees F. Grease, flour, and line two 8-inch cake pans with parchment paper.
Sift all the dry ingredients together twice. Using an electric mixer, cream butter and sugar together, adding the eggs one at a time and mixing well between each one. Add the dry ingredients alternating with the milk, starting and ending with the dry ingredients. Mix in pumpkin.
Divide batter between both pans and bake for 25–30 minutes. Cool cakes in pans for 10 minutes and then turn out on racks. Remove parchment paper and cool cakes completely. Wrap in plastic wrap until ready to use, or freeze if not using within two days.
Brown Sugar Frosting
1 cup unsalted butter, room temperature
3/4 cup dark brown sugar, firmly packed
3 tablespoons molasses
1 tablespoons pure vanilla extract
1 1/4 cup confectioners' sugar, sifted
1 tablespoon cream
Beat all ingredients in electric mixer until smooth and creamy. Add a small amount of cream if frosting is too stiff to spread smoothly. Frost cake. Sprinkle on maple pecan crunch.
Maple Pecan Crunch
1/2 cup brown sugar, firmly packed
1/2 cup chopped pecans
1 tablespoon melted butter
1 tablespoon pure maple syrup
1 teaspoon cinnamon
1/4 teaspoon ground cloves
1/4 teaspoon ground nutmeg
1 tablespoon flour
Combine all ingredients and place on a parchment-lined baking sheet, spreading out evenly.
Bake at 350 F, turning the crunch over a couple of times during baking until brown and crispy, approximately 10–15 minutes. Remove crunch from oven and cool. Keep in an airtight container until ready to use. Can be made three or four days ahead of time.