Psychologist: Shen Yun Symphony Orchestra Can Enlighten Audience
September 28, 2013 1:09 am Last Updated: December 24, 2013 9:30 pm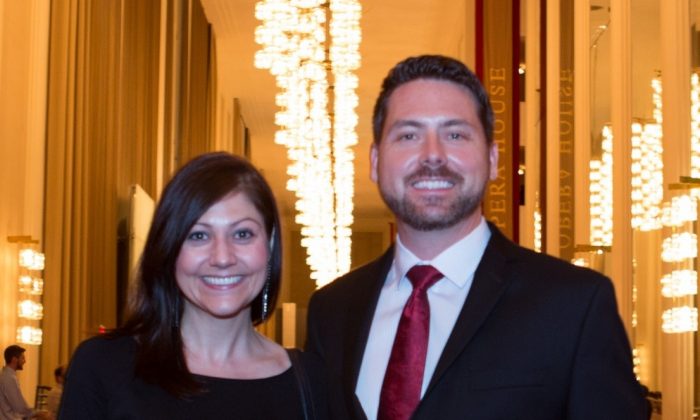 WASHINGTON—For psychologist Jason Wemmers, Shen Yun Symphony Orchestra's seamless combination of classical Western and Chinese instruments and the distinctive, harmonious sounds was a unique experience. The orchestra opened at the Kennedy Center Concert Hall in Washington D.C. on Friday evening, as the first concert of 10 over 7 cities this season.
"I loved it. It was beautiful, really unique show," Dr. Wemmers said. "Loved the versatility of the orchestra, and it was really nice to see some of the classical Chinese instruments. I hadn't seen them in concert before."
In Shen Yun Symphony Orchestra, traditional Chinese instruments like the two-stringed erhu are integrated into a classical Western symphony orchestra. Dr. Wemmers, who has experience playing the trumpet, was amazed by the trumpeters, who play along side instruments like the Chinese dizi, or bamboo flute, on stage.
The orchestra played some of the all-original works created by Shen Yun's world-class composers, who draw upon China's 5,000 years of rich culture in making their creations. The program also included well known Western classics such as Beethoven's Egmont Overture.
The Shen Yun Symphony Orchestra is part of the New York-based Shen Yun Performing Arts, a premier performing arts company created in 2006 with the mission of reviving lost traditions.
Up until recently, Shen Yun's music could only be experienced as an accompaniment to the classical Chinese dances performed on stage by Shen Yun. The orchestra put on its first concert last year at the Carnegie Hall in New York. Following the successful event, the orchestra is on a seven-city tour this year.
The concert was an experience Dr. Wemmers wanted to recommend to all of his friends, he said, as he thought it could bring them peacefulness.
"Hopefully they take some peacefulness [from watching the concert], they take an enlightened sense of where they belong in the world, and what they can contribute, and hopefully they just have a great time," Dr. Wemmers said. "Everybody should come see it."
Shen Yun Symphony Orchestra is on a seven-city tour with performances in Washington, D.C., New York, Boston, Houston, Dallas, Los Angeles, and San Francisco, from Sept. 27-Oct. 22. For more information, visit Symphony.Shenyun.com.