Portrait of Margaret Thatcher by Nelson Shanks
April 8, 2013 11:15 am Last Updated: July 18, 2015 5:21 pm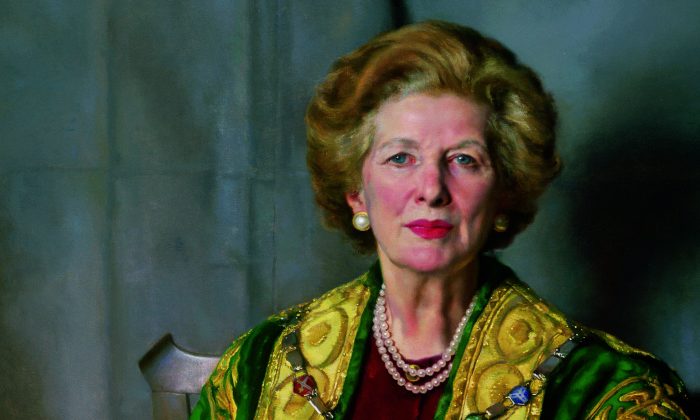 NEW YORK—On the day of Margaret Thatcher's death, Nelson Shanks, founder of Philadelphia realist art atelier Studio Incamminati, took another look at his portrait of the British politician, and reminisced.
"We became great friends," he said. Shanks said he spent a lot of time as a guest at the Thatchers's home in Chester Square. "We talked about politics, art, and general observations. She was always thinking on a high plane."
Shanks painted two portraits of the Iron Lady, the first of which she retained. The one shown, completed in 1999, is of Thatcher wearing the chancellor's robe of the College of William and Mary. In total, Thatcher posed 80 hours for the two portraits. Shanks spent an additional 100 hours on the robes and background.
"She was elegant, and dignified always," Shanks said.
The portrait will be shown in the James A. Michener Art Museum in Doylestown, Pa., beginning on June 7 as part of a one-man show featuring Shank's work.