PG | 2h | Drama, Sports| 3 December 1976 (USA)
"Rocky," the timeless underdog story that captured the hearts of millions, opens on the cold, mean streets of Philadelphia in 1975. The titular character, Rocky Balboa (Sylvester Stallone), is an interesting mixture of seeming contradictions. Physically, he has an intimidating, brutish presence that makes his job as a loan-shark debt collector a shoo-in. However, as the movie rolls on, we see layers peel back and realize that Rocky has a tender, lovable side as well.
Rocky's a troubled soul; he's realized that at 30 years of age, he may no longer have what it takes to make anything out of his dwindling boxing career. The cantankerous owner of the local boxing gym where he trains, Mickey (Burgess Meredith), doesn't care for the pugilist much. Mickey realizes that although Rocky has all of the tools to be a phenomenal boxer, his lack of focus has derailed his potential.
Director John G. Avildsen paints Rocky's stagnated life well. We see the grimy, one-room apartment where he lives (with a fish and two turtles), and the bleak, frozen streets of the neighborhood he calls home.
When he's not putting boxing or the beatdown on late debtors, he's crudely attempting to court local pet store worker Adrian (Talia Shire). Adrian lives with her alcoholic brother, Rocky's friend Paulie (Burt Young), who works at a butchery.
Rocky's attempts to woo Adrian are hampered by two things: his tender-yet-coarse courting methods, and Adrian's extremely skittish, introverted nature. However, these romantic scenes reveal the caring, protective qualities that lurk beneath Rocky's unpolished exterior.
As Rocky drifts through his mediocre life, the undisputed Heavyweight Champion of the World, Apollo Creed (Carl Weathers), has a dilemma. An important, upcoming bout is on the ropes, since his opponent has pulled out because of an injury. As a publicity stunt, Creed decides to give a local boxer from Philadelphia a one-shot chance at greatness. Creed likes Rocky's nickname of the "Italian Stallion," so Balboa is chosen to replace the injured contender.
The only catch is that Rocky has only five weeks to train. Realizing that this is a once-in-a-lifetime opportunity, he sets about to train himself with a burgeoning do-or-die spirit. Mickey shows up and asks to be his trainer, and although Rocky is still smarting from the old timer not believing in him, he eventually agrees. This training period culminates in a rousing scene where Rocky raises his fists at the top of the Philadelphia Museum of Art's stairs, to Bill Conti's song "Gonna Fly Now."
A Character Study
In fact, Rocky seems oddly self-aware that his chances of winning a fight with such an accomplished champion as Creed are pretty slim. But he also realizes that he'll never be able to live with himself if he doesn't take the shot. He figures that winning the bout isn't as important as fighting his heart out, and thereby getting the respect that has eluded him.
But Avildsen doesn't immediately segue to the actual fight. At its heart, wrapped inside of a sports drama, this film is a character study and a romance. It's more concerned about the everyday life of its characters in their squalid surroundings, as well as their relationships.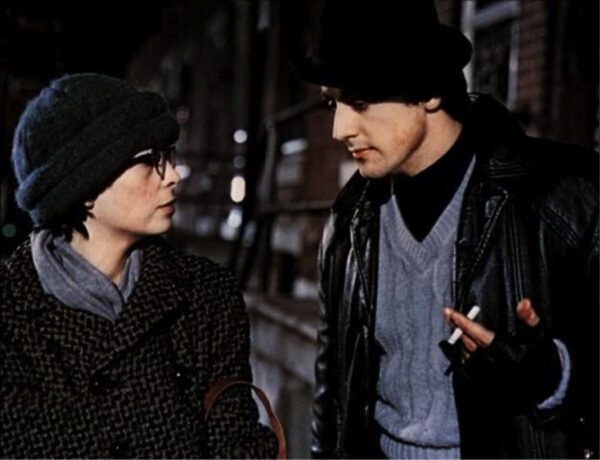 For instance, Paulie, like Rocky, is unhappy with how his life has turned out. However, instead of doing anything about it, he has become a much more deeply troubled man. As Rocky's big, anticipated final bout with Creed approaches, Paulie is a boiling cauldron of bitterness and despair.
As Young seems to disappear into the character of Paulie, Stallone's performance as the reluctant hero is likewise superb, and Shire plays his shy object of attention with the utmost of talent. Meanwhile, the screenplay (also written by Stallone) is well-paced. It pairs well with Avildsen's direction and allows the perfect amount of time for each of the characters to live within their dramatic beats.
Although the classic tale of the underdog is an old one, once in a while all of the pieces just seem to fall together tighter. "Rocky" feels authentic as much as it does inspiring, as ordinary folks dream and strive for something greater in life. As the climactic fight at the end of the film shows, it is not whether someone wins or loses—it's having the heart to try that truly counts.
'Rocky'
Director: John G. Avildsen
Starring: Sylvester Stallone, Talia Shire, Burt Young, Burgess Meredith
Rated: PG
Running Time: 2 hours
Release Date: Dec. 3, 1976 (USA)
Rated: 4.5 stars out of 5

Ian Kane is a filmmaker and author based out of Los Angeles. To see more, visit DreamFlightEnt.com or contact him at Twitter.com/ImIanKane