G | 2h 7min | Drama, Family, Sport | 29 March 2002 (USA)
Movies that tell the tales of underdogs who, against all odds, manage to make incredible comebacks and snatch victory from the jaws of defeat can be some of the most inspiring films. But when you infuse that winning formula with the "never too late" subgenre, the film can rise to an even higher level of feel-good loftiness. There's just something about seeing middle-aged or older folks who have settled into mundane lives becoming motivated enough to give their dreams one last shot.
This powerful combination is on full display (as well as capably executed) in the 2002 sports drama "The Rookie." It's based on the real-life trials and tribulations of Jim Morris (Dennis Quaid), who wrote his autobiography in 2001 titled "The Oldest Rookie."
The film's opening scenes show Jim as a young boy (Trevor Morgan) living with his family in Connecticut. His father, Jim Morris Sr. (Brian Cox), is a Navy man and, as such, tends to move his family around quite a bit. As they move from state to state, Jim's fascination with baseball grows but is largely ignored by his father, who believes that the boy should have more practical ambitions.
By the time Jim Sr. is assigned as a Navy recruiter in Big Lake, Texas, he's had enough of young Jim's obsession with baseball, telling him: "There are more important things in life than baseball. The sooner you figure that out, the better."
Things zip forward in time to 1999 when Jim has settled into Big Lake with a loving wife, Lorri (Rachel Griffiths), three kids, and a stable job as a high school science teacher. As a way of keeping baseball in his life, he also coaches the local high school team, the Big Lake Owls.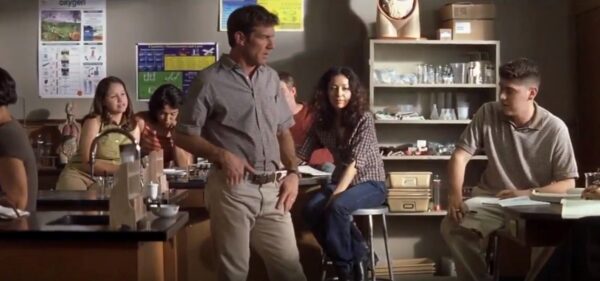 Jim had previously been drafted by the Major League's Milwaukee Brewers, but severely injured his arm—thus ending his dreams of playing in the big leagues.
But when his high school team notices how fast he can throw a fastball during practice, they give him a challenge—if the Owls can manage to win the district championship, Jim will do his best to pass a big-league tryout. A humble man, Jim is uncertain at first, but the kids compel him to accept their challenge and go after the dream he's kept buried for years.
The Owls do indeed win the district competition, and Jim gets his chance to perform in front of some important baseball scouts. He soon finds out that his arm has made a miraculous recovery: He's throwing pitches at 98 miles per hour via radar guns, and the scouts realize that they have a hot prospect on their hands, even at the relatively older age of 35.
Jim had been keeping his rekindled ambitions a secret from Lorri. And after some initial reluctance (she's afraid of him being hurt again), she finally backs him in his aspirations. With his family's support, Jim goes on the warpath and climbs the league ladder. Within a mere few months, he gets the call—the Tampa Bay Devil Rays team has a spot for him on their roster.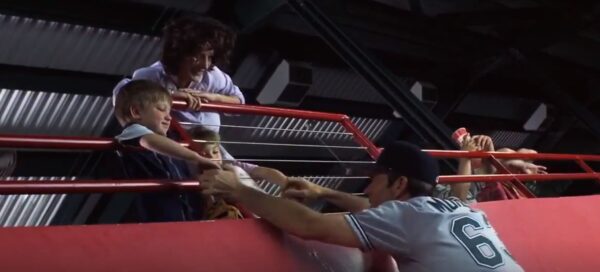 But will Jim's arm hold up long enough for him to live out his childhood dreams? And will he finally gain the support and love of his father?
Terrific Acting
Dennis Quaid steps into the cleats of Jim Morris with a highly understated, yet powerful performance. Although he portrays Jim as a humble and gracious everyman, Quaid is gifted enough as an actor to convey genuine emotions, especially in the moodier, quieter scenes where he's going through inner struggles.
The supporting cast is very capable as well. Cox is detached as the frigid father, and Griffiths is believable as the loving wife who just wants the best for her husband.
Although the great American pastime of baseball is used as a worthy vehicle, this film transcends its sports drama moorings. Due to the strong and earnest performances by its cast, excellent direction by John Lee Hancock, and "go for your dreams no matter what" messages (St. Rita, the saint of impossible dreams, is alluded to throughout the film), "The Rookie" is an uplifting and inspirational movie that is perfect to view with both friends and family.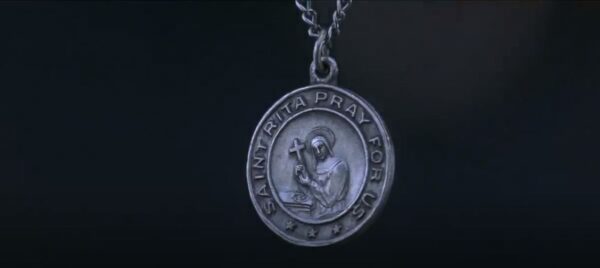 'The Rookie'
Director: John Lee Hancock
Starring: Dennis Quaid, Angus T. Jones, Rachel Griffiths
Rated: G
Running Time: 2 hours, 7 minutes
Release Date: March 29, 2002
Rated: 5 stars out of 5

Ian Kane is a filmmaker and author based out of Los Angeles. To learn more, visit DreamFlightEnt.com or contact him at Twitter.com/ImIanKane