PG-13 | 2h 20min | Drama, Sports, History | 25 July 2003 (USA)
Although there are dozens of past champion thoroughbred horses with greater legacies and more wins, few have ever captured the hearts of more people (race fans and otherwise) than Seabiscuit (1933–1947). Writer and director Gary Ross's 2003 "Seabiscuit" is just one of 10 past Seabiscuit-centric productions, but it is arguably the most critically acclaimed, financially successful, thorough, heartwarming, and entertaining.
In his adaptation of Laura Hillenbrand's 1999 bestselling book "Seabiscuit: An American Legend," Ross includes as much of the book as a 140-minute feature can handle while walking a fine line between often intense drama and feel-good uplift. As with many fact-based sports films of this type ("Rudy," "Miracle," "A League of Their Own," "The Greatest Game Ever Played"), "Seabiscuit" is an underdog story where the titular or principal characters are vastly underappreciated or discounted and prove their worth through heart, relentless drive, sheer determination, and results.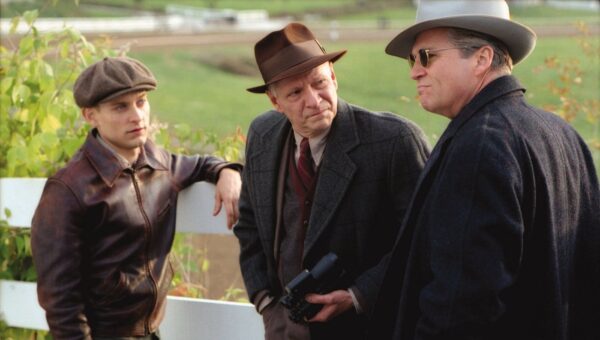 Ross spends an unusually long stretch of time introducing and bringing together the four principal characters, most of whom come with considerable baggage.
Not an Ideal Prospect
Originally from Georgia, Charles Howard (Jeff Bridges) moves to San Francisco in the early 1900s and opens a bicycle shop which soon tanks. But after getting filthy rich selling Buicks, he buys a ranch and eventually branches out into horse racing.
Although a foal of superior breeding, the smallish (just 14 hands high) Seabiscuit is lazy, ornery, eats too much, and was considered a lost cause by his previous trainer. These traits the new, soft-spoken trainer Tom Smith (Chris Cooper) feels he can fix.
The Canadian-born John "Red" Pollard (Tobey Maguire) grew up in an affluent family whose fortune eventually goes belly up. After a series of dead-end odd jobs, Red crosses paths with trainer Smith, who hires him as a jockey. Smith figures that the battered Pollard and the misfit Seabiscuit will complement each other, and he is right.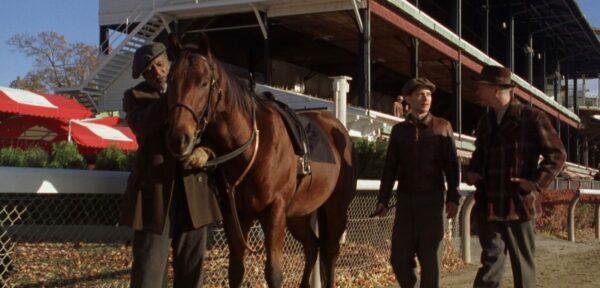 After this thorough chunk of exposition, Ross kicks off the second act by chronicling Seabiscuit's rise from lowly slacker and ne'er-do-well to the darling of the racing world. His rise is, perhaps, not so much due to his nine stakes race wins in less than two years, but with the unmistakable kinship and connection he's created with the American people.
The movie underscores the times: Desperate to find some respite amid relentless bad times, those who had never before seen a horse race (or even a horse) gravitated and clung to an inspirational creature that lifted their spirits and gave them some measure of hope. It also didn't hurt Seabiscuit's cause that famous Hollywood types (Clark Gable, Henry Fonda, Bing Crosby, and Mickey Rooney, among others) were huge  fans.
So popular was the horse, he had more newspaper articles written about him in 1938 than Franklin Delano Roosevelt and Hitler. Some might be so bold as to consider Seabiscuit an American hero.
The Challenge Race
Howard and Smith feel that the best way to put Seabiscuit over the top would be a challenge race with War Admiral, at the time considered to be the greatest horse on the planet. After several of Howard's proposals for a "match race" are dismissed with blowhard, dismissive brushoffs, War Admiral's owner, Samuel Riddle (Eddie Jones)—under public pressure—has no choice but to acquiesce. Riddle's agreement comes with a list of demands that some feel might give War Admiral an unfair advantage, yet Howard nonetheless agrees to the terms, and the "race of the century" finally takes place at Pimlico in Baltimore, Maryland, on Nov. 1, 1938.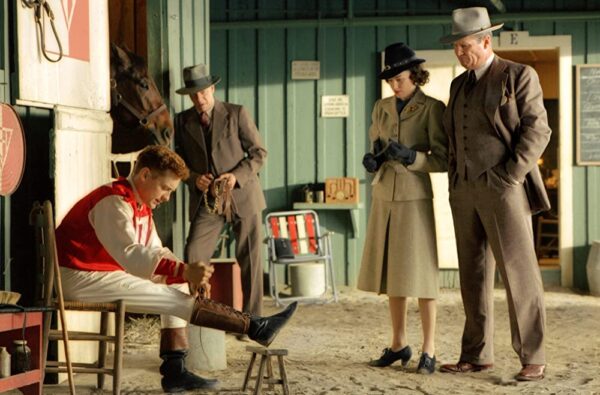 Over 40 million people listen to it on the radio.
Not brought up in the film but instead mentioned in the documentary that is included in most home video releases, Seabiscuit was the grandson of Man 'o War, whose son was War Admiral. The most famous challenge horse race in the world was between an uncle and his nephew.
Most filmmakers (and studios) would have ended the movie with the Pimlico race, but Ross rolled the dice by including two additional dramatic hurdles that, pardon the pun, raised the emotional stakes even higher. The bond between steed and rider is presented from a welcomed, nonracing perspective and, as before, the pair face seemingly insurmountable odds.
Narration by David McCullough
Having such an esteemed voice artist as David McCullough on board to provide narration always ups the prestige factor for any project, and Ross was wise not to overuse him. All too often, narration becomes the spackle to patch cracks in the screenplay, but that is not the case here. Still, Ross made the mistake of including information that really wasn't needed—and which actually detracts from the film as a whole.
Early on, the screenplay establishes that the story takes place during the Great Depression via visual cues and onscreen text, yet Ross felt the need to make sure no one missed the point by having McCullough describe people's pain and their collective plight. These six or so 30-second interludes—accompanied with montages of still photos—are mostly innocuous and play out like government-sponsored PSAs.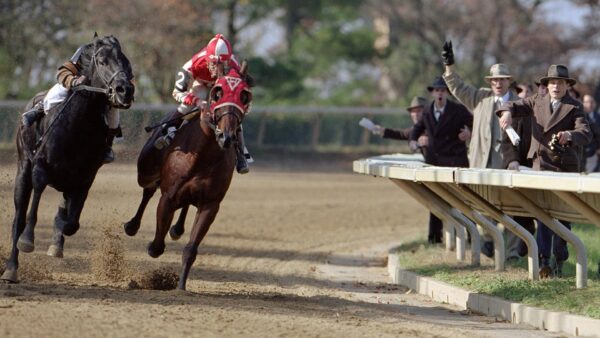 On two occasions, however, McCullough describes the WPA (Works Progress Administration), a New Deal program instituted by the FDR administration to ease the suffering of Americans. On closer inspection, the working guts of the WPA was more political than humanitarian in nature and as such proved to be so controversial that it was halted in 1943, only eight years after it was implemented.
Even with this minor, ill-advised narrative inclusion, Ross, his team of technicians, and performers (including the 10 portraying the title character) made one of the greatest sports movies of all time, which will quite easily double for some as the light at the end of many tunnels.
'Seabiscuit'
Director: Gary Ross
Stars: Tobey McGuire, Jeff Bridges, Chris Cooper, Elizabeth Banks, Gary Stevens
Running Time: 2 hours, 20 minutes
MPAA Rating: PG-13
Release Date: July 25, 2003
Rating: 4.5 out of 5 stars