R | 1h 43min | Biography, Drama | 30 March 1990 (USA)
"Go on, Christy … Go on, make your mark," says young Christy Brown's mother. She encourages him to scribble something on a chalkboard with his left foot. She sees something in him that most others don't, since they assume that he's brain-damaged.
Nothing could be further from the truth. Although Christy (Daniel Day-Lewis) was born with cerebral palsy, he possesses a steel-trap mind that is brimming with creative energy. Growing up, Christy (the young version played by Hugh O'Conor) learns to paint with the only dexterous appendage he has—his left foot. However, when he tries to communicate with others, his words come out as unintelligible grunts and moans.
Directed by Jim Sheridan and premiering in the U.K. in 1989, "My Left Foot" details the real-life trials and tribulations of writer, poet, and painter Christy Brown. The film is a partly fictional biographical drama (along with well-timed bits of comedy here and there), adapted by Shane Connaughton and Jim Sheridan. It is based on Brown's 1954 book, "My Left Foot."
His hard-working, alcoholic father (Ray McAnally) largely ignores him as a child—at least initially. He feels ashamed of his son's condition. Meanwhile, his stoutly built mother (Brenda Fricker) instinctively recognizes that there is some untapped potential within the lad, and she refuses the medical establishment's advice to institutionalize him. (He later visits a clinic voluntarily.)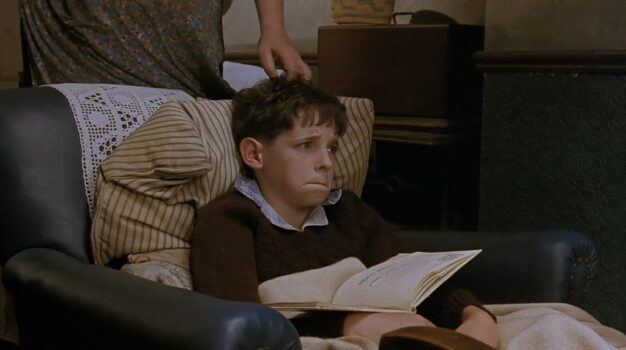 Despite Christy's physical condition, the other boys in the Dublin-slum neighborhood fully embrace him as part of their hangout group. Christy's mother even allows the boys to cheerily wheel him around in his main source of transportation—a rickety wooden cart. She figures that getting him out of the house to socialize while he's young will better prepare him for adulthood.
At a certain point, Christy's father gets laid off from his job as a bricklayer. The family goes into belt-tightening mode, which includes eating porridge multiple times a day. Despite falling on hard times, Christy's mother has stashed away some savings to eventually purchase a wheelchair for her beloved son.
Later, as a young man, Christy becomes more reclusive. The reality that he is different from others weighs heavily on him, and he holes up in his deadbolt-locked bedroom in his parents' home.
One day, Christy's mother introduces him to Dr. Eileen Cole (Fiona Shaw), who invites him to come and stay at a clinic specializing in cerebral palsy. He accepts. There, Christy realizes that many of the other patients are in far worse shape. This gives him a sense of hope; he returns to his parents' home with a renewed interest in his creative exploits.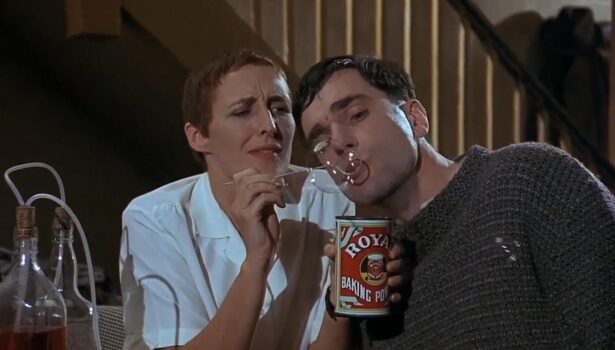 However, he's become smitten with Dr. Cole. She's the only woman, outside of his family, who has shown a genuine interest in him. Not only does she eventually teach him to talk, but she also makes it possible for him to have an art exhibition that showcases his paintings. But will his feelings for her be reciprocated?
Christy's mother notices an odd change in Christy's voice; she becomes fearful that the hope she hears in it could spell potential pain for her son.
One thing that I am always wary of when watching films featuring those with disabilities or special needs are signs of emotional manipulation, or in the worst cases, downright exploitation. Admittedly, although there are some scenes early in the film that are tough to watch, it eventually becomes surprisingly enjoyable. There are even some hilarious scenes that made me chuckle.
This is due in no small part to Lewis's stellar performance as Brown. The highly regarded actor manages to convey a wide array of emotions, despite (or perhaps because of) the limited communicative abilities of Christy.
Likewise, Fricker, an Irish character actor, is phenomenal as Brown's doting mother. She brings an unusual earthiness to her performance as the resolute, yet sometimes vulnerable, backbone of the working-class Brown family.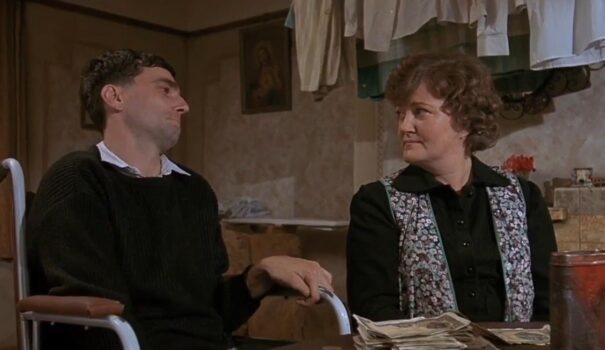 "My Left Foot" is a deeply moving, uplifting celebration of the life of Christy Brown. It's a very important film (that is never self-important) and one that everyone should see at some point in their lives.
'My Left Foot'
Director: Jim Sheridan
Starring: Daniel Day-Lewis, Brenda Fricker, Alison Whelan
Rated: R
Running time: 1 hour, 43 minutes
Release Date: March 30, 1990 (USA)
Rated: 4.5 stars out of 5

Ian Kane is a filmmaker and author based out of Los Angeles. To see more, visit DreamFlightEnt.com or contact him at Twitter.com/ImIanKane