Even though the popularity and profitability of family-oriented films have always been strong, the variety offered is woefully thin. Superhero action, animation, and musicals comprise the vanilla-chocolate-strawberry choices, yet they almost always make for hefty returns because those are the only things offered. It isn't often when something else that doesn't fit neatly into any of these compartments comes out, and even rarer when it's something as magnificent and mint pistachio as "Gifted."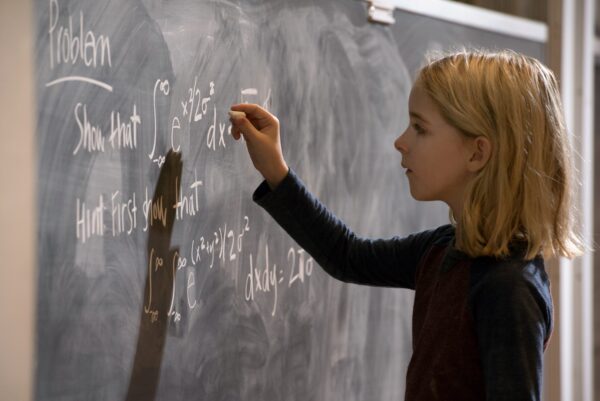 Echoes of 'Good Will Hunting'
Starting out like "Good Will Hunting" with a younger female lead, "Gifted" at various times takes on traits of "Kramer vs. Kramer," "Little Man Tate," and "I Am Sam." These are all movies with heady subject matter that are frequently unsettling and dramatically tense, but screenwriter Tom Flynn and veteran video director Marc Webb ("500 Days of Summer," two installments of the "Spider-man" franchise, the upcoming live-action remake of "Snow White") regularly infuse the plot with deft bits of knowing humor that kids will actually get because it is coming from one of them.
Mckenna Grace ("I, Tonya") plays Mary, a 7-year-old girl who has lived with her Uncle Frank (Chris Evans) her entire life. Frank is a bachelor originally from New England, who decided years ago to give up his "sensible" career as an attorney, move to Florida, and become a freelance boat mechanic.
A Self-Taught Genius  
The movie opens as Mary is getting ready for her first day of school, and she is trying hard as she can to get out of it. Technically, Frank has been homeschooling her, but as we are soon to find out, that's probably not the case, as Mary is a self-taught math genius. It would be easy for Frank to enroll Mary in an advanced school for whiz kids, but he wants her to have normal life, perhaps join the Girl Scouts, and interact with children her own age. As it is now, Mary's only friend is neighbor and landlord Roberta (Octavia Spencer) who in many ways is her surrogate mother.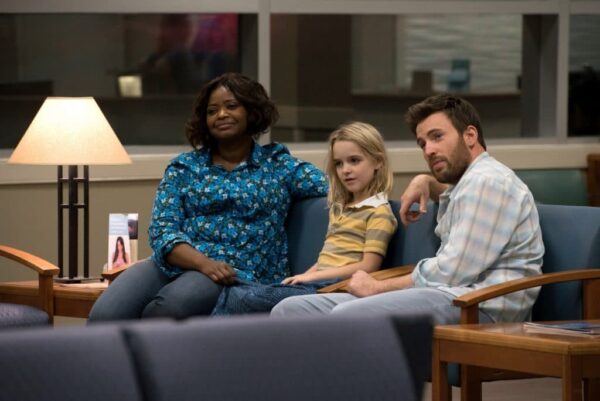 Bad Grandma
As soon as it becomes clear to Mary's teacher Bonnie (Jenny Slate) that she is beyond brilliant, Frank's plan gets shot down in flames, led by the arrival of Mary's grandmother Evelyn. Played by the sublime veteran English actress Lindsay Duncan ("Mansfield Park"), Evelyn is a cold and exacting woman who believes Mary is destined for greater things and decides to challenge Frank for full custody for the purpose of moving the child to Boston.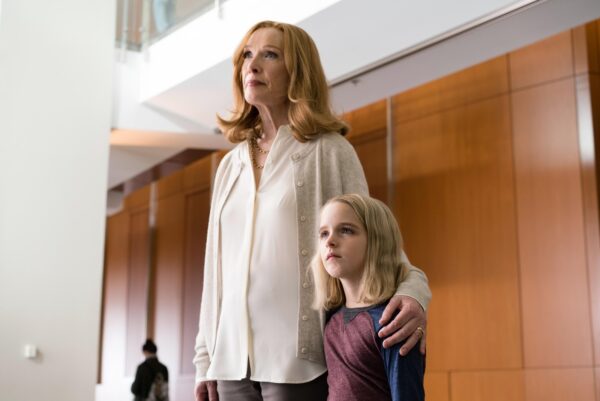 As is often the case with grandparents, Evelyn showers Mary with pricey gifts to soften her up and, for the briefest time, earns the child's trust. Evelyn is thrown multiple curves during the trial by Frank's attorney Gregg (Glenn Plummer, "Frankie and Johnny") whose mild, unassuming manner cloaks a cunning killer strategist.
What will draw you and your own children in immediately is Mary's genuine, heart-melting charm and approachability. All too often in movies with juvenile leads, children are portrayed as precocious brats, spoiled whiners, class clowns, rich snobs, or mere props. Mary has none of those traits, and the filmmakers should be commended for creating such a deep and multi-layered character that on the page is so boringly normal. Grace is an actress that at the ripe age of 10 already had more than 40 feature film and TV series credits. Pay attention to the career trajectory of this young lady; she's going to crush it.
The Anti-Captain America
Evans, having spent the better part of the 2010s as Captain America in the Marvel franchise, must have received the role of Frank like a godsend. Instead of prancing around in spandex in front of green screens and play-fighting, he gets the chance to really act, and he more than proves he's not just a pretty boy matinee idol.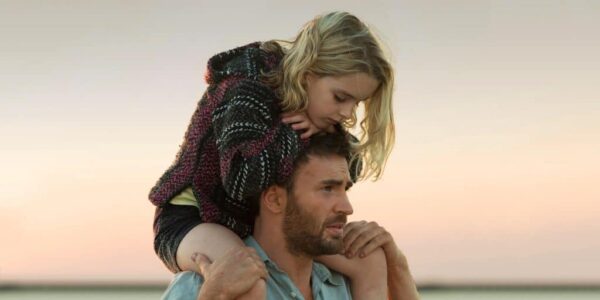 Nonreligious and Apolitical
Parents always and rightfully complain of the limited choices for family films, a situation made slightly better thanks to a recent uptick in the number of Christian-themed releases. However, many folks don't want faith mixed in with their entertainment.
"Gifted" is nonreligious and apolitical and offers almost everything parents and children could possibly want: a spunky yet grounded child, a rugged and morally grounded father figure, a great villain, a little romance, and an ending that doesn't come wrapped with a big predictable bow.
Language Warning
The only thing that could be an issue is the inclusion of a single "F-bomb" which, under the ratings guidelines for PG-13 movies, may be used just once. Usually, filmmakers employ this option at a most critical (usually comic) passage in the movie, but that's not the case here. It comes across as clunky, forced, out of place, and totally unnecessary. If you want to prepare, it takes place in the third act when Frank and Bonnie are on a docked boat at nighttime.
"Gifted" isn't just a great family film, it offers insight and lessons for a lifetime and might actually make you and your children better people. That's far more than you can expect to take away from any movie.
'Gifted'
Director: Marc Webb
Stars: Chris Evans, Mckenna Grace, Octavia Spencer, Jenny Slate, Lindsay Duncan
Running Time: 1 hour, 41 minutes
MPAA Rating: PG-13
Release Date: April 7, 2017
Rating: 4.5 out of 5