| Comedy, Fantasy, Music | August 1945 (USA)
A great first classic film for lovers of musicals is "Anchors Aweigh" from 1945. With an all-star cast, many types of music, and a patriotic story, this movie has something for every music lover. In addition, it is inspiring, since it shows that helping others makes you happy.
After being decorated, two sailors are given four days' leave in Hollywood. "Sea Wolf" Joe Brady (Gene Kelly) is looking forward to seeing his casual girlfriend Lola, but his shy shipmate Clarence Doolittle (Frank Sinatra) insists that when Joe saved Clarence's life, he also took responsibility for it; so Clarence wants Joe's help finding a girlfriend. They are sidetracked when the police recruit them to get 7-year-old Donald Martin (Dean Stockwell) to go home instead of joining the Navy.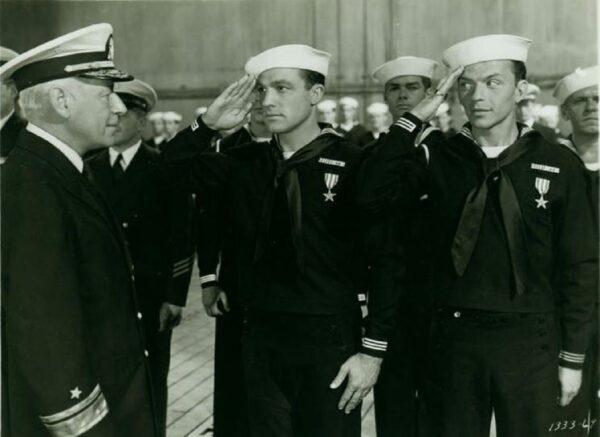 Donald insists on the sailors coming home with him to ask his aunt for a letter of permission for him to become a sailor. When Aunt Susie (Kathryn Grayson) finally gets home, Joe tries to leave as quickly as possible, but Donald makes him promise future visits. Meanwhile, Clarence decides that the beautiful young woman, who is her orphaned nephew's sole guardian, is the girl for him, much to Joe's chagrin.
The next day, Joe accompanies Clarence to Susie's house, bearing gifts for Donald. They learn that she is a film extra and aspiring singer. She happily agrees to date Clarence sometime, but she is busy that evening. When they see her wealthy but unattractive date, Bertram (Grady Sutton), Joe thinks Susie won't like any place they can take her. He persuades Clarence to help him convince Bertram that Susie is the sweetheart of the whole Navy.

After Bertram leaves, the heartbroken Susie explains that he is a business contact, not a beau; Bertram's mother knows famous musicians. Desperate to redeem his pal, Joe lies that Clarence is good friends with José Iturbi, an important pianist and conductor. Susie is so pleased with the fib that Clarence has scheduled an audition with Mr. Iturbi for her on Saturday that she invites them to dinner to celebrate.
The sailors have three days to find Mr. Iturbi and explain the situation before breaking Susie's heart.

Happiness Through Helping Others
This film shows people helping others. In Los Angeles, the last thing Joe wants to do is teach Clarence how to enjoy a leave. However, even though he has his own date, he agrees to help Clarence find a girlfriend. Joe wants to escape his police assignment quickly, but Donald charms him. They take him home and wait for his aunt for most of the evening. And after Clarence decides that Susie is the girl for him, Joe energetically assists in his wooing her.
Joe and Clarence have only four days' leave, which they spend going out with Susie, playing with Donald, and pursuing José Iturbi. Although they enjoy Susie's company, locating Mr. Iturbi is an ordeal. Joe and Clarence search the studio lot where he works, race toward the Hollywood Bowl's stage where he is rehearsing, and camp in front of his house overnight. Though frustrating, it is worth their efforts because they know how happy Susie will be if she gets to audition.
Susie happily welcomes Joe and Clarence, who risk their lives in the Navy yet befriended her nephew during their leave. She appreciates that they care enough about Donald and her to spend their short leave helping them. Susie doesn't love Clarence but gladly dates him because he likes her. She's kind to Clarence and Joe, not because she believes they have arranged an audition for her; she befriends them because she genuinely wants them to enjoy their leave, knowing how kind and generous they are.
Musical Merriment
This film showcases many styles of music. Gene Kelly and Frank Sinatra provide big musical numbers: a funny tune when leaving their ship, another comical song and dance at the servicemen's lodging, and a hilarious ditty when scaring Bertram. Individually, Frank Sinatra croons three popular tunes, tenderly sings Brahms's "Lullaby" to Donald, and even sings lyrics to Tchaikovsky's Piano Concerto No. 1. Gene Kelly shows his terpsichorean technique during a fairytale sequence in which he sings and dances with the cartoon character Jerry Mouse, in a cute routine with a little Mexican girl (Sharon McManus), and in a dream sequence about a Latin bandit.

The movie also features classical singing. Kathryn Grayson, known for her operatic soprano, displays her brilliant vocalizing in an original love song and in a Spanish-themed number performed at a Mexican restaurant. Her most classical selection is a lyricized adaption of Tchaikovsky's instrumental waltz from "Serenade for Strings." There is even an opera excerpt, an aria from Rossini's "The Barber of Seville," which is performed by Colombian baritone Carlos Ramirez.
This movie's musical merriment is completed by José Iturbi. Playing himself, this Spanish musician conducts a Navy band playing "Anchors Aweigh" and an orchestra when Carlos Ramirez sings and during Susie's vocal rendition of "Serenade for Strings." Mr. Iturbi's greatest musicianship is demonstrated at the keyboard. He plays Liszt's "Hungarian Rhapsody No. 2" with youthful pianists at the Hollywood Bowl and Tchaikovsky's "Piano Concerto No. 1" on an empty soundstage. He demonstrates both his piano expertise and conducting skills in "The Donkey Serenade," an orchestral piece he conducts from the piano.
The Music Plays On
"Anchors Aweigh" is now 75 years old but is still very enjoyable, with many features that recommend it for modern viewers. The cast stars Gene Kelly and Frank Sinatra, whose legacies have endured beyond their lifespans. The film includes a plethora of beautiful songs and iconic numbers that music fans will love. Even Jerry Mouse of MGM's timeless "Tom and Jerry" animated series is featured in this movie. Younger viewers may not recognize the actors or music, but this movie could make them new favorites.

This movie's World War II setting, which was current at its release, is now a window into this era. The patriotic message of support for servicemen is as inspiring in peacetime as in wartime. "Anchors Aweigh" depicts two sailors who are torn between personal desires and helping new friends during their leave. It gives viewers a deeper understanding of the Greatest Generation by showing how ingrained patriotism was in Golden Era movies. When paired with excellent acting, marvelous music, and totally decent content, it created entertaining films that still inspire today.
'Anchors Aweigh'
Director: George Sidney
Starring: Frank Sinatra, Kathryn Grayson, Gene Kelly, José Iturbi, Dean Stockwell
Rating: Not Rated
Running Time: 2 hours, 20 minutes
Released: August 1945 (USA)
Rated: 5 stars out of 5
Tiffany Brannan is an 18-year-old opera singer, Hollywood historian, travel writer, film blogger, vintage fashion expert, and ballet writer. In 2016, she and her sister founded the Pure Entertainment Preservation Society, an organization dedicated to reforming the arts by reinstating the Motion Picture Production Code.