Imagine a composition in which you hear a gnome, feel you are near a haunting castle, or hear cattle rumbling past pulling a heavy load.
Classical music lovers have always been attracted to compositions with colorful or evocative titles, especially those that are associated with a story you can actually hear in the music. Such "program music" can be inspired by a play, like Tchaikovsky's symphonic poem "Romeo and Juliet"; by the seasons of the year, like Vivaldi's concertos "The Four Seasons"; by a poem, like Paul Dukas's popular "The Sorcerer's Apprentice" (after a poem by Goethe);  by elements of nature like bird calls and storms, as in Beethoven's "Pastoral" (sixth) symphony; or even by paintings.
Among the most popular and interesting of painting-inspired compositions and, indeed, one of the most popular of all classical compositions is "Pictures at an Exhibition" (1874) by Modest Mussorgsky (1839–1881). In a recent report by the League of American Orchestras, "Pictures at an Exhibition" was the second most-played composition by American orchestras, the most-played being the first symphony by Johannes Brahms.

Some readers may fondly recall that the Mussorgsky composition even inspired a 1971 top-10 album in a rock arrangement by the group Emerson, Lake, and Palmer and a widely heard electronic ("Switched-On-Bach" style) version in 1975 by Isao Tomita.
Like Mussorgsky's other famous composition, "Night on Bald Mountain," one of the appeals of "Pictures" is its colorful orchestration. Many people may not know, however, that the version of the piece Mussorgsky actually composed was for solo piano. In 1922, the great composer and orchestrator Maurice Ravel created the popular orchestra version that is played today. (And the version of "Night on Bald Mountain" that we hear played by orchestras today was arranged by the composer Nikolai Rimsky-Korsakov.)
Many Contributions and a Long Road to Fame
Several other composers and conductors, some famous and some now forgotten, also could not resist trying to make an orchestration of "Pictures" from the original piano score, all essentially eclipsed now by Ravel's version. These orchestrators included, among others, Mussorgsky's fellow Russian Mikhail Tushmalov (1886), Englishman Henry Wood (1915), Slovenian Leo Funtek (1922), Ravel's pupil Leonides Leonardi (1924), Philadelphia Orchestra conductor Leopold Stokowski (1939), French-American Lucien Cailliet (1937), Russian Sergei Gorchakov (1954), and, more recently, the famous Russian conductor and pianist Vladimir Ashkenazy (1982).
Arrangements for all sorts of ensembles also give testament to the esteem and popularity of the work, such as the Philip Jones Brass Ensemble (1977),  school concert bands, and various solo instruments—even for solo classical guitar. However, aside from Ravel's orchestration, the original solo piano version remains the most performed, boasting (for example) over 60 performances by various pianists on YouTube alone. Indeed, the piano version remains arguably unsurpassed as a virtuoso showcase of the many colorful, almost orchestral qualities that a solo piano can actually produce in the hands of a great pianist.
Two Short-Lived Geniuses: Composer and Artist
The composer Modest Mussorgsky was born of a wealthy family, though in a small Russian town. When he distinguished himself as a genuine child prodigy on the piano, he was sent off at age 10 for proper training to the nearest big city, St. Petersburg. Throughout youthful stints in the military and civil service, he continued his musical training, primarily with the composer Mily Balakirev (1837–1910), leading him finally to devote himself entirely to music. Struggling through severe alcohol abuse, he eventually died a week after his 42nd birthday.
Balakirev was a great proponent of Russian nationalism in music and spearheaded the formation of "The Five," also called "The Mighty Handful" of Russian composers that included himself and Mussorgsky, also Alexander Borodin, Cesar Cui, and Rimsky-Korsakov. With influences from Russian sacred and folk music styles in their work, not to mention the international importance already gained by Tchaikovsky, together they forged a national musical style finally distinct from German models.
The suite of 10 piano pieces, "Pictures at an Exhibition," took its inspiration from a real art exhibition of mostly drawings and watercolor paintings by the composer's good friend Viktor Hartmann. Ingeniously sprinkled among the pieces was a "Promenade" theme in five variations, each to depict the composer as a visitor to the exhibition walking from one area of the gallery to another.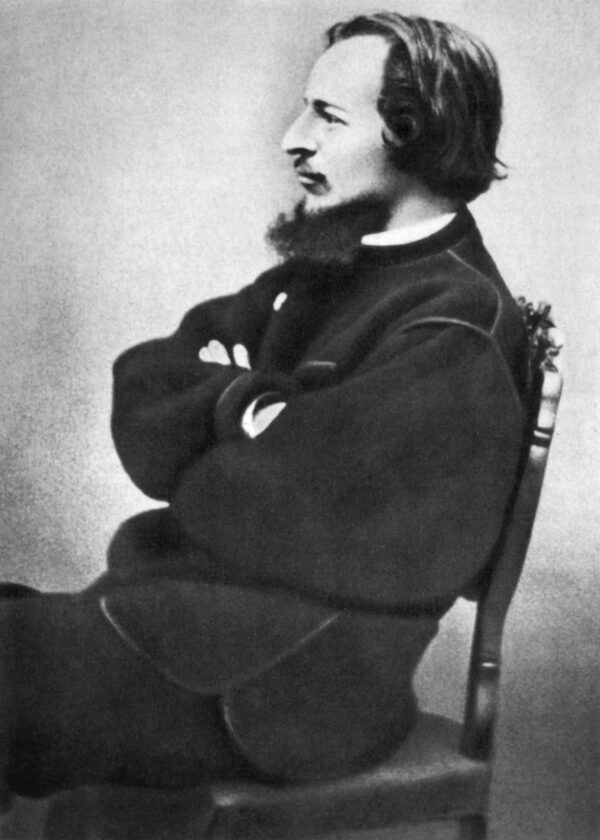 Mussorgsky and Hartmann had discovered in each other an artistic kindred spirit and a mutual admiration, as Hartmann was envisioning a truly Russian style of painting. Most of Hartmann's works from the exhibition became lost over time, but six of those that survived are believed to be models for several of the movements. They are examples of "old Russian style" in art, like its musical counterpart depicting Russian realism, ordinary people, and folklore.
Hartmann's tragic death at age 39 in 1873 became the occasion for his friends to organize the exhibition of over 400 of his works at the Imperial Academy of Arts in St. Petersburg, during February and March of 1874. In spite of a bout of depression and further alcohol abuse due to the death of his close friend, Mussorgsky felt inspired to commemorate him in this composition. It was composed in only three weeks during the following June.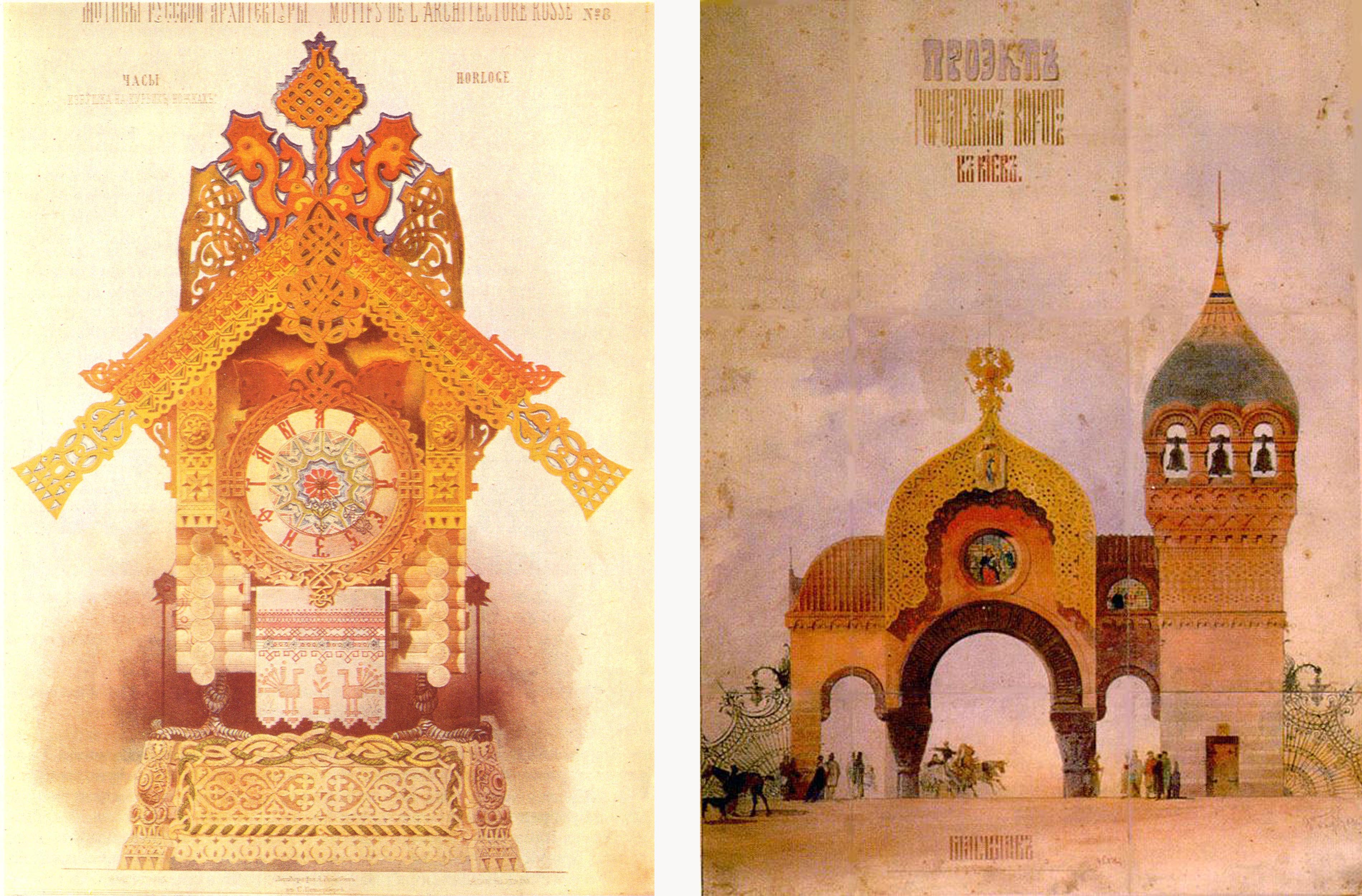 Music That Captures the Imagination
A snapshot description of the first five movements will suffice to give a sense of how pictorial this music is, and hence why it has had so much popular appeal. The music begins with the "Promenade" theme, which is truly the soundtrack to walking, if ever there was one.
"The Gnome" jerks and lunges in nervous, short phrases, with gaps in between, as such a creature might stumble along.
"The Old Castle" presents one of the few poignant alto saxophone solos in the orchestral repertoire over a haunting and moody castle background.
"Tuileries," the garden near the Louvre in Paris, is the scene for music that mimics the cadence of childhood taunts and chasing games.
"Bydlo" ("Cattle") are depicted by a rare high tuba or euphonium solo over a lumbering rhythm, like an oxcart making its way over a dirt road.
"Ballet of the Unhatched Chicks" very much sounds like the chicks are coming out of their shells with a musical onomatopoeia of chick sounds unrivaled in all of music.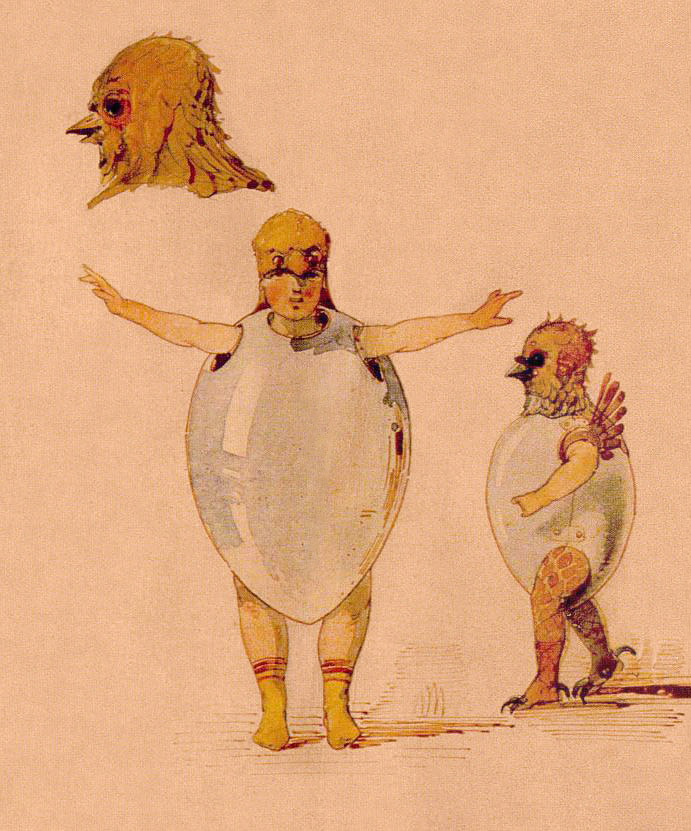 No public performance of any version of the piece was recorded until after Mussorgsky's death, but there is a private recording of him playing the piano version for his friends, and of them marveling at how radical his imagination was by the standards of that day—the novelty of picturing things like chicks and gnomes so literally.
In spite of all the attempts at orchestrating it, as mentioned above, the piece more or less languished in obscurity from its composition in 1874 until the conductor Serge Koussevitzky commissioned Maurice Ravel's famous orchestration in 1922.
The last movement and grand finale of the piece was based on Hartmann's painting titled "The Great Gate of Kiev," a fitting remembrance in these days of military conflict, to one of the great monuments in the modern city of Kyiv—the huge golden gate that was once the entrance into the medieval city of Kyiv, Ukraine.
Thus have these musical "pictures" not only survived but also thrived to hold their place today as a perennial concert favorite. It appears there is still an appetite for narrative classical music, music that tells a story and paints colorful pictures on the canvases of our imaginations.