A photographer who was hoping to capture images of the Milky Way got more than he bargained for when a SPACE ROCKET unexpectedly shot across the night sky in his dazzling set of images—leaving baffled onlookers thinking he snapped a UFO.
Mike Carroll had only visited the Judge's Shack in New Jersey in March in the hope of capturing routine pictures of the stars, when just as he was about to pack up, a "big bright light" suddenly appeared in the sky.
The 41-year-old says fellow photographers were astonished by the sight and speculated whether the "huge" object was a plane, helicopter, or even a UFO—but soon realized it was a space rocket.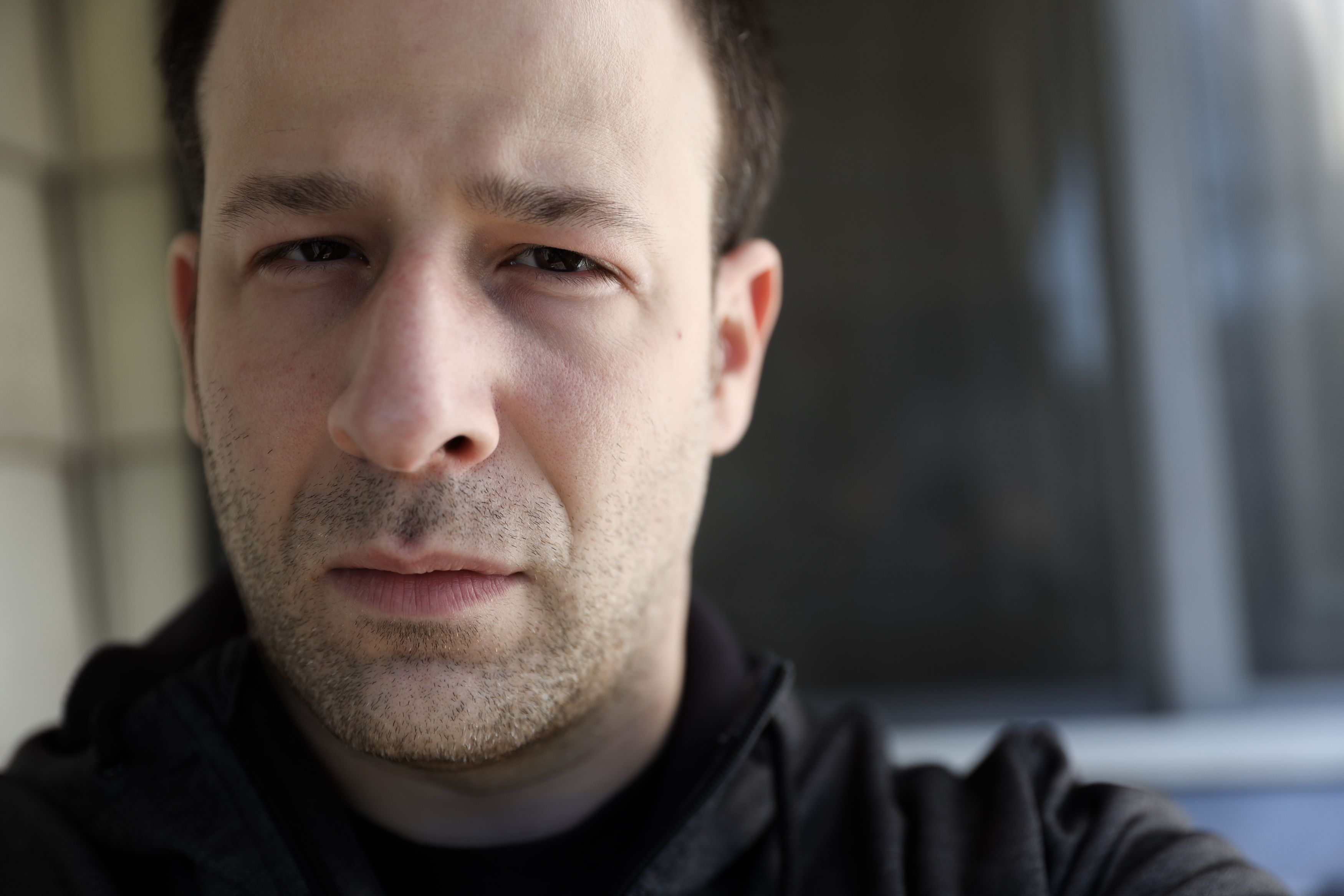 Mike believes the vehicle was the SpaceX Falcon 9, which launched 60 Starlink internet satellites into orbit, and said it was "amazing" to spot something that set off from several states away in Florida.
The photographer claims he was "in the right place at the right time" and luckily, with his gear still set up, captured the "mind-blowing" photos and time-lapse of the rocket flying over the shack.
The "rare shots," captured by Mike on his Canon EOS R5, show the rocket flying overhead and illuminating the former fishing shanty with the Milky Way in the frame as the "blue hour" was approaching.
"This is probably definitely the most epic photo I've ever taken—this has got to be one of the most unique photos that anyone could ever take," said Mike, of North Arlington, New Jersey.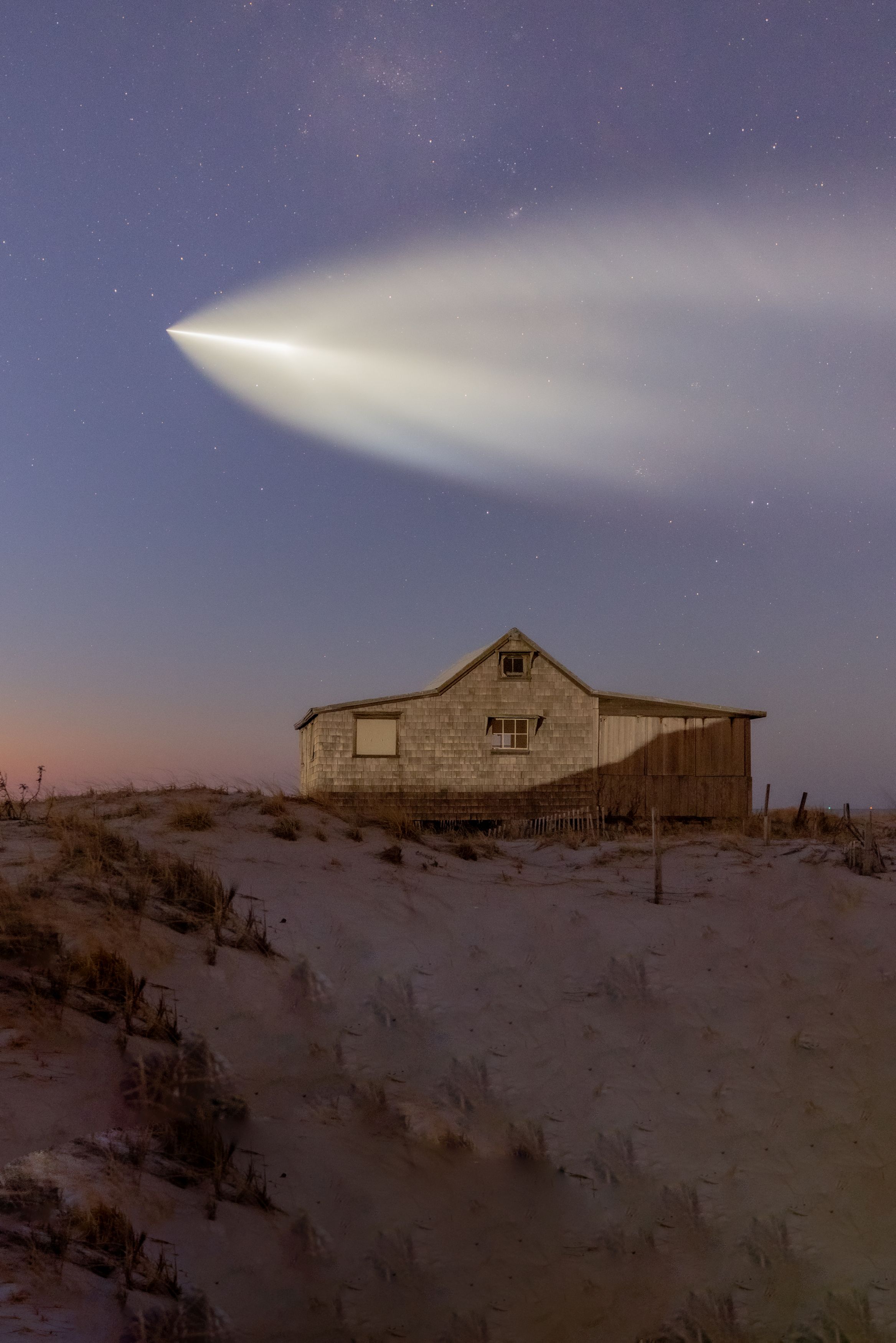 "It was accidental that I captured this as I wasn't planning on it at all—I was very fortunate to be in the right place at the right time.
"I was about to pack up my gear and all of a sudden I saw this big bright light in the sky—I had no idea what it was, it looked like a plane or a helicopter.
"But then as it came closer, it was not a plane, and it was huge, and people were like 'is that a UFO?'"
Mike says that you could try to plan for something like this if you knew the rocket was launching, but it was only the ninth time that it had ever done so. He just luckily happened to be there.
"It's a very rare shot—maybe three or four people in the whole world have this exact shot," he said. "I don't think they have a time-lapse—I might be the only person in the whole world who has a time-lapse of it."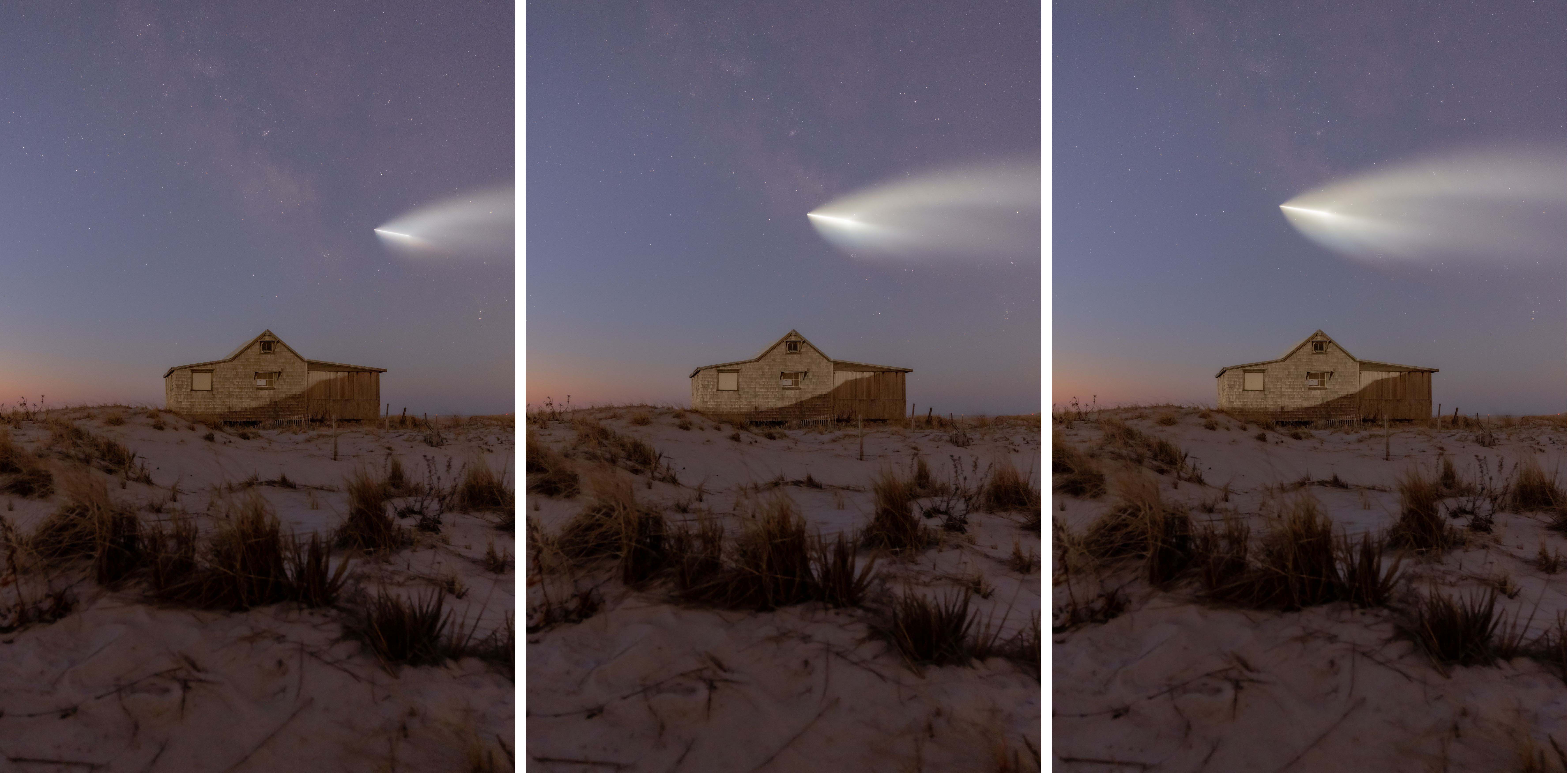 Mike said that the Judge's Shack is a popular location to photograph the Milky Way in New Jersey because it's very dark and has an appealing foreground.
Most photographers had packed up and left thinking they'd snapped everything they were going to see when Mike and a few remaining photographers who were about to clear up had an incredible "surprise."
"I luckily still had my gear set up, [so I] zoomed in as far as I could and started taking pictures and also made a time-lapse—I was the only one that had a time-lapse of that rocket over the shack," said Mike.
"You could start to see the nose of it and it was very bright, but the trail that it left in the sky was also pretty intense.
"The other amazing part was that the sun was starting to approach blue hour—if you look closely you can see how the sky is a little bright and there was some color in the sky which made it a little more intriguing.
"There were only a few people there—it was definitely a unique morning."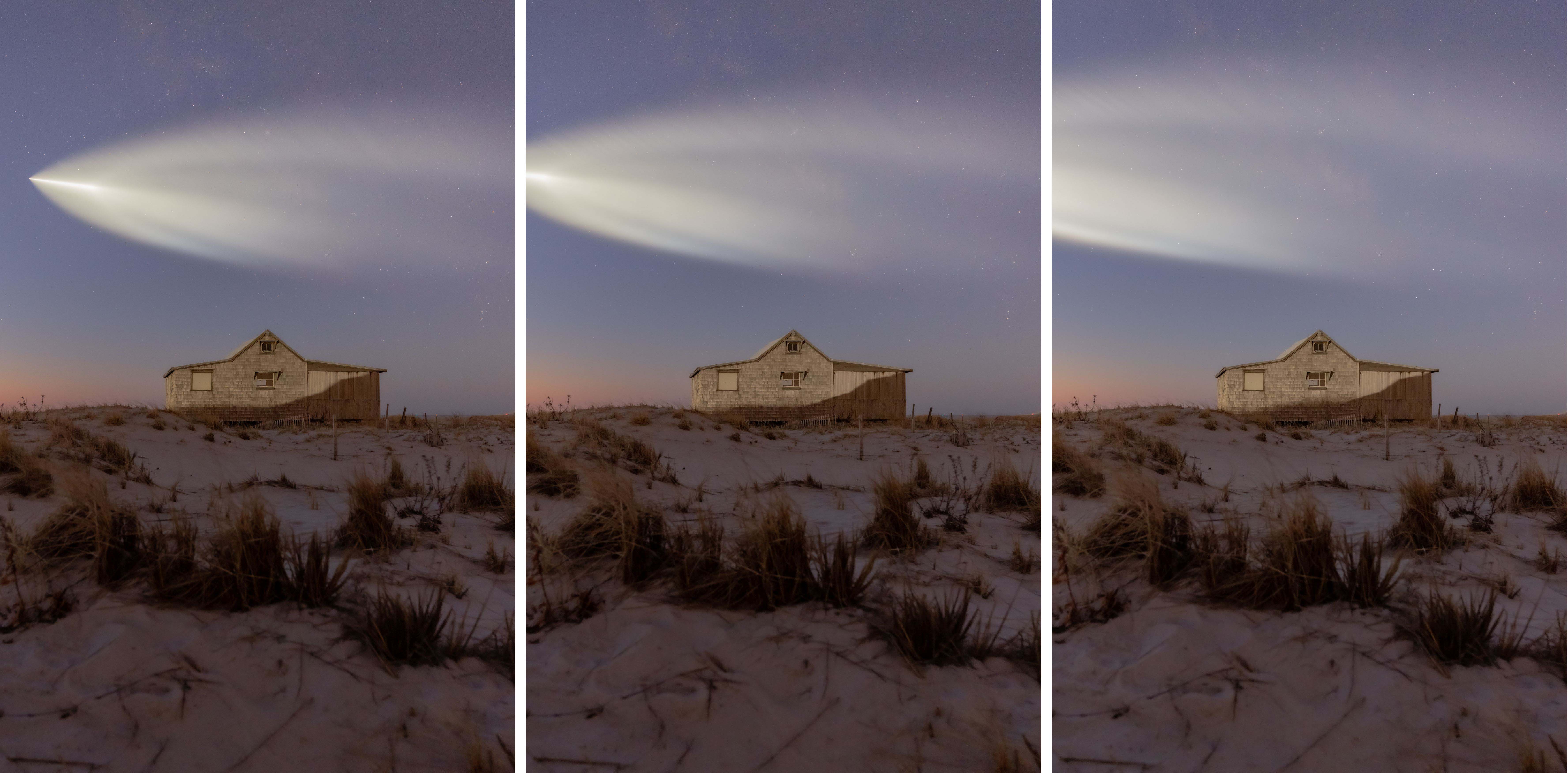 When he first spotted the rocket, it wasn't yet aligned with the shack so he had just a minute or two to set up his composition, and he skillfully managed to take the amazing sequence.
The 41-year-old, who specializes in night photography, said he's received an "overwhelming" response to his work as his Instagram posts have amassed more than 26,340 likes and plenty of positive comments.
Mike added, "I read about it afterwards and probably got a notification about it, but when you see something launching from Florida and you don't check its path you're not going to plan for it and think that it's going to be over where you are.
"It's the first time I've ever seen it—I've never seen a rocket in my life.
"It was mind-blowing to see the pictures—especially when I did the time-lapse I was blown away by how you can actually revisit what you just saw.
"A lot of people love it too—they were 'blown away by it,' 'couldn't believe it' and all that kind of stuff."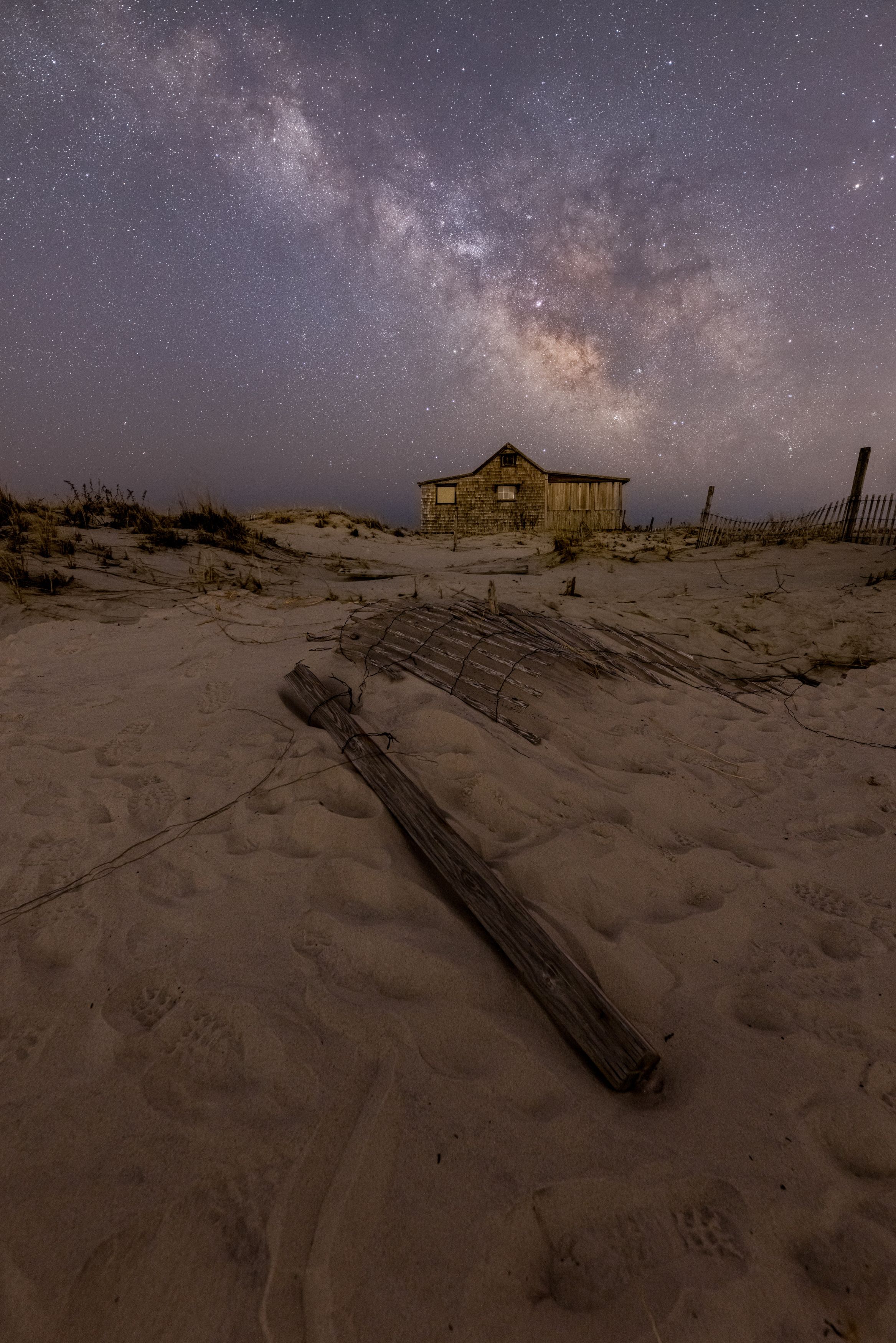 Epoch Times staff contributed to this report.
Share your stories with us at emg.inspired@epochtimes.com, and continue to get your daily dose of inspiration by signing up for the Epoch Inspired newsletter at TheEpochTimes.com/newsletter