Personal Trainers to Match Your Workout Style
Pairing people with personal trainers is more an art than a science at Elysium Fitness
April 11, 2014 9:10 am Last Updated: April 28, 2016 5:01 pm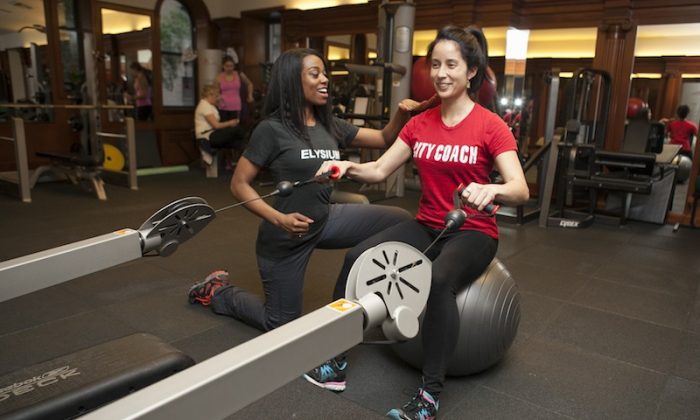 Tucked into the second floor of a '20s-era landmark building on the Upper West Side, Elysium Fitness is the kind of gym you'd normally hear about through word of mouth. That's because its owners have spent more time matchmaking than marketing. 
With over 60 years collective experience in personal training, Elysium's three owners have learned that personal training works best when trainer and trainee are a good match—both that the experience of the trainer meets the needs and goals of the client, and they fit personality-wise.
"Some people don't like to talk when they work out at six o'clock in the morning, other people love to talk. … Some need someone to pump them up, some don't want to be pumped up," said Tony Hearns, founder and co-owner.
When a new member wants to join, the owners interview them about their goals, fitness background, hobbies, and what they are looking for in a personal trainer.
"Given what we get in the interview, we try to match them up the best we can with our trainers," co-owner Tom Guimond said.
Elysium currently has 15 staff trainers along with 40–50 independent trainers who bring their clients in to train at the location. The facility is spotlessly clean and feels more like a retreat center than a gym—with polished mahogany walls, arched windows, and ornate wooden ionic columns.
In addition to personal training, Elysium has a nutritionist and massage and physical therapists who offer extra levels of care on site. Trainers will also travel for those who prefer in-home training.
What Members Say
Elysium is open to members of all ages and abilities, although the majority of members are in their 40s and 50s and come because they want to feel and look good, the owners said. 
One member, Meg, now in her 30s, was a division one runner at the University of Virginia. She started training with a trainer at Elysium two years ago, after her sister recommended it for it's personality and efficiency. Meg said she has found the training extremely helpful.
"My body has been transformed more in training in the last few years than the weights I would do as part of my running regime in college," she said. "The trainers at Elysium seem to really know the body, and they work with you as an individual, knowing what your body needs, rather than just trying to fit an exercise program on each client."
Another member, Suzanne, in her 50s, has been coming to Elysium since it opened in 2002. She finds it very focused and more private than the bigger gym she previously went to. She trains with Elysium's third owner, Paul Frediani, and said she likes that the workouts are tailored to how she feels on a given day. 
"It always is specific to my body and my issues," Suzanne said about her sessions, which she credits with allowing her to continue to water ski, play volleyball, basketball, and jog with her three sons. 
"I've been able to keep very active, I think, because I've stayed strong by working out," she said.
The Owners
Frediani is a former amateur boxing champion, author of 10 books on strength and flexibility conditioning, and is now studying for his master's in geriatric exercise. Guimond used to produce television and compete in triathlons before deciding he needed a job that was more compatible with his lifestyle. While working as a personal trainer he returned to school to study physical therapy. Hearns, a trainer and sports therapist from Ireland, worked with some top tennis players before moving to the U.S.
The owners are selective about which trainers they allow to work at Elysium. And despite diverse backgrounds and specialties, the staff come to feel like family, Hearns said. 
"They treat the facility like it's their own," he said. 
"And the new trainers who come in, see what we do and they learn very fast."
Exercising Despite Illness
Staff trainer Courtney Barroll normally works with the general population but has a sub-specialty training people who are chronically and terminally ill. Her father had recurring neck and throat cancer, and watching him progress through the disease, gave her a very personal understanding of the physical and emotional needs and limitations that come with illness. 
"It helps their self-esteem; endorphins are going to be released no matter what [your] state of health … so you're always going to feel better from exercising," Barroll said. 
Functional Training
Angela Jackson, another staff trainer, became a personal trainer after years spent in the masculine world of weightlifting. 
She became certified in prenatal and postpartum fitness after one of her clients became pregnant. She now works with a range of clients with a focus on functional fitness—exercises that require little work with machines and that "feel like real life." 
Functional training, Jackson said, "recreates real life movement challenges" and helps people's "bodies to automatically know what to do" when faced with challenging situations that come up in their daily lives.
Jackson sees it as a very important tool for improving her clients' quality of life. She creates and teaches exercises that help clients do activities like shoveling snow, picking up a baby, running for the bus, getting onto the floor and back up safely, and balancing on one foot while multitasking.
"No one program is the same. Every program is specially designed for the individual's particular lifestyle needs," she said. 
Injury Recovery
Jason D'Amelio, is a certified athletic trainer (ATC), who does a combination of sports rehab and performance training and incorporates a manual soft tissue technique called Active Release Technique (ART), into his practice. When D'Amelio developed a herniated disk in his neck during an internship with the New York Giants, he received ART treatment by the team chiropractor. After returning to full function following just two treatments he was immediately hooked. 
Prior to studying ART, D'Amelio noticed many athletes and clients would avoid training muscles that were sore or tight.
Now, he said, if a client can benefit from ART, they'll do a session prior to the workout, or in between sets, to free up muscle tension and allow that area to be trained.
Founder's Vision
Hearns said he founded Elysium with the vision of creating a place for trainers to make a living without needing to take on more clients than they could reasonably manage, and where members could "go and be happy and not think of exercise as a chore."
"The place has really worked on word of mouth, we've done very little marketing," Hearns said. "We used to joke that we were so exclusive that nobody really knows we're here and we don't really want to make money, we just consider it our home and we're happy here."
Location
117 West 72 St., 2nd Floor 
New York
212-721-1010
www.ElysiumFitness.net
Spring Open House
Saturday, April 26th
12 p.m–4 p.m.
This open house is a chance to see the gym and get freebies like a 10-minute massage, a 10-minute nutrition consultation, body fat analysis, blood pressure screening, and a posture and movement analysis.