An exemplary school teacher narrowly escaped an attempted forced abortion after she was arrested in China for her faith. To avoid persecution and protect her unborn child, she was forced to go homeless, which led to the death of her unborn baby in her womb.
Sadly, her courage to honor her faith and exercise her "fundamental right to religion" in the communist country shoved her into endless misery. When the Chinese Communist Party (CCP) officials were unable to track her down, they arrested her two sisters, which led to the unfortunate demise of her elderly mother. Traumatized by the CCP-led calamity that befell the entire family, her father went insane.
Li Fengmei, a former English teacher from Yingkou City, Liaoning Province, in China, was highly respected for her commendable work. But she still suffered endless abuses at the hands of the CCP. Over the years, she was repeatedly arrested and endured unimaginable torture, including being injected with nerve-damaging drugs for refusing to give up her faith, before passing away at the age of 53.
Li's offense? She was one of the countless law-abiding citizens who are being targeted for elimination by the CCP for their faith in the spiritual practice of Falun Gong.
Cases related to Falun Gong are easy to handle. You can write down whatever you want to make up.

Falun Gong, or Falun Dafa, is a self-improvement discipline comprising five meditative exercises and moral teachings based on the universal principles of truthfulness, compassion, and forbearance. Over 70 million to 100 million people were practicing Falun Gong in China by the late 1990s, including some communist party members, according to state estimates at the time.
However, on July 20, 1999—merely seven years after the peaceful meditation was introduced—the CCP launched a brutal persecution campaign to eradicate Falun Gong, perceiving the practice's moral presence as a threat to its authoritarian rule and communist ideologies; countless have been detained, brainwashed, tortured, raped, and even killed. A detailed report cites the cases (the full name list) of over 4,000 Falun Gong practitioners who have died as a result of the persecution, with tens of thousands more deaths still to be confirmed due the regime's full secrecy over the details of the persecution.
Li, who passed away on Dec. 9, 2019, is one of the countless others who were persecuted for their faith, reported Minghui.org, a United States-based website dedicated to reporting the persecution of Falun Gong.
Arrested for 'Good Reputation'
Li, who was one of the three daughters to her parents, Wang Fuqin and Li Kunlian, was plagued by a host of health issues in her early life. However, Li's life took a 180-degree turn in 1997 when she began practicing the slow-moving exercises of Falun Gong, reported Minghui.org.
As she lived by the principles of truthfulness, compassion, and forbearance, her health was restored, and Li, who was once a short-tempered woman, became kinder and considerate of those around her. At work, Li earned respect from her students and fellow teachers.
Earning the title of an exemplary teacher, Li also won the admiration of the school authorities for her strong work ethic and admirable performance. However, only five years later on July 20, 2002, during the first day of her school summer break, Li was arrested and taken to a brainwashing center in Yingkou City to coerce her to give up her faith.
The officer told her that she was arrested "because of her eloquence and her good reputation," adding that if they could make her renounce her belief, officials could then use her to transform other detained practitioners, the report said.

Braving Inhuman Torture
When Li didn't give in in the face of the pressure, the authorities planned to move her to a labor camp. However, they discovered that Li was eight weeks pregnant. On July 25, 2002, Li was taken to a state hospital for a forced abortion, but she fled before the surgery. As Li struggled to live on the streets while hiding from the police, her unborn baby died in the womb.
After she went on the run, the police targeted her family, arresting her two sisters, Li Fengzhen and Li Fengzhi, also Falun Gong adherents.
On Aug. 21, 2003, Li was arrested again along with another Falun Gong adherent. During the interrogation, an officer beat her. Protesting the unlawful arrest and beating, Li refused to answer any questions unless her handcuffs were removed. The police then smothered her with a blanket while three officers beat her up.
Li was sent to Bayujuan Detention Center for 13 months, where she was routinely tortured. On the first day at the detention center, a guard slapped her so hard that her eardrum bled profusely.
Three days later, Li was interrogated by the deputy director and officials from the Domestic Security Bureau. The officers and a guard took turns to torture her. They used their knees to forcefully push her abdomen to the wall while slapping her 30 times in the face and pulling her hair. After the beatings were done, one officer told the deputy director that no interrogation record had been made.
However, the deputy director said: "Cases related to Falun Gong are easy to handle. You can write down whatever you want to make up."
Already marred in the agonizing pain, Li went on a hunger strike to protest her arrest. The head surgeon of the detention center, Gao Rizheng, took the lead to force-feed Li a mixture of saline and milk to increase the pain while having her restrained in a chair. This only deteriorated her health, and Li suffered from bleeding in the lower body, accompanied by stomach pain, reported Minghui.org.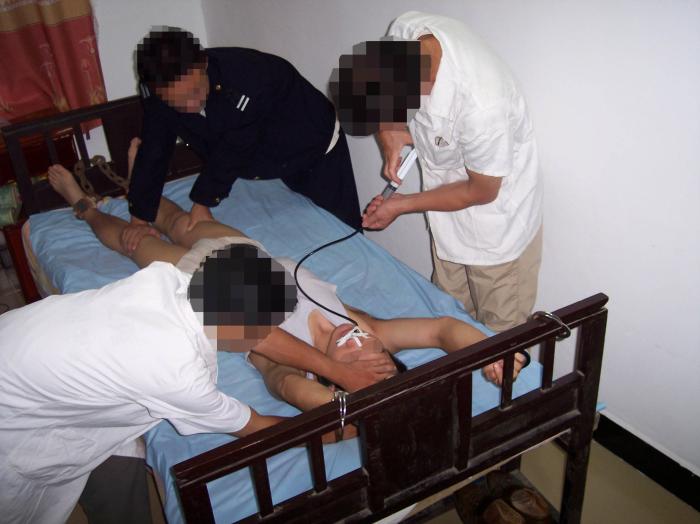 In one life-threatening instance, Li was shaking and sweating profusely due to intense pain and high fever. Head surgeon Gao refused to send her to a hospital and to notify her family on her critical condition. Rather, Gao continued with the abuse.
Citing another incident, the report said that under the pretext of treating Li's condition, Gao administered an intravenous injection with a high dose of unknown drugs. She eventually suffered from memory loss.
Still incarcerated for her faith, Li continued to be abused and fed drug-laced food. She was shocked with electric batons. The torture left both her arms broken and neck infected, oozing pus and blood. She lost her hair, developed breathing difficulties, struggled to walk, and lost function in her sensory organs. On several occasions, Li was on the verge of death.
After head surgeon Gao forcibly injected Li with an unknown drug, she suffered from lymph node tuberculosis. After her diagnosis, Liaoning Women's Prison refused to admit her. However, Gao used his "personal connections" to bring Li, who was already near death, back to the detention center to continue torturing her. With each passing day, her condition only got worse.
Back at Li's home, things took an even uglier turn. With the arrest of all the siblings, Li's 69-year-old mother was traumatized and suffered a stroke and died in March 2004. After the death of her mother, Li's elderly father had a mental collapse and ended up insane.
Every evening, he would grab a knife or stick to scare away "imaginary bad guys" who he thought were coming to take away his loved ones; he died five years later at the age of 71. Meanwhile, Li's husband divorced her, and she was fired from work.

In 2006, Li was diagnosed with severe myocardial ischemia. Doctors recommended hospitalization. However, Li was forced to work every day, producing IC cards (also known as smart cards). She was later diagnosed with lymphoma, a life-threatening disease that caused her lymph nodes to swell all over.
Having paid the "price" of firmly holding to her fundamental right to freedom of religion in communist China, the role-model and beloved teacher was eventually released from prison. The relentless persecution left her almost lifeless. With no financial support or physical ability to take care of herself, she was looked after by her relatives before passing away in her early 50s.
Arshdeep Sarao contributed to this report.