Restaurants in New York City come and go. For one to hold firm for years, much less for decades, seems almost an impossible feat.
And yet in the Theater District, on 56th Street between Broadway and Eighth Avenue, Patsy's Italian Restaurant has stood proud since 1944. The icon celebrates its 75th anniversary this year.
"I think a big part of our success is not trying to be someone we're not," said chef Sal Scognamillo. Since Sal's late grandfather, Pasquale "Patsy" Scognamillo, opened his namesake restaurant so many decades ago, it has stayed true to its essence: a proudly family-owned, red-sauce Neapolitan restaurant, feeding stomachs and souls with home-cooked Italian classics. It's simple, unpretentious comfort food—so good that Frank Sinatra dubbed Patsy's his favorite restaurant.
"This is who we are, this is what we are," Sal said. Four generations down the line, at what is still Patsy's one and only location, that hasn't changed.
All in the Family
Patsy's is a family business, through and through. In all its years, the restaurant has had three chefs: Sal; his father, Joe; and his grandfather, Patsy.
When Patsy came through Ellis Island from Naples, Italy, in the late 1920s, he had little more than the clothes on his back and his father's recipes in his head. From those—and a lifetime of hard work—he and his family built a beloved neighborhood establishment.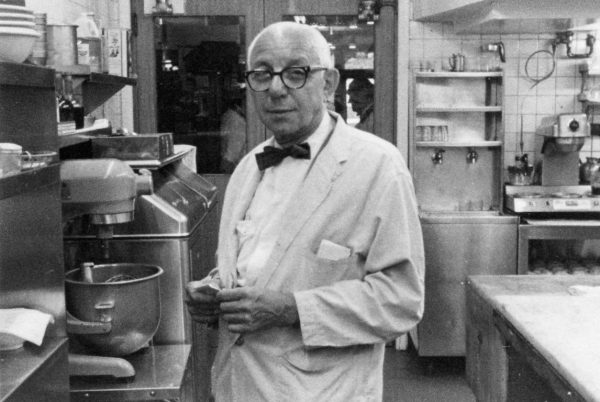 Sal's father, Joe, was helping out by the time he was seven years old, and eventually took over the reins. He taught Sal how to cook out of college. Sal was 23 and already working the kitchen when his grandfather passed away, in 1986.
"He got to see me be the chef," Sal said with a smile.
He's been at the helm of the restaurant full-time for 34 years now. His father, 86, still drops by every week or so, while one of his sons, Joseph, is 22 and newly onboard. That marks four generations of Scognamillos.
Sal's wife Lisa, after 25 years as an attorney, also joined the business four years ago to help continue the family legacy.
To carry on his grandparents' legacy is "an honor," Sal said, "it's a pleasure."
"When I get compliments [from] people who knew my grandparents, and they still come here and say, 'They would be very proud of you,' that brings such a warmth to my heart. I'm so touched and honored … because no one works harder than they did."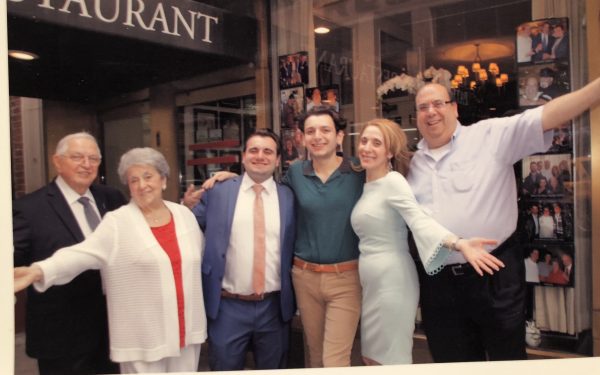 Consistency Is Key
Decades later, much has stayed the same. The same red-sauce classics lie at the heart of the menu, still made with recipes from Sal's grandfather.
Their meatballs, for instance, are made with all veal—that was one of Patsy's secrets. (Sal is generous with those—the restaurant has released two cookbooks.)
"You can find a hundred people who make it a hundred different ways, but I want to continue the way Grandpa taught me how to do it," Sal said. And his grandfather was onto something: veal is a more gelatinous meat, Sal explained, so their meatballs are juicier and more tender, almost fluffy. Served alongside a generous helping of spaghetti, with a bright, perfectly balanced marinara sauce, they make for a hearty and comforting meal.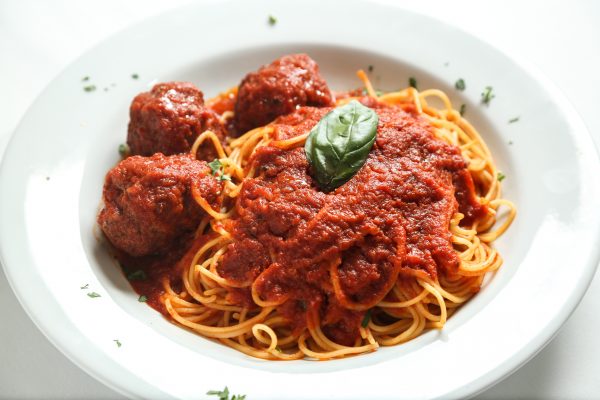 Many of their suppliers remain the same, too. Sal promised Patsy he would continue to buy from the same ones—so long as they stayed in business—so now "I deal with the grandchildren of the people my grandfather dealt with," he said. That includes their vegetables, much of their meat, and their cheese, which comes from New York's legendary Italian specialty shop Di Palo's. It's a matter of consistent quality: "I know their stuff is going to be good."
Even so, Sal checks it for himself. He knows Patsy's reputation is no free pass from hard work.
"[We have] a wonderful history and that's why a lot of people come here," he said, "but I'm not just assuming because it was good yesterday, it's going to be good tomorrow. I'm always making sure it is."
"As soon as you just say, 'all right, I'm on cruise control,' you're done. Once you start cutting corners, you're done. You have to always be on top of things and never take anything for granted."
The attention to detail shines through in the food, from a fragrant shrimp scampi with big, tender, snappy shrimp, to a deeply satisfying chicken Parmesan, topped with that same perfectly balanced tomato sauce.
The secret to that, Sal explained, is a short cooking time. "Marinara should be done in 30 minutes, 40 minutes tops," he said, to preserve the freshness of the tomatoes. That signature freshness and authentic flavor can also be enjoyed at home: Jars of four of Patsy's famous sauces—marinara, tomato basil, fra diavolo, and vodka sauce—are sold in supermarkets and specialty food stores throughout the country.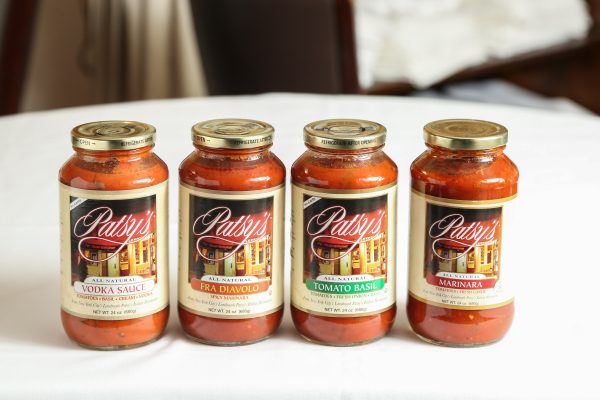 Other popular signature dishes include the linguini with red clam sauce; veal rollatini Marsala; and stuffed calamari. A surprising standout, easily overlooked on the menu, is the pork chop in red wine with vinegar peppers—the peppers take the spotlight here, their bright tang and mellow sweetness melds beautifully with the savory pork.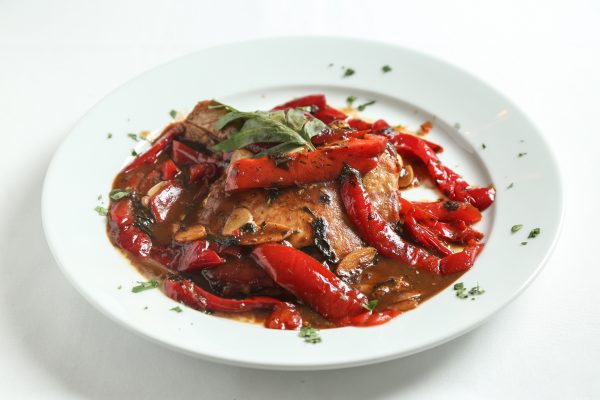 And the tiramisu, assembled in a bowl and served in great, fluffy scoops of more cream than anything else, is a dreamy ending to a meal.
A Restaurant Worth Returning to
Over the years, Patsy's has won over a loyal clientele.
Some of the restaurant's earliest customers were musicians and actors from Broadway, Sal said, much to his grandparents' delight—they had "a special affinity for people from the musical world," and Patsy loved to play the piano. Still now, the restaurant's location and pre-theater menu make it a popular stop for theater-goers.
Patsy's was also famously Frank Sinatra's favorite restaurant. (The clams Posillipo and veal cutlets Milanese were among his dishes of choice.) The singer developed a lifelong friendship with the Scognamillo family and frequented the restaurant, often delighting in pranks—imagine looking up from your menu to find Sinatra taking your order, waiter coat and all—and impromptu performances, alongside other legends like Dean Martin and Sammy Davis Jr.
Sinatra's patronage has attracted that of many other celebrities, including the Clooneys, Patti LaBelle, Julia Roberts, and Michael Buble. Recently, country singer Brett Eldredge, who grew up with his father playing Sinatra, gave a secret concert at Patsy's, telling Sal it had long been on his bucket list.
Many of Patsy's customers have been coming back for years. "There are people bringing their great-grandchildren," Sal said.
That includes five generations of Sinatras, starting with Frank's father and going down to his 7-year-old great-granddaughter.
Celebrity patron or not, "it's just a wonderful feeling of pride that they trust us to come back in a city of how many [thousands of] restaurants," Sal said. He's had customers tell him they've planned trips to New York around a visit to Patsy's, or make sure that it's the first place they hit whenever they're in town.
"How can I thank people like that? It's beyond words," he said. "How can I say thank you to someone coming here for 50, 60 years? In some cases since before I was born, they've been coming here as a customer, and they're trusting me to take care of them. That's a great honor. Big responsibility, and great honor, too."
'Just Take Care of the People'
So what brings people back, year after year, decade after decade? As Sal's grandfather told him, it's simple: "Just make the people happy, and they'll come back."
"Grandpa said to me two things," Sal said. "When people walk through that door and they make the decision, [out] of all restaurants to go to, to come to you, you thank them, and then you make sure they're happy."
Sal tries to finish his work in the kitchen by early afternoon, so he can get to his favorite part of his job: meeting his customers. He makes his rounds, greeting and thanking everyone, and making sure they have everything they need.
If that happens to be an ingredient substitution, an off-menu variation of an item, or even a half-and-half plate when a customer can't decide between two, the kitchen is happy to oblige, since most dishes are cooked to order. Thanks to Patsy's, many customers on a gluten-free diet have enjoyed a long-missed taste of chicken Parmesan, Sal said with a laugh, made with cornstarch and gluten-free breadcrumbs.
It's a level of personal care and attention special to a family restaurant. In a world of corporate establishments, it makes all the difference.
Customers tell him, "It's so nice that you come around to talk to us," Sal said. "The fact that the owner, the family is still here, it means a lot to a lot of people."
That's how Patsy always wanted it, and that's how it's always been.
"We treat people as if they were in our home," Sal said. "Grandma and Grandpa said, 'This is the food we cook at home, [just] a bigger kitchen, a bigger dining room. Just take care of the people.'"