Spanish master pastel painter Rubén Belloso Adorna paints astonishing, lifelike paintings that often offer a glimpse into a Greek myth, a biblical tale, or even a faraway fairy tale. But each and every one of his paintings is based on his own life experience, and almost all of them rely on his family or friends as models.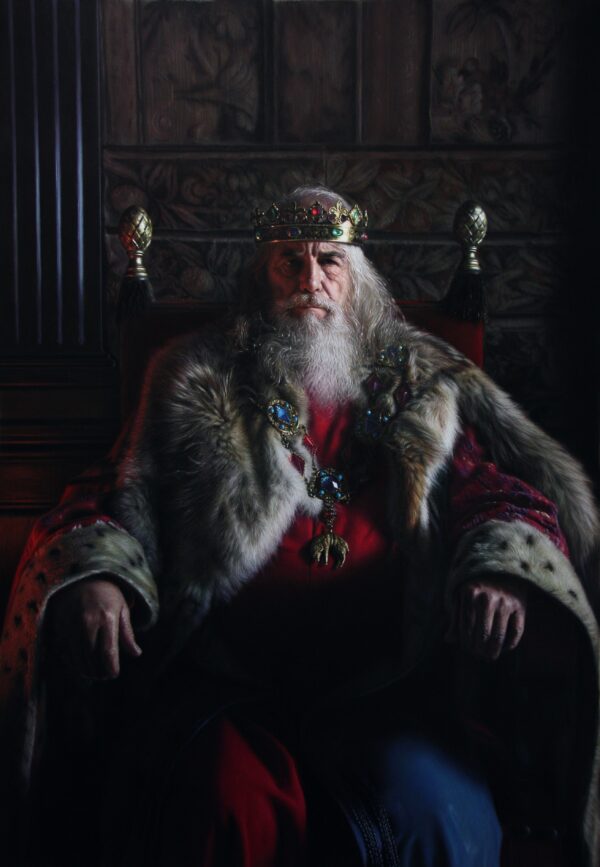 For the past 12 years, Belloso Adorna has specialized in creating realistic images with pastels. It hasn't always been easy to learn or to promote the medium: Often his magical pastel paintings are mistaken for oil paintings. Yet, Belloso Adorna is determined to revive the once revered art of pastel painting.
"My goal is that pastel continues to grow as a technique and acquires the recognition it deserves," he said in an email.
Belloso Adorna teaches pastel painting masterclasses in Seville, Spain, where he is based, and across Europe, hoping to instill his love for this underused medium to others. In 2014, along with his Italian pastellist friends, he founded the Association of Italian Pastellists.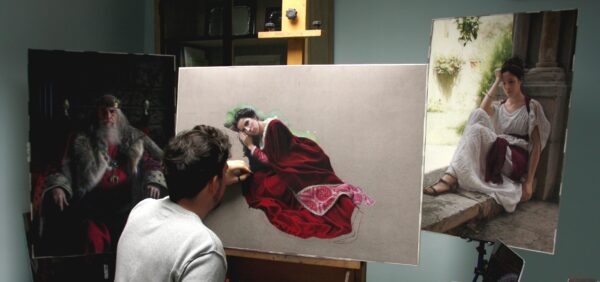 Belloso Adorna's pastel paintings are held in high esteem. He's exhibited them in half of Europe, according to his online artist statement, and his work can be found in private art collections in America, Europe, Asia, and Africa.  
In 2015, the renowned Society of the Pastellists of France invited Belloso Adorna to be their guest of honor. In 2017, he became the first living painter to have a solo exhibition at the Antoine Lecuyer Museum in Saint Quentin, France.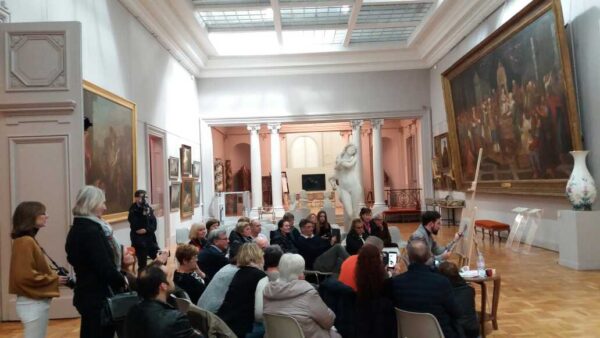 In 2018, Belloso Adorna won the Kenneth Wellner Memorial Award at the Pastel Society of America's 46th Annual Exhibition. In 2017, 2018, and 2019, his work was selected and awarded by New York-based Art Renewal Center Salon. Most recently, in 2019, he won their American Legacy Fine Arts Award.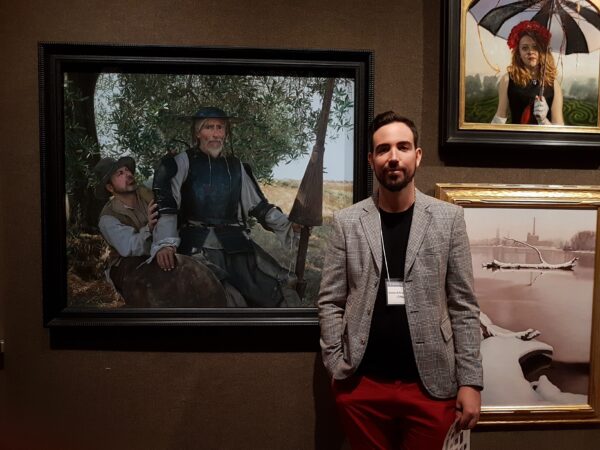 Pastel Painting
Although pastel had been around since the Renaissance, it wasn't until the 18th century, initially in France, that the medium became popular. Belloso Adorna credits French artists Maurice Quentin de La Tour, Jean-Baptiste Perronneau, and Jean-Baptiste-Siméon Chardin, along with Venetian artist Rosalba Carriera as exemplar pastel painters. 
Pastels use the same pigments as oil paints but are mixed with a binder and made into sticks. They appealed to the growing middle-class clientele as a cheaper alternative to oil paints for the portrait paintings they commissioned.
Plus, the immediacy of pastels allows the artist to capture fleeting expressions almost as quickly as they happen, as opposed to waiting for a layer of oil paints to slowly dry. 
The powdery nature of pastels make the paintings fragile, yet the refraction of light on the powder creates the most luminous pictures. Pastel paintings keep their color saturation longer than oil paintings, since pastel paintings cannot be varnished, which often discolors or damages oil paint. 
Mastering an Astonishing Yet Underrated Medium
Belloso Adorna fell in love with pastel painting in 2003, when he was 17 years old. He admits his first forarys were disastrous. Learning the medium wasn't easy, as quality information on the technique was scarce, he explained. 
But Belloso Adorna desperately wanted to deepen his knowledge. He scoured books as well as the internet, and he asked his art teachers, but frequently the answers fell far short of his experience in using pastels. 
He was often told that pastel was a messy, beginners' medium and a minor technique. But Belloso Adorna always saw pastel painting as a complete technique: "It combines the best of drawing and painting," he said.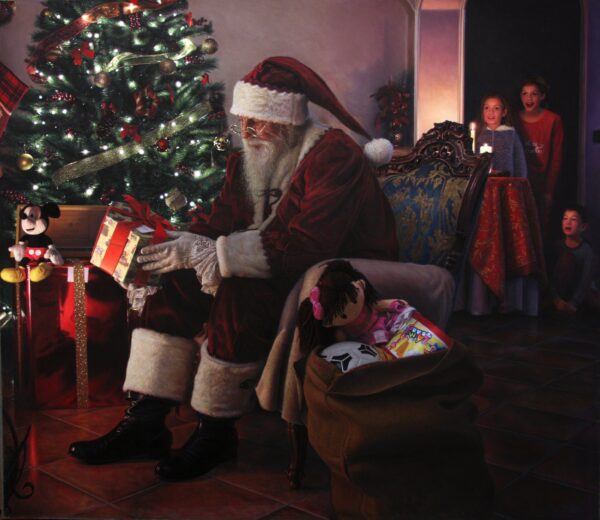 He particularly enjoys the immediacy of the medium and the directness of the technique, whereby he can paint pastels with his hands straight onto the painting surface without the need for intermediary elements. 
His passion for the medium propelled him to persevere and teach himself.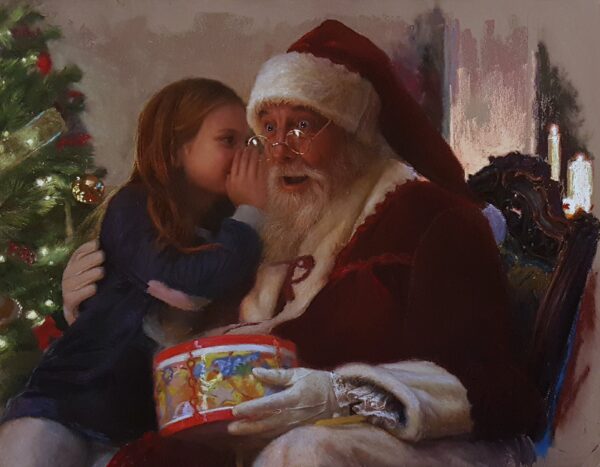 In 2010, Belloso Adorna took to social media to promote his art. "People were very astonished with my results, but still some asked me if I also did other techniques, as if painting with pastel wasn't enough," he said. During that time, "an incredible interest arose to learn this 'new technique' that offered results similar to oil [painting]."
Duty-Bound to Teach Pastel Painting
In the final year of his fine arts degree program, Belloso Adorna received many requests from different countries to teach pastel painting, along with invitations to be the guest of honor at prominent pastel painting exhibitions. 
Belloso Adorna had never traveled outside of Spain, but as soon as he graduated from the University of Seville, he said, he summoned the courage to travel in order to teach pastel painting.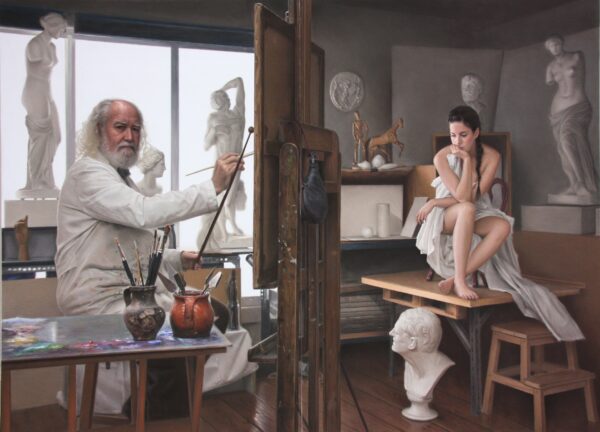 He felt compelled to teach it, believing that it was his duty to help people thoroughly understand the technique, for students to be able to use the medium correctly and thus value pastel painting, he explained.
Now, the comments he once received that undervalued the medium have disappeared, and Belloso Adorna is pleased that people appreciate pastel paintings and value what the technique offers. 
Great and Everyday Inspiration
Belloso Adorna is inspired by many great artists. He greatly admires Caravaggio's characteristically dramatic paintings, Norman Rockwell's impressive storytelling and expressive characters, Rembrandt's exquisite rendering of gestures and his keen eye for the play of light, and William Bouguereau's ability to portray the human figure with naturalistic brilliance. 
He particularly favors the subject matter of the Pre-Raphaelite painters and their Romantic style. And he also looks to Lawrence Alma-Tadema's art to study the array of different materials and mediums he used.
Belloso Adorna happens upon potential scenes in his everyday life. An idea could come to him just as easily from a walk or watching a movie as it could from visiting an art exhibition or a theater's costume shop.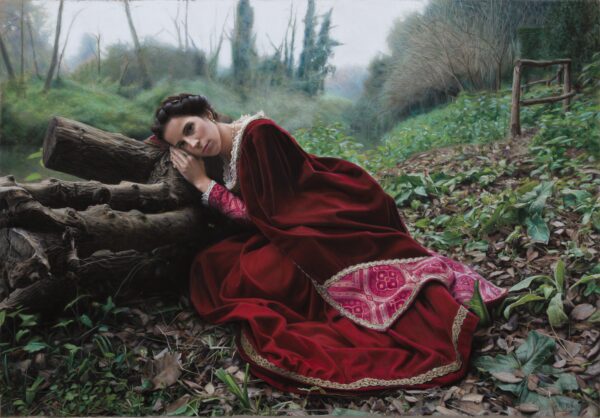 Compositions naturally present themselves to him. He could be eating dinner with family, conversing by the fire with friends, or studying at a friend's art studio. He might notice someone's gaze or gesture bathed in a particular light. For instance, seeing his wife sleeping, and watching his wife and child play compelled him to paint "Dreams 2" and "Lucifer and the Temptation," respectively.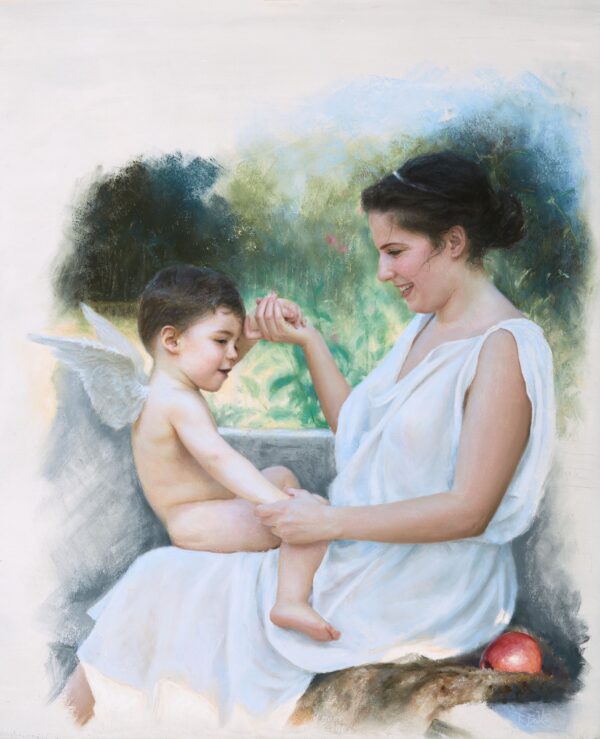 From Idea to Painting
Once he forms an idea for a painting, Belloso Adorna ponders how best to portray it. He thinks about the kind of emotion that needs to be conveyed, and the best model to express it. He then considers the setting of the painting and its composition. 
Belloso Adorna relies on photos in his artistic process. He places the utmost importance on the natural light that illuminates the painting, adjusting the timing of his photoshoot accordingly.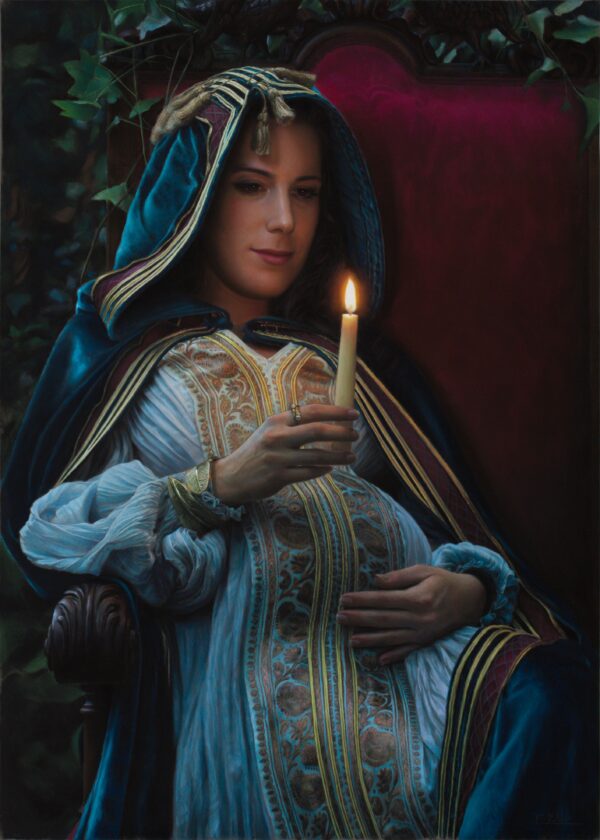 These photo sessions can take hours. It's a planned yet spontaneous process, and it is a key part of his creative approach—when he takes photographs, new compositional ideas form in his mind. One shoot alone produces hundreds, sometimes thousands of images that he uses to create the best composition for his painting. 
He meticulously studies each photo, selecting those with favored elements that are to be used in the final painting. For instance, one photo may have excellent light, another may convey the perfect facial expression, and yet another might have just the right hand gestures he's looking for. He compiles his final composition from the dozens of photos, a little like piecing together a jigsaw puzzle, creating the best picture for his idea.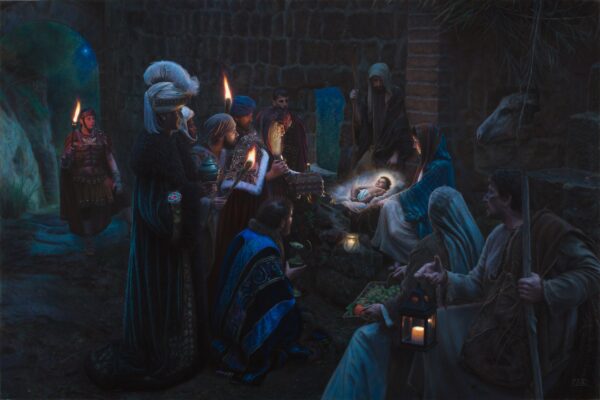 Painting Traditional Themes With Flair
In some of his paintings, he uses traditional themes such as myth, allegory, and biblical stories, but he often presents them with a slight twist. His painting "Portrait of Mary After Christ" is a fine example, and one that won him the American Legacy Fine Arts Award at the renowned New York-based 14th International Art Renewal Center Salon Competition (2019–2020).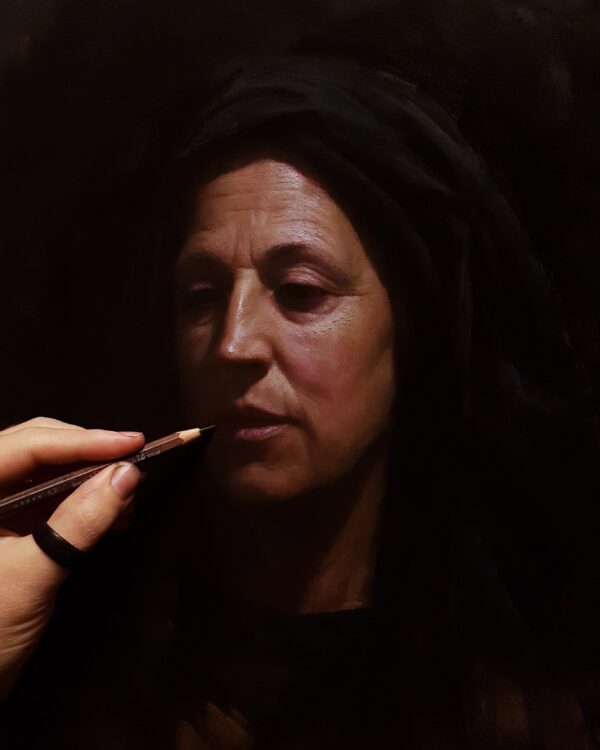 In the painting, he depicts not the young Mary so often seen in Christian art but a mature Mary graciously rendered with warm, weathered skin and an earth-brown veil. In his online artist statement, he notes that sometimes paintings depicting a mature Christ include Mary at a similar age as her son. "I wanted to give the portrait sincerity, far from artifice. I think that in truth lies the authentic beauty," he said.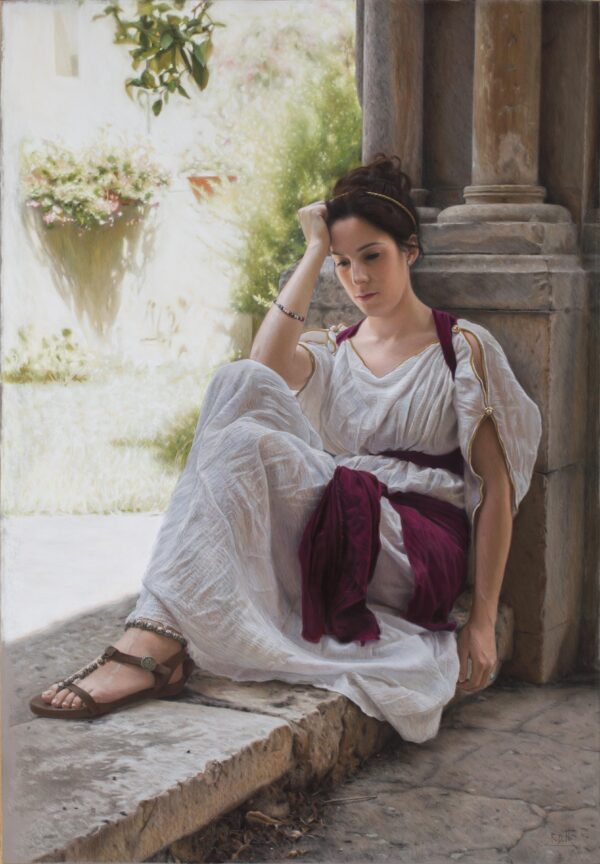 Belloso Adorna's storytelling has been greatly influenced by his love of mythology, something that he's always enjoyed. His grandmother is the gracious model tenderly portrayed in his painting "Twilight of Venus." "I wanted to bring a new and profound vision of the goddess of beauty and at the same time pay tribute to my maternal grandmother," he said.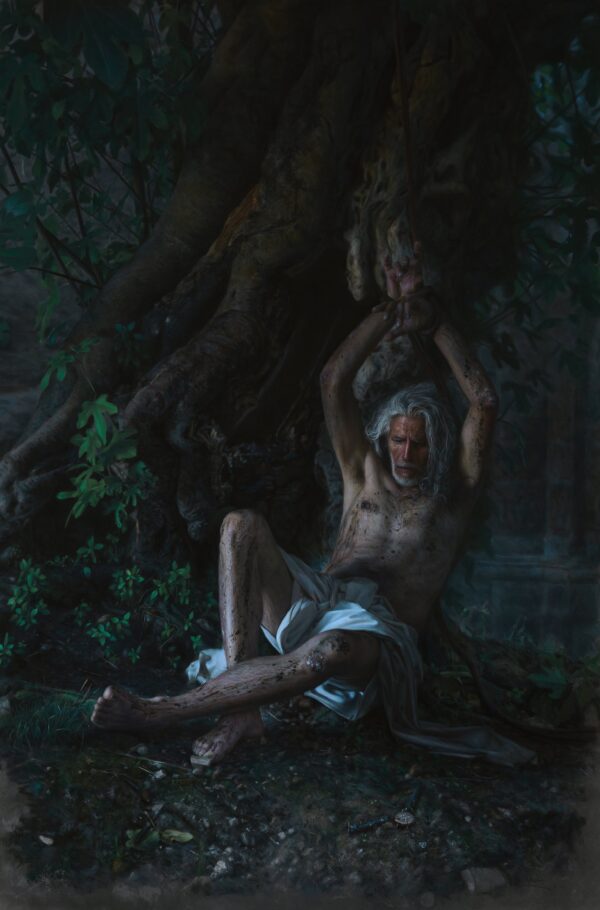 In the painting "The Agony of Art," Belloso Adorna uses allegory to depict the plight of figurative and realist art today. In the painting, a dirty, bruised, and battle-fatigued man (representing figurative and realist art) is slumped under a tree with his arms hung high above his head by a rope. He looks utterly bewildered. His hands are bound, and his broken wristwatch gives a sense of frozen time. He is modestly covered by a pure white cloth that depicts honesty, Belloso Adorna said in his online artist statement. "I wanted to represent him as a martyr who is dying, after being beaten, stripped of his clothes, and bound against his will," he said. He added that this downtrodden man represents the abuse that many sectors of the contemporary art world have carried out against realist art. 
Even after so many years of pastel painting, Belloso Adorna continues to be surprised at the possibilities the medium brings to his art. Ultimately, he wants to keep revealing such surprises, and to preserve and revive pastel painting—a medium that he feels has, for too long, been underappreciated. 
Perhaps we'll see Belloso Adorna paint an allegory of "The Joy of Pastel Painting." Regardless, that's a sentiment imbued in each and every one of his works and in his teaching.
To find out more about Rubén Belloso Adorna's art, visit Facebook.com/RubénBellosoAdorna