TAIPEI, Taiwan—Dubbed as a "healing painting artist," Huang Kuan-Yu attended Shen Yun Symphony Orchestra's matinee at National Concert Hall in Taipei on Sept. 23, 2019.
Having watched Shen Yun Symphony Orchestra's performance three times, this famous artist was genuinely captivated by Shen Yun's exquisite and elegant music. "Shen Yun music can touch the human souls," she said.
Huang Kuan-Yu felt uplifted after seeing the performance. "I am so happy, as my mood is boosted and my cells are activated. And my blues are gone," she said.
"Shen Yun is no ordinary performing arts company. Preserving the traditions and virtues of humankind is the foundation of our artistic vision. We believe that the classical arts are a window into higher knowledge and even divine inspiration," according to Shen Yun's website.
"I feel it [Shen Yun music] truly extraordinary," she said. "I think it has healing effects as if it can eliminate our vanity and offer us positive energy."
"It arouses our human nature of simplicity and easiness," she explained. "It is transmitting a message of happiness."
As an established artist who has won many awards in Taiwan, Japan, and South Korea, Huang Kuan-Yu has a keen sense of observation on the subtleness of Shen Yun music. "I envisaged some colors, landscapes, skies, and clouds [in Shen Yun music]," she said. "The skies were so blue, and the clouds were so white and so dynamic."
"I perceived flowing clouds at twilight, the scenery of wilderness, and booming flowers in four seasons [in Shen Yun music]," she continued. "I also saw scenes of hard-working people, such as the harvesting farmers, which enabled me to have a sense of happiness."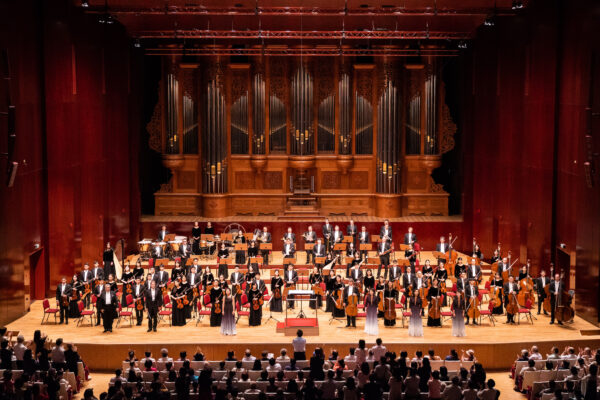 "It gradually helped us conform to this kind of music frequency, and then gave us a pleasant mood along with the feelings of diverse scenery," she further explained. "This kind of pleasant mood is something that many people have long forgotten."
"It made me very happy, and I am touched from the bottom of my heart," Huang Kuan-Yu said. "This kind of touching music has given me boundless inspiration."
Hoping that more people would gain benefits from Shen Yun music, she said, "I sincerely hope that [others] could also come here to listen to [Shen Yun music], so that they might feel this kind of positive energy."
"[Shen Yun music] should be something from Mother Nature or the notes retrieved from the universe," Huang Kuan-Yu stressed.
Reporting by Huang Caiwen and Billy Shyu.
New York-based Shen Yun Symphony Orchestra comprises musicians from the six Shen Yun Performing Arts touring companies. For information about the October performances, visit: ShenYun.com/Symphony
The Epoch Times considers Shen Yun Performing Arts the significant cultural event of our time and has covered audience reactions since the company's inception in 2006.