Though Jennifer Gehr has loved art all her life, she pursued other studies and a career in another field. But all the while, she never stopped producing art.
"How could I? It is my passion and just who I am," Gehr said. She continued to take art lessons and studied under internationally successful artists, and over time her work was exhibited in Swiss galleries. In 2017, Gehr made the career jump as a professional artist, and today her work can be found in private collections across Europe and Australia.
It was a gallery exhibition that led to a curator asking Gehr if she would be interested in submitting her work to a competition. She had never done so before, but learning the theme was "pure kindness, pure beauty, and pure truth," Gehr could see the finished painting before her eyes already.
"The painting is called 'The Secret' and it's showing a grandfather and his granddaughter who is whispering a secret in his ear," Gehr said. "It is a tribute to my own grandfather. His name was Gottfried, and sadly he died a few years ago. I miss him very much. He was even my best man when my husband and I got married!"
"He was the kindest, most loving man. We shared so many happy moments and he was always there for me—no matter what!" Gehr said. "With this painting I cherish our relationship and honor his memory."
The painting was submitted into the NTD International Figure Painting Competition, and Gehr was selected as one of the finalists. The finalists' works will be exhibited in New York at the Salmagundi Club Nov. 24-30, with an auction on Nov. 30 of several of the works.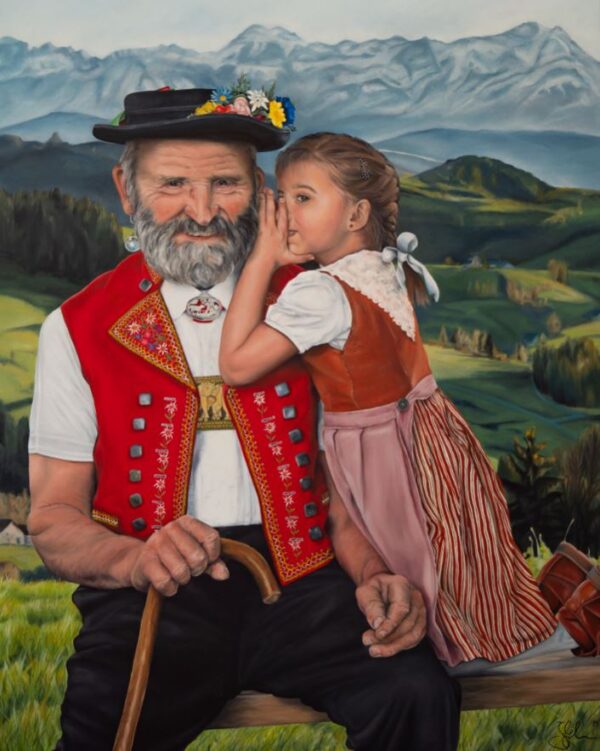 "The Secret" shows the Appenzell Alps, and you can see its highest peak, the Santis, in the background.
"This is the region where I live," Gehr said. "Also, you can see the traditional Appenzell (Swiss) costume. All embroidery is hand-stitched and it is so precious that it's passed on from generation to generation."
Countless hours went into the piece, Gehr said, but the process went smoothly. In fact, the biggest challenge had been to get the perfect reference photo: they would have to go up to the mountains in the middle of December, where it would be cold and normally covered in snow with gray skies overhead.
But when they arrived and it was time to shoot, the sun came out and blue skies brightened the scene.
"I am most proud of the face, and the mild and loving expression of the eyes of the grandfather," Gehr said. "I can see my beloved Opi [German for 'grandpa'] in it. It leaves me with a warm feeling in my heart."
Gehr said her biggest goal is "to touch people's hearts with my art," and that she can best do so with a realistic style.
With "The Secret," she followed the academic approach used by the old masters, with a solid drawing, an underpainting, and then painting in layers with more and more details, being attentive even in the drying process.
"My inspiration is beauty and love. This is an international language, and no matter [where] anyone is coming from, one can understand this," Gehr said. "Our life here on this planet is about love and meaningful relations—to our loved ones, but also to nature."
Gehr said she is honored to have her work exhibited in New York for the first time, and hopes this feeling of kindness and beauty and Swiss culture will reach the exhibition viewers.
"I am artistically drawn to everything which fills my heart with joy, love, and beauty. Often I find this in the eyes of a person, which tell a story without a word," Gehr said.