Packed House Enjoys Shen Yun in Springfield
April 10, 2014 4:42 am Last Updated: April 10, 2014 4:42 am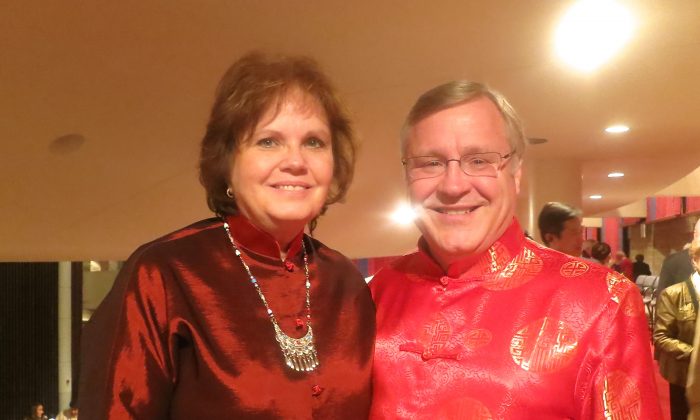 SPRINGFIELD, Ill.—After seeing Shen Yun Performing Arts for the first time, Marcia and Dennis Wise had only good things to say: "We love it, we love it. We enjoy this. We wish that more performances like this would come to Springfield," Mr. Wise said.
The couple, who own Wise Finance, were among the packed house that saw the classical Chinese dance and music company on Tuesday evening, April 8, at Springfield's Sangamon Auditorium.
The tickets to the see the New York based company came from Chinese friends whom the Wises had made over the years. The couple were eager to learn more about Chinese culture.
Shen Yun specializes in using dance to show the breadth and depth of Chinese culture. Folk dances demonstrated the wide ethnic variety of the country, and classical Chinese dance presents its myths, legends of ancient times, and some stories of China today.
Mr. Wise shared that they truly enjoyed the music, the orchestra, which supports the 20 or so dance performances.
"The Shen Yun Orchestra combines the spirit, beauty, and distinctiveness of Chinese music with the precision, power, and grandeur of the Western symphony orchestra. The result—two great traditions producing one refreshing sound," according to the company's website.
"It was beautiful. It was lovely," he said.
"You could sense a lot of spiritual context was going on," he said of the performance as a whole.
Part of revitalizing the Chinese culture includes reintroducing its spiritual foundation. Chinese culture was long considered semi-divine in origin until the communist rule undermined that traditional belief.
"I saw a lot of things that were in the spiritual context which as Christians we try to look at—how that was being presented in context of what our beliefs are," Mr. Wise said.
And artistically, as a whole, he thought "it was beautiful, like the colors, very vibrant."
With reporting by Stacey Tang and Sharon Kilarski
New York-based Shen Yun Performing Arts has four touring companies that perform simultaneously around the world. For more information, visit Shen Yun Performing Arts.
The Epoch Times considers Shen Yun Performing Arts the significant cultural event of our time. We have proudly covered audience reactions since Shen Yun's inception in 2006.