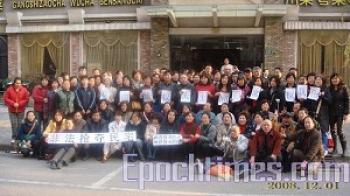 OTTAWA—It was the first time for Ottawa businessman Don Robinson to see the Divine Performing Arts show, and he was not disappointed.
Attending the Canadian premiere of Divine Performing Arts 2009 World Tour, Mr. Robinson said he was "really impressed."
"The costumes were so fantastic, and it was all so professional," he said. "I'd certainly recommend it to anybody."
Mr. Robinson was particularly wowed by Ms. Xiaochun Qi, who played the two-stringed Chinese instrument called the erhu and by the solo singers.
"The whole performance was great," he said. "Absolutely money well-spent, and I enjoyed it."
Mr. Robinson's comments were echoed by Ms. Divine, who owns restaurants in Ottawa.
Speaking at the intermissions, Ms. Divine said, "The whole thing is phenomenal and I'm enjoying it exceptionally."
"I have no favourite," she said. "I'm just enjoying every single scene and the different dancing—it's just wonderful."
Ms. Divine also commented on the animated digital backdrops, noting that they were "just beautiful."
"It's the first time I've seen a show like this and it was absolutely breathtaking," she said.
The Epoch Times is a proud sponsor of the Divine Performing Arts 2009 World Tour.Please see DivinePerformingArts.org for more information.