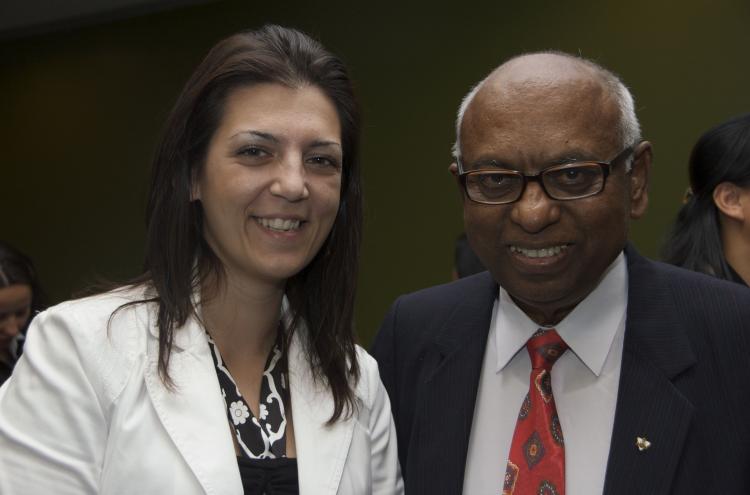 Divine Performing Arts worked its magic and earned rave audience reviews tonight at the third of six performances of the Mid-Autumn Spectacular in Toronto.
For two delighted audience members the show not only provided impressive entertainment but also brought deepened understanding about Chinese culture and a new look at everyday life.
Dr. Bhausaheb Ubale attended the show with Antoinette Condello. Dr. Ubale is a former Ontario and Canadian Human Rights Commissioner and a recipient of the Order of Ontario, the highest honour given in the province of Ontario, for his contributions to human rights.
"It was superb," said Dr. Ubale, "especially the choreography was so perfect."
He highlighted that the speed of some of the dance sequences was "extremely good."
He often goes to plays, he said, and in this show he noticed that "there was not a single fault on any part of the participants."
Dr. Ubale added that the changes taking place in the background were "fantastic."
The backdrop is a custom-designed, state-of-the-art digital projection of vivid, dynamic scenery synchronized to the music and dance sequences.
"It comes across as a scene with their dresses, the choreography, and the background. There is a rhythm to it and that rhythm is very nice," said Dr. Ubale.
What stood out for Ms. Condello were the songs. "The songs were really meaningful," she said. "The meaning was just about day-to-day experience and day-to-day life and how to look at things in a different way."
Themes of virtue, compassion, courage, and hope run through the show as it brings to life the stories and legends of Chinese tradition with its emphasis on moral principles and the spiritual search for truth.
"We have studied and learned about Chinese culture, so it is not really new, but to see it is much different than just reading about it," remarked Dr. Ubale.
The Mid-Autumn Festival is one of China's most ancient and cherished holidays. The Spectacular expresses Chinese classical dance and showcases authentic traditional Chinese culture. Through background scenery, costumes, and choreography, the Spectacular expresses truthfulness, compassion, and pure beauty. China's history comes to life in this gorgeous performance that is entertaining, inspiring, and uplifting. The content of all programs is presented in both Chinese and English. For more info, visit: http://www.divineshows.com/Toronto