NEW YORK—The death at age 54 of Anthony Minghella, the director of "The English Patient," "The Talented Mr. Ripley," and "Cold Mountain," among others, was a significant loss for the film world, but he is also mourned by the opera world. His production of Giacomo Puccini's "Madama Butterfly" is currently revived at the Met.
Minghella's production is a tearjerker with exquisite music derived from a once-popular play by David Belasco. It uses an evocative but spare set by Michael Levine, summoning mid-19th-century Japan with a mirrored ceiling and puppets from London's Blind Summit Puppet Theatre and choreography by Minghella's wife, Carolyn Choa. The colorful costumes are by Han Feng.
The Plot
In Nagasaki, Japan, during the early 20th century, U.S. Naval Officer Pinkerton is renting a house that comes with a staff—and a wife. He plans to go through with the fake marriage to a 15-year-old girl. He cynically expects to find a "real" wife back in the States.
When Cio-Cio-San (Madama Butterfly) appears, she turns out to be a complete innocent. Her family was prominent but fell on hard times, forcing her to become a geisha. She believes the wedding ceremony is real and is ready to convert to Christianity. Despite the circumstances, the first act ends with one of the most rapturous love duets in opera.
Act 2 takes place three years later. Pinkerton has been away during the interim, but Butterfly has given birth to his son. She turns down new marriage proposals because she expects the American to return someday. At the end of the act, Pinkerton's ship arrives in the harbor. The women decorate the house with flowers to welcome him.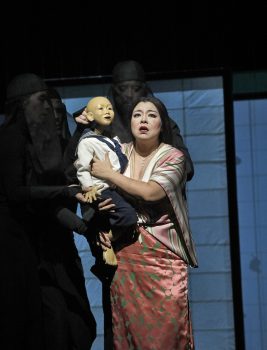 Pinkerton arrives with his American wife, Kate. The officer recalls his happy days at the house and finally feels some guilt. When Butterfly discovers the truth, she permits Pinkerton to take custody of their child. Finally, she commits suicide with the same dagger used by her father to end his life.
The Performance
As Cio-Cio-San, the title character in love with Mr. Wrong, Chinese soprano Hui He gives a nuanced performance, vocally and dramatically. Her "Un bel di" ("One fine day") brought the house down. Tenor Roberto Aronica was a capable Pinkerton and delivered a praiseworthy version of the nostalgic "Addio, fiorito asil" ("Farewell, flowery refuge").
Baritone David Bizic was rich-sounding as American consul Sharpless, while mezzo-soprano Avery Amereau was compelling in the brief role of Kate Pinkerton. Mezzo-soprano Maria Zifchak was sympathetic as Butterfly's maid, Suzuki.
The Met chorus performed a lovely "Humming Chorus" in Act 2.  Conductor Jader Bignamini made an impressive company debut.
Special mention should be made of the bunraku puppet moved by onstage puppeteers as Pinkerton's 3-year-old son. The innovation was unsettling but very effective.
The current cast will appear until Nov. 20. The opera will return in February with Marco Armiliato conducting, Ermonela Jaho as Cio-Cio San, and Roberto Aronica splitting the role of Pinkerton with Luis Chapa.
'Madama Butterfly'
The Metropolitan Opera
30 Lincoln Center Plaza
Tickets: 212-362-6000 or MetOpera.org
Running Time: 3 hours, 14 minutes
Closes: March 16
Barry Bassis has been a music, theater, and travel writer for over a decade for various publications.