NEW YORK—Vincenzo Bellini's "I Puritani" has an absurd plot, taken from a French play derived from a novel by Sir Walter Scott. Like Donizetti's "Lucia di Lammermoor" (also inspired by a Scott novel) the heroine suddenly goes mad. And yet, with the right cast, Bellini's florid music makes for a compelling experience.
The Metropolitan Opera may not have hit a home run with all four leads but two of them—Diana Damrau and Javier Camarena—are wonderful.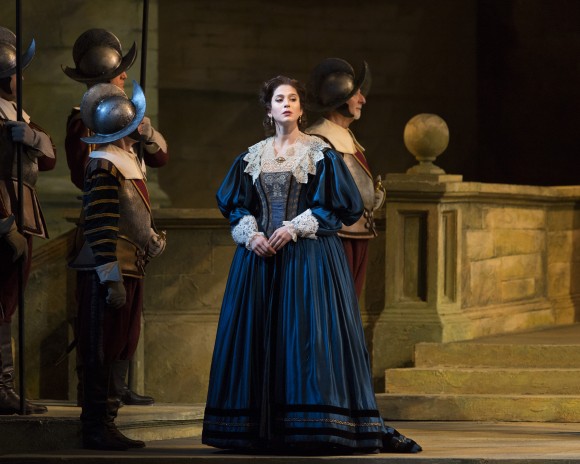 The Plot
The opera takes place during the English Civil War in 1650, when the Puritans were fighting the Royalists. Elvira, whose father is commander of the Puritan stronghold in Plymouth, England, had been promised to Riccardo, but she is in love with Arturo, a Royalist. Her sympathetic uncle Giorgio convinces Elvira's father to let her marry the man she loves even though the young woman and her family are all Puritans.
Camarena confirms that he is one of the finest bel canto tenors in the world.
Despite the fact that Arturo is on the opposing side, he is greeted at his wedding celebration. However, he learns that King Charles's widow, Queen Enrichetta, is being held at the castle as a prisoner and is scheduled to be transported to London for trial.
Arturo concocts a plan to rescue the Queen by covering her face with the bridal veil but Riccardo appears, resolved to kill his romantic rival. Enrichetta reveals her identity and the devious Riccardo allows them to escape. When Elvira learns that her lover has abandoned her at the altar for another woman, she instantly loses her mind.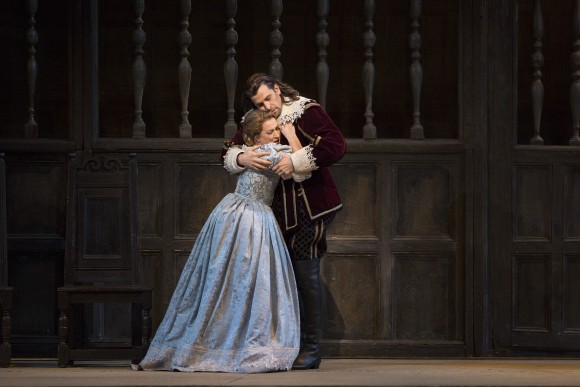 Elvira is so crazy, she mistakes Riccardo for Arturo and thinks she still has a wedding planned. Giorgio convinces Riccardo to forgive Arturo, who has been condemned to death by the Puritans running Parliament.
Arturo returns and assures Elvira of his enduing love for her.  As soldiers are about to arrest the young man, a diplomat announces that the Royalists have been defeated and there is a general amnesty for the enemy forces. Elvira is shocked back into sanity and the opera ends happily, with the reunited lovers once more planning to marry.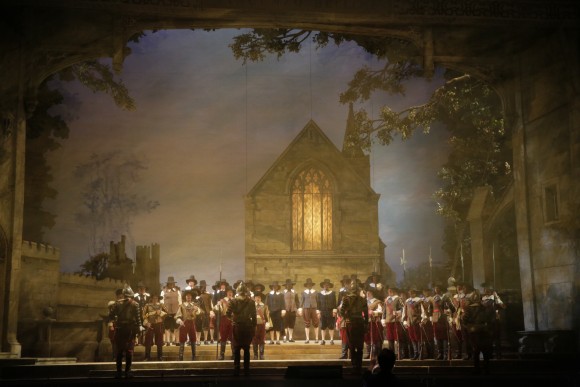 The Performance
Sadly, the composer (1801-1835) died of an intestinal ailment shortly after the opera's debut. It is filled with ravishing melodies and vocal pyrotechnics. As displayed in the recent production of Gounod's "Roméo et Juliette," Damrau is an expressive actress and has a beautiful voice which she uses with style and taste. Her mad scene was the high point of the performance.
As Arturo, Camarena confirms that he is one of the finest bel canto tenors in the world. He is certainly a candidate for first place. His high notes are spectacular and, while he may not be in Damrau's class as an actor, he matches her singing.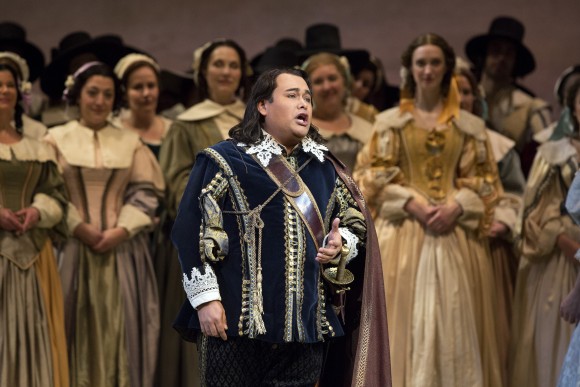 As Georgio and Riccardo, respectively, bass-baritone Luca Pisaroni and baritone Alexey Markov failed to make much of an impression in the first act but improved considerably in Act 2, which had a fine aria by Pisaroni ("Cinta di fiori") at the beginning and ended with an exciting duet by the pair ("Suoni la tromba").
The 1976 Sandro Sequi production is traditional and a bit worn but still generates excitement thanks to a solid cast and the conducting by bel canto specialist Maurizio Benini.
'I Puritani'
The Metropolitan Opera
30 Lincoln Center Plaza
Tickets: 212-362-6000 or MetOpera.org
Running Time: 3 hours, 35 minutes
Closes: Feb. 28
Barry Bassis has been a music, theater, and travel writer for over a decade for various publications.