NEW YORK—Ludwig von Beethoven's only opera, "Fidelio," deals with a man imprisoned for his political beliefs, a situation that is unfortunately as timely as ever. Indeed, German director Jürgen Flimm, whose 2000 production is being revived at the Metropolitan Opera, has moved the action from the 18th century up to the present day. The twist in the plot is that the rescuer is the prisoner's wife.
The Plot
The title character and central figure in "Fidelio" is Leonore, who is the wife of Florestan and is pretending to be a man named Fidelio.
The action set in Seville, Spain, begins on a light note, with a prison guard trying to romance Marzelline, the daughter of the jailer, Rocco. The young woman rejects her suitor because she has fallen in love with Fidelio, her father's new assistant.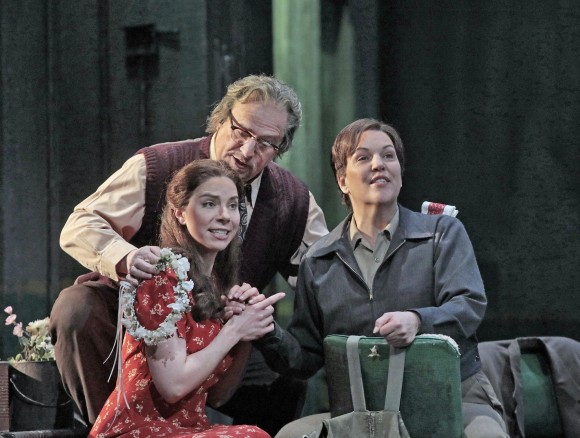 Of course, Marzelline and the others don't know that Fidelio is actually Leonore in disguise. The heroine is there in search of her husband, Florestan, who has been locked up in solitary confinement by order of his mortal enemy, the prison governor, Don Pizzaro.
Rocco thinks Fidelio is a good match for Marzelline and lectures the couple on the importance of money in achieving a happy marriage. Fidelio presses Rocco for permission to join him in visiting the dungeons. Rocco agrees but notes that the one exception is a man who has been incarcerated for two years and is being starved to death.
Pizzaro appears with his soldiers and learns that the minister Don Fernando is going to conduct an inspection of the prison. Pizzaro decides to immediately dispose of Florestan and tries to bribe Rocco into performing the deed. When this effort fails, Pizzaro plans to do away with the prisoner himself and orders Rocco to dig a grave. Leonore hears the conversation and is resolved to save her husband's life.
The Leonore/Fidelio here is the excellent Canadian soprano Adrianne Pieczonka.
Pizzaro rebukes Rocco when he finds out that the jailer had allowed the prisoners (other than Florestan) to go out into the garden. Rocco's justification is that he granted the men a few moments of sunshine to celebrate the king's name day.
Rocco then asks Fidelio to help him dig a grave in the secret vault.
Act 2 begins with Florestan in chains, dreaming of his wife coming to free him. He then sinks into unconsciousness. Rocco and Fidelio enter and, when Florestan comes to his senses and looks up, his wife recognizes him. Rocco grants the prisoner's plea for a drink of water, and Fidelio gives him a piece of bread.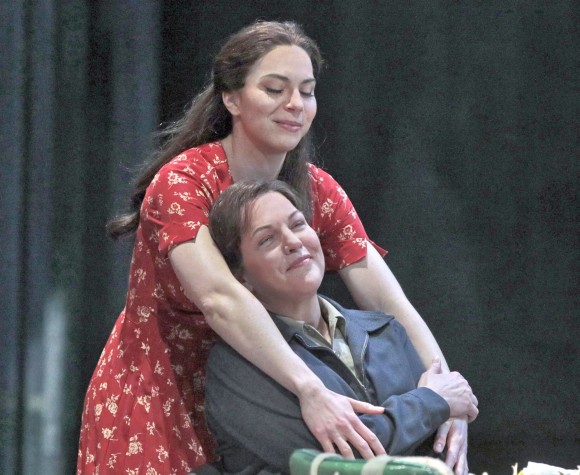 Pizzaro appears with the intent of stabbing Florestan to death. In a dramatic scene, Fidelio reveals her true identity as Leonore, exclaiming "First kill his wife." Then, she pulls out a gun and points it at Pizzaro.
A trumpet fanfare marks the arrival of the minister, Don Fernando. He orders all the prisoners released. Upon seeing Florestan, he recognizes him as an old friend whom he had thought to be dead. When he learns of Pizzaro's treachery, he orders the evildoer taken into custody.
Leonore removes her husband's chains as her heroism is praised by all.
The Performance
The production is well acted and sung. German tenor Klaus Florian Vogt makes a strong impression as Florestan. Although the role is usually performed by a heldentenor, Vogt has a lyrical but powerful sound, somewhat reminiscent of American tenor Richard Crooks in the period between the world wars.  
Vogt's Act 2 aria "Gott! Welch' Dunkel Hier!" ("God! What Darkness Here!"), in which he despairs of his situation, was one of the high points of the performance.
However, the lead character is not Florestan but his brave wife. Fortunately, the Leonore/Fidelio here is the excellent Canadian soprano Adrianne Pieczonka, and she sings and acts with sincerity.
Although Florestan is usually performed by a heldentenor, tenor Klaus Florian Vogt has a lyrical but powerful sound.
When she curses Pizzaro in her powerful aria "Abscheulicher!" ("Monster!") and expresses her determination to save her husband, she handles the mood changes with conviction and produces a lustrous tone throughout.
Bass-baritone Falk Struckmann is fine as the humane Rocco, while Greer Grimsley is convincing as Don Pizzaro, a snarling monster in a three-piece business suit.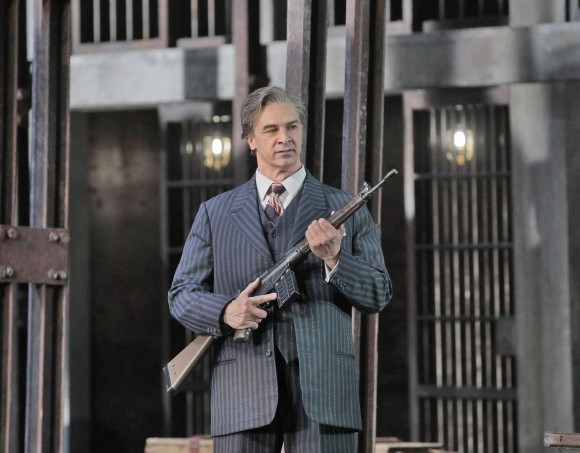 German soprano Hanna-Elisabeth Müller, making her Met debut, is a charming Marzelline. and Günther Groissböck is a dignified Fernando. Tenor David Portillo sings well as Jacquino.
The Met chorus excels in the moving final scene, when the prisoners and their families are reunited.
Sebastian Weigle conducts with authority, and Jürgen Flimm effectively directs a no-nonsense production with set by Robert Israel, costumes by Florence von Gerkan, and lighting by Duane Schuler.
Interestingly, "Fidelio" makes the third opera set in Seville this season at the Met. Rossini's comic "The Barber of Seville" is in Italian, Bizet's tragic "Carmen" is in French, and "Fidelio" is in German. Thus, none of them has a Spanish-language libretto. Isn't it time for the Met to present a zarzuela, such as Tomás Bretón's "La Verbena de la Paloma"?
'Fidelio'
The Metropolitan Opera
30 Lincoln Center Plaza
Tickets: 212-362-6000 or MetOpera.org
Running Time: 2 hours, 30 minutes
Closes: April 8
Barry Bassis has been a music, theater, and travel writer for over a decade for various publications.