NEW YORK—Franco Alfano's "Cyrano de Bergerac" is a minor opera, but with Roberto Alagna in the title role, a strong supporting cast and a beautiful production, the evening was a major pleasure.
The composer Alfano is best known for completing "Turandot" when Puccini died. Though there are many famous arias in that opera, none were supplied by Alfano. His opera "Cyrano de Bergerac" debuted in 1936, but wasn't performed at the Metropolitan Opera until 2005, when Plácido Domingo convinced management to put on the production with himself in the title role.
Alagna's Cyrano is a tour-de-force, impressive vocally and dramatically.
Now, it is back with another tenor star and advocate for the opera, Roberto Alagna, as the swordsman/poet with the big nose.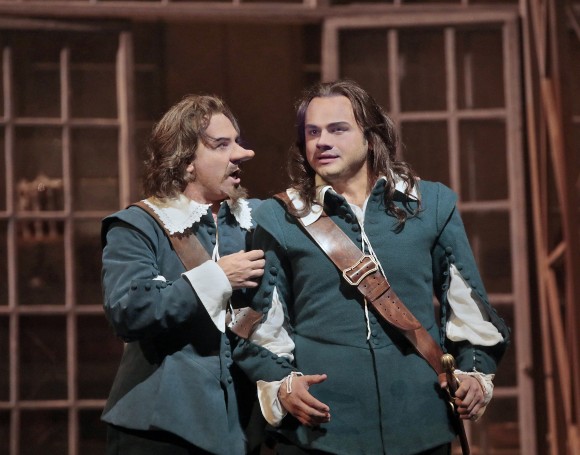 The Plot
Edmond Rostand's 1897 play, loosely based on an historical figure, is enduringly popular. It combines a boy's adventure with a romantic tale of unrequited love. Alfano's opera basically follows the plot of the play, albeit with some excisions.
Set in 1640, the action begins when Cyrano stops a theatrical performance because he dislikes the star. When a nobleman objects to Cyrano's conduct and then makes fun of the hero's big nose, the two have a swordfight during which Cyrano makes up a poem, showing his genius at both arts.
Cyrano may have won the fight but is hopelessly in love with the beautiful Roxane. In a scene together, she reveals that she is smitten with a member of the Gaston regiment. Cyrano is crushed when he learns that she is not referring to him but to a handsome new cadet named Christian. Roxane prevails on Cyrano to protect the young man.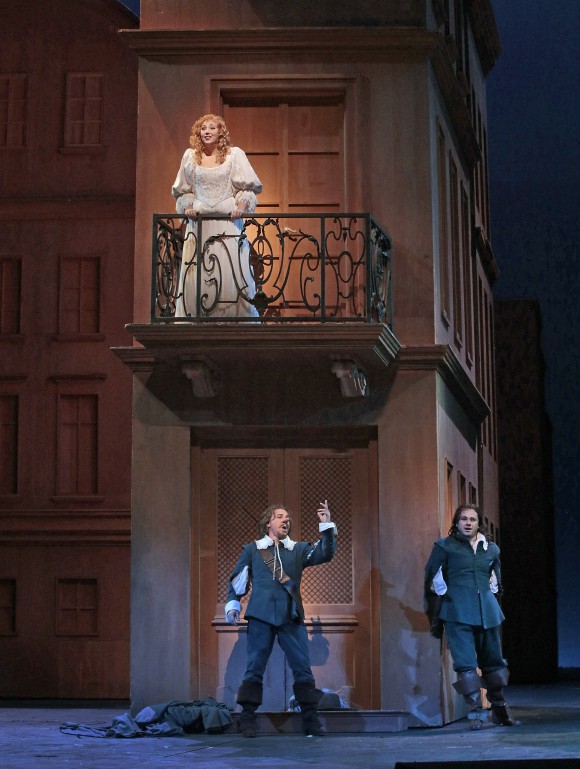 Cyrano carries out her request even when, at their first meeting, Christian ridicules the older man's proboscis, though the two make up and become friends. Christian speaks of his love for Roxane, but explains that she demands verbal dexterity and the cadet lacks the ability to speak or write poetically. Cyrano offers to help and in the famous balcony scene, it is his voice and love that Roxane hears.
When the Gaston guard goes off to war, Cyrano not only writes daily to Roxane in Christian's name, but risks his life to send the letters to her. The young lovers had secretly married before Christian left Paris, and though the French army is under siege, Roxane gets through the lines to reunite with her husband before he dies of his wounds. She discovers a final missive in Christian's pocket.
The last act takes place 15 years later when Roxane is in a convent, still mourning for Christian. Cyrano arrives, but is dying from a head injury inflicted by his enemies. When he asks to see Christian's last letter, he reads it aloud, continuing even when he no longer has the strength to look at the document. Then, just as Roxane realizes that he was the one beneath her balcony, the author of Christian's letters, and the soul she truly loves, Cyrano dies in her arms.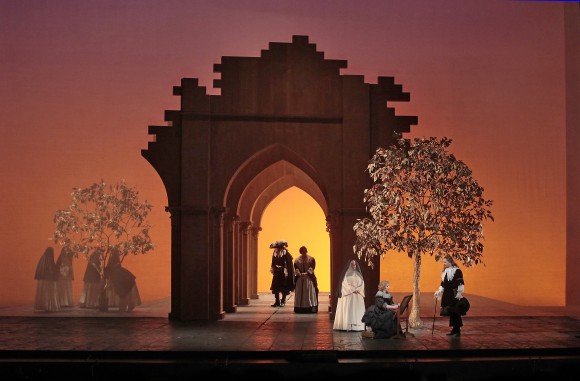 The Performance
Alagna's Cyrano is a tour de force, impressive vocally and dramatically (though his acting is broader than in stage versions of the Rostand play). Nevertheless, it should be noted that he gets laughs for his antics. The role is a demanding one for a singer (who wears a prosthetic nose) and the 53 year old tenor sounds as youthful as ever.
American soprano Jennifer Rowley makes a strong impression as Roxane and was especially moving in the last act. Brazilian tenor Atalla Ayan was very good as Christian. He could conceivably take on the title role at some time in the future. Bass-baritone David Pittsinger was fine as Cyrano's friend, Le Bret.
In the Playbill, Alagna compares the opera to "La Boheme." Actually, the Alfano opera sounds more French than Puccini's work. What it lacks is memorable melodies. While evocative, with the orchestra playing superbly under the baton of Marco Armiliato, the score doesn't make much of an impression.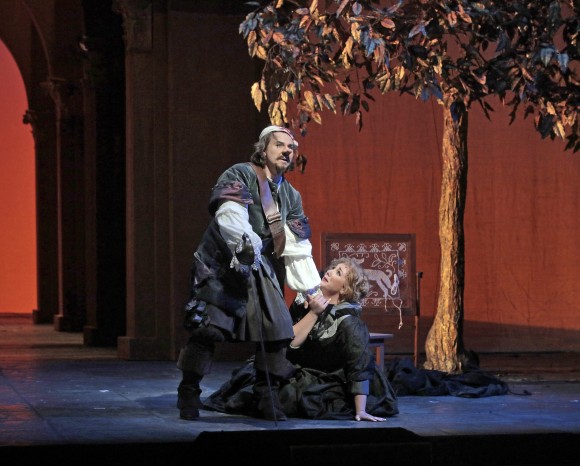 The Francesca Zambello production is a pleasure to behold, thanks to the design team of Peter J. Davison (sets), Anita Yavich (costumes) and Natasha Katz (lighting). This is one opera where the audience applauds the scenery. Over the years, I have seen four Broadway productions of Rostand's play and the Met production surpasses all of them in visual beauty.
In sum, those who caught Alagna's Cyrano in its brief run at the Met will treasure the memory.
'Cyrano de Bergerac'
The Metropolitan Opera
30 Lincoln Center Plaza
Tickets: 212-362-6000 or MetOpera.org
Running Time: 2 hours, 53 minutes
Closes: May 13
Barry Bassis has been a music, theater, and travel writer for over a decade.