NEW YORK—On Oct. 29 at Carnegie Hall's Weill Recital Hall, the New York Concerti Sinfonietta (NYCS) presented its 2017 International Shining Star Competition winners in concert, to a sold-out audience. The recipient of the Grand Prize was a remarkably gifted musical switch-hitter who took top honors in both the piano and violin categories.
The Carnegie concert featured the cream of the crop, selected from recent auditions held at Ireland's three leading conservatories: the CIT Cork School of Music; the DIT Conservatory of Music, Dublin; and the Royal Irish Academy of Music. Also appearing were star performers trained at the Hochschule für Musik, Cologne; and the University of Music, Vienna. Featured from the United States were soloists from The Juilliard School and the Manhattan School of Music.
In addition, a number of previous winners made return appearances with fresh repertory. Emphasis was also placed on musical families: two of the Irish Grand Prize winner's sisters appeared as pianists, and two sisters from another family performed on cello and flute, respectively.
Making his debut with the NYCS was an outstanding Irish conductor, Conor Palliser—a faculty member at Cork School of Music who is also an experienced professional French horn player and pianist. He is already slated to lead encore performances of the NYCS next June.
Such was the abundance of talent revealed by the auditions that two supplemental concerts in Midtown Manhattan locations were necessary to display all the Shining Star winners. One, the day before the Carnegie concert, was dedicated to solo and chamber music. The other, the day after, was devoted to concertos with the NYCS.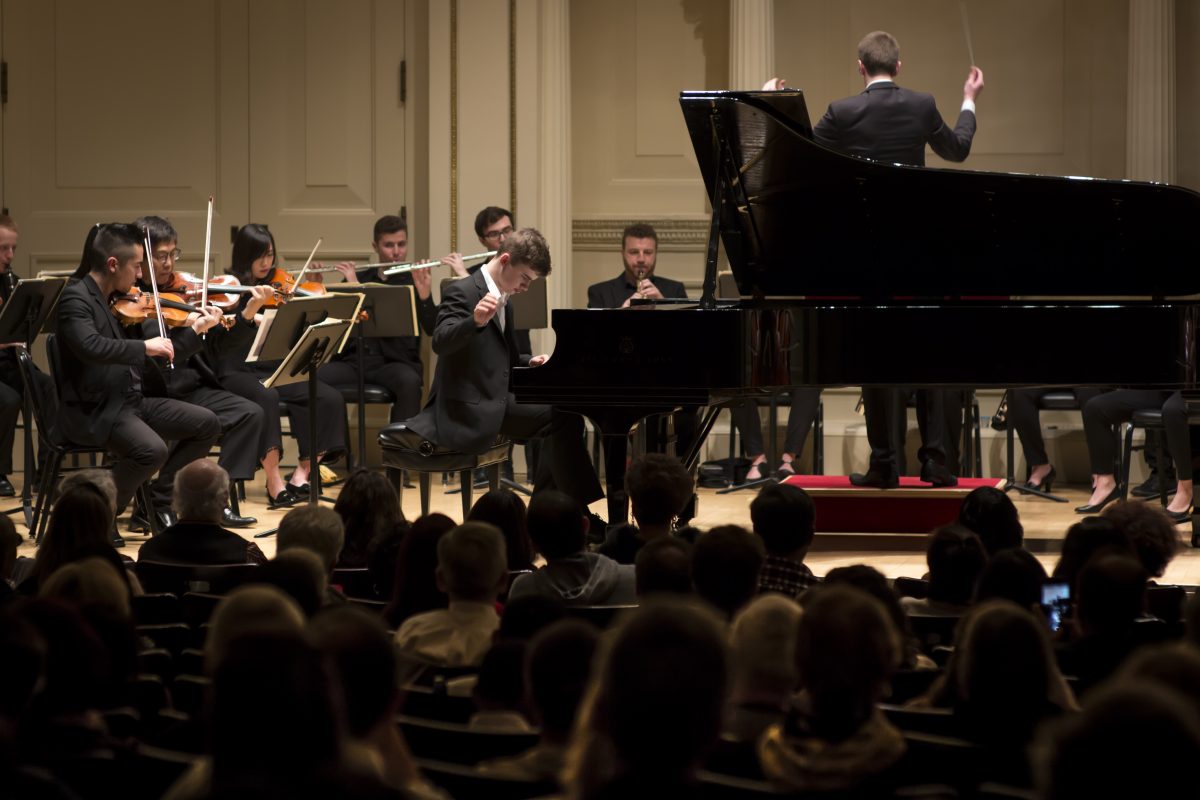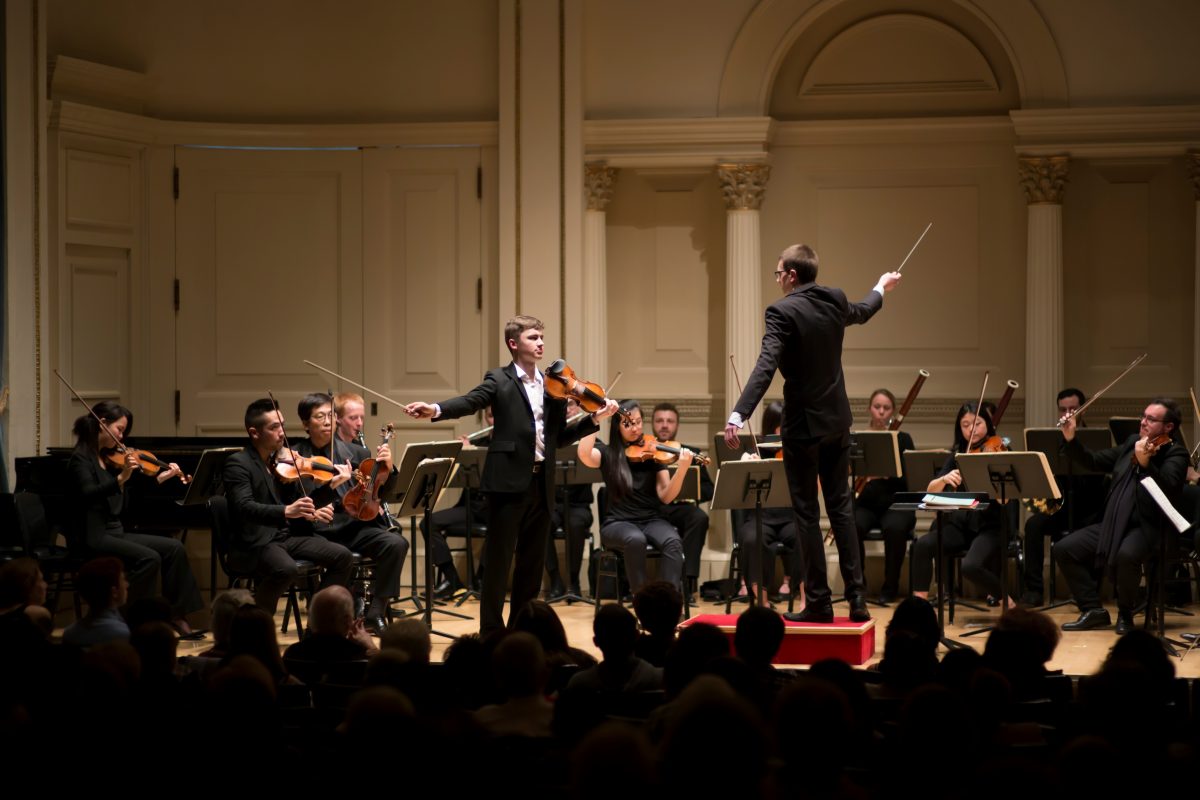 Double-Barreled Piano/Violin Virtuoso
Grand Prize winner Kevin Jansson is a musical polymath who excels on both piano and violin. Presently 17 years old, he began taking lessons on both instruments shortly before the age of 6, and studies them today at the Cork School of Music.
I know of only one other prominent performing artist who has exhibited equivalent versatility. Julia Fischer, who studied piano in her childhood before concentrating on the violin, was persuaded to perform on both instruments at a New Year's Gala in Frankfurt in 2008. After soloing in the Saint-Saëns Third Violin Concerto, she played the piano in public for the first time at age 24, mastering the Grieg Piano Concerto, an occasion documented on a Decca DVD.
In his performance of Beethoven's Piano Concerto No. 3 in C Minor, Op. 37, Kevin took immediate command of the first movement, displaying vivid dynamic contrasts as well as beautifully modulated and articulated phrasing, culminating in a stormy cadenza. When playing accompanying figures in the second movement where pianists usually hog the limelight, Kevin sensitively dropped back in volume so that the melodic phrases in the woodwinds could predominate. In the finale, his sparkling technique was a delight, particularly his playful, chiseled crystalline scales, ornaments, and trills.
As a violinist, Kevin traversed the last movement of the Mendelssohn Violin Concerto in E Minor, Op. 64 with total security and at a vertiginous tempo approaching that of Jascha Heifetz. "Allegro molto vivace" indeed! At the supplemental concerts, Kevin deftly played unaccompanied Bach, the Franck Sonata, and a Rachmaninoff Trio, plus the first movement of the Mendelssohn Concerto.
If forced to choose the instrument on which Kevin demonstrates the greatest proficiency, based on these concerts I would say that he is a highly accomplished violinist, but an exceptional pianist. Notably, his debut CD of solo piano music ranging from Liszt to Ligeti has recently been released by a major Swiss label, Claves Records.

Praiseworthy Pianists
Also appearing was Kevin's 21-year-old sister, Ellen Jansson, who studied in Vienna during the past year. Prokofiev's Piano Concerto No. 3 in C Major, Op. 26, had been getting a workout at Carnegie Hall this month. On Oct. 20, the renowned Martha Argerich played the concerto in Carnegie's main auditorium. Ellen Jansson followed with her account of the first movement nine days later. To say that Ellen did not suffer by comparison to Argerich is high praise indeed.
Ellen powered her way through Prokofiev's finger-twisting complexities as if they were a nursery rhyme. The lyrical passages pulsed with emotion, while her dazzling octaves at the close were spectacular. Ellen generated massive sonorities, producing a particularly rich, resonant bass register on Carnegie's 9-foot Steinway Grand. She is a major talent.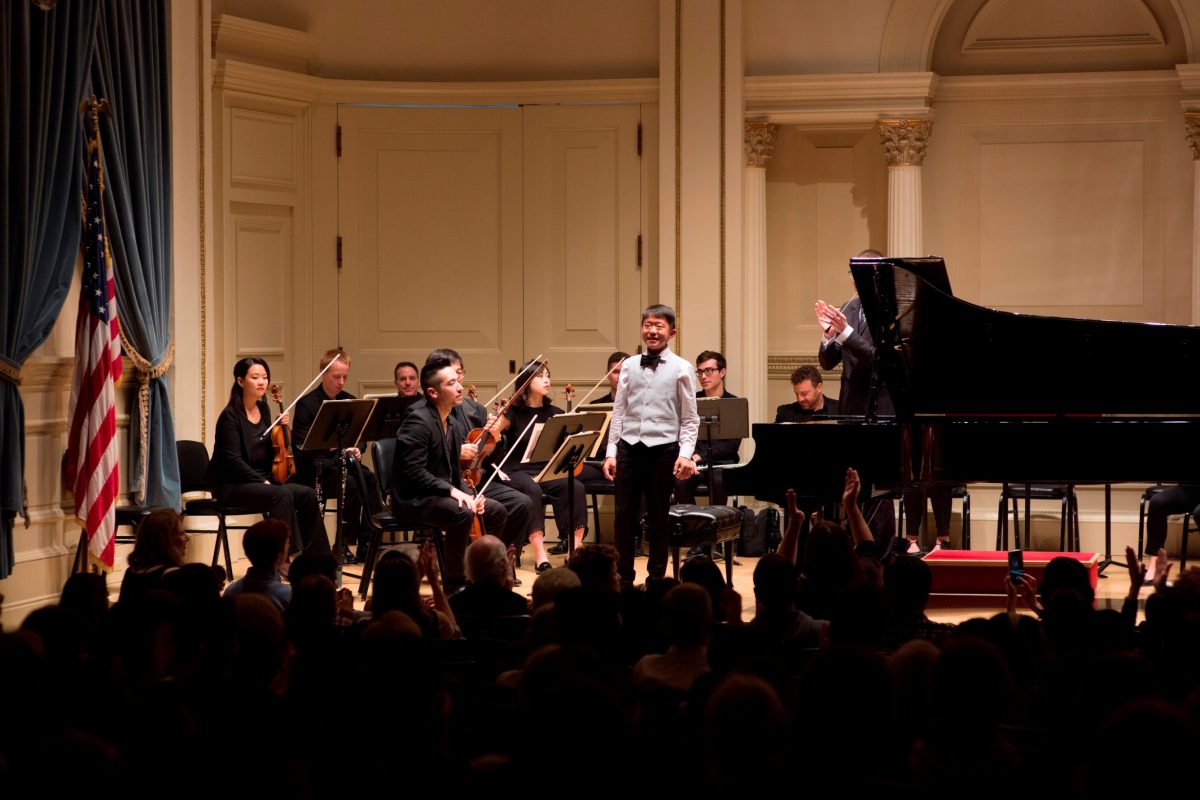 Thirteen-year-old Gerry Yang, from the DIT Conservatory of Music in Dublin, played the opening movement of Mozart's early Piano Concerto in C Major, No. 8, K. 246. Yang is only seven years younger than Mozart was when he composed the work. Despite his youth, Yang was fleet and stylish, using very little pedal in a nod to historically informed performance practice. He exhibited both facility and maturity.
Tiffany Qiu, 16 years old, from the Royal Irish Academy, presented a shimmering, fluid, and sonorous account of Maurice Ravel's impressionistic tone painting, "Ondine," from "Gaspard de la nuit."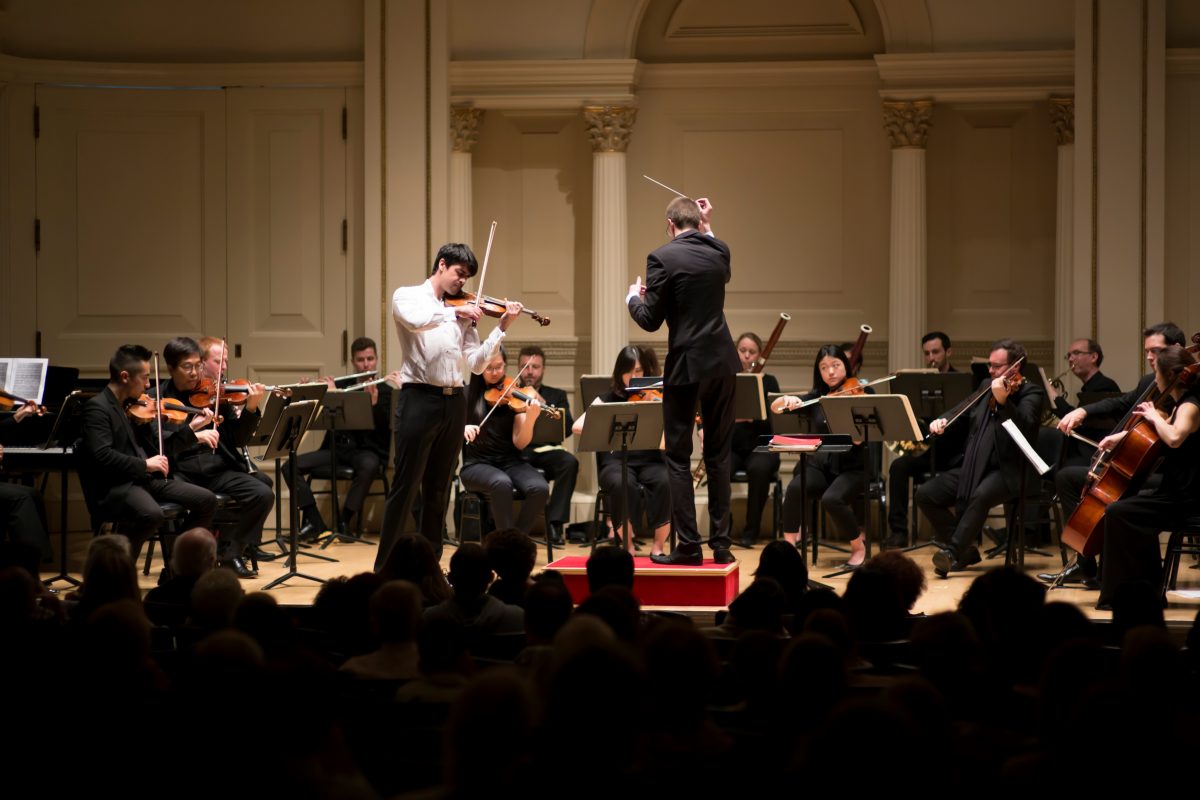 Vibrant Violinists
Dublin-born David Tobin is currently studying in Cologne, Germany, with a disciple of David Oistrakh. Tobin played the second movement (Scherzo) and third, final movement (Mélodie) of Tchaikovsky's "Souvenir d'un lieu cher" ("Memory of a dear place"), Op. 42. The Mélodie was originally intended as the slow movement of Tchaikovsky's Violin Concerto. Tobin manifested ecstatic Romantic fervor and ravishingly radiant tone. Tobin previously appeared with the NYCS in June 2016 in the Bruch First Violin Concerto.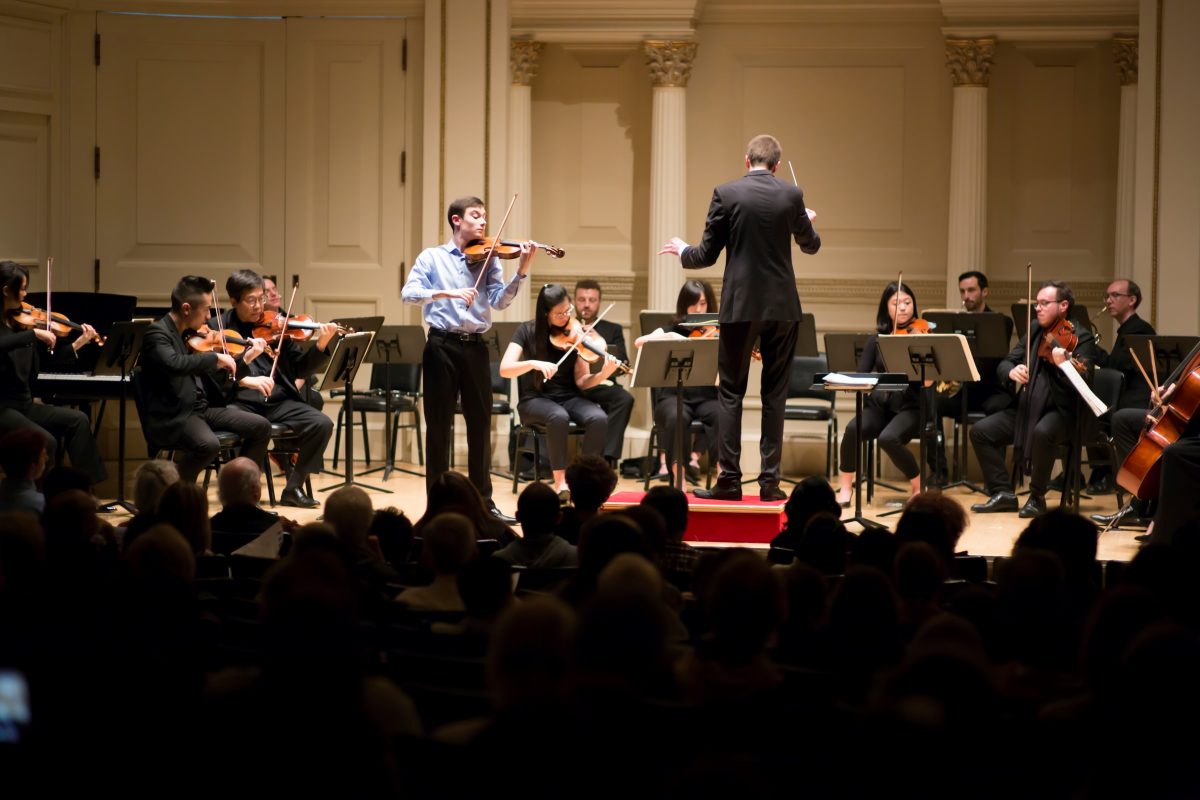 Oliver Neubauer, age 18, last appeared with NYCS in May 2017 in Paganini's Violin Concerto No. 1. He returned to play the first movement of Mozart's Violin Concerto No. 3 in G Major, K. 216, at Carnegie. His was a captivating performance, fully bringing-out the shifting moods, wit, and lyricism of Mozart's music. Neubauer currently studies at The Juilliard School Pre-College Division.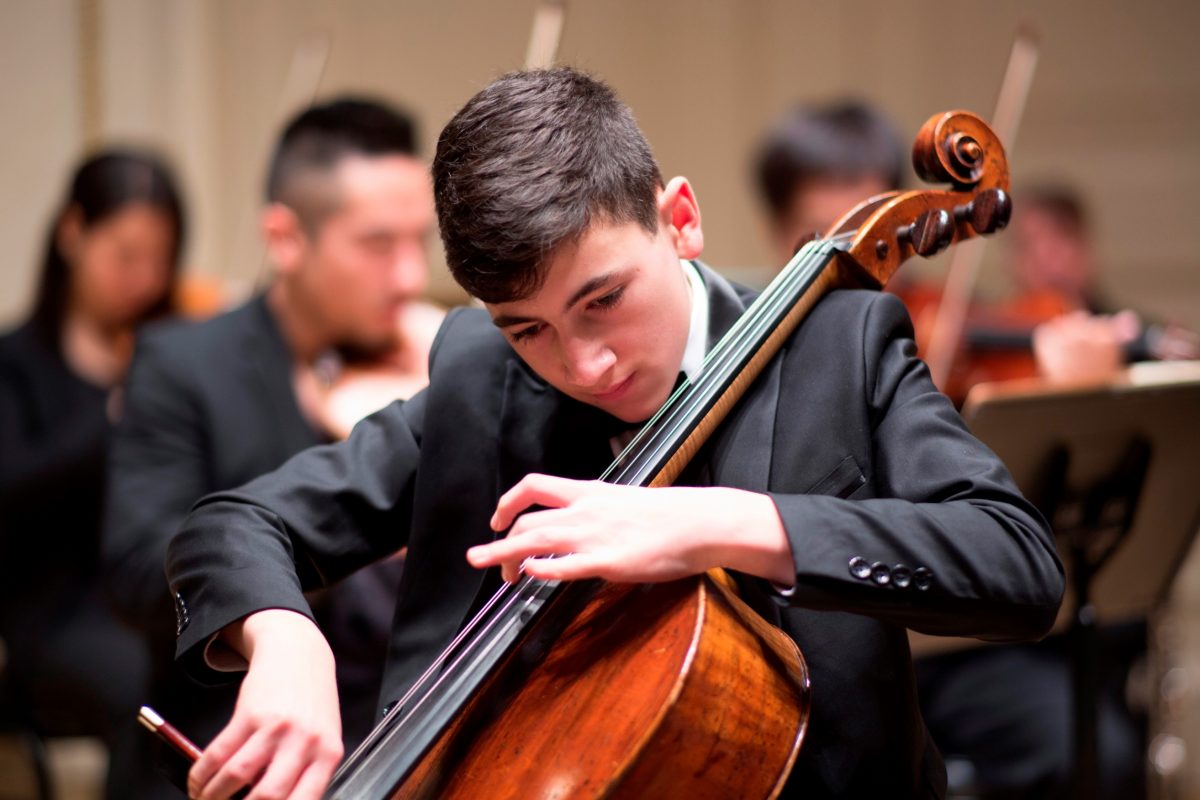 Charismatic Cellists
Fourteen-year-old David Blake is a scholarship student at the Royal Irish Academy. On this occasion, he performed the opening movement of the Shostakovich Cello Concerto No. 1 in E-flat Major, Op 107. Although the dauntingly difficult Shostakovich poses intonational challenges that were not always fully overcome, David robustly conveyed the angularity, aphoristic quality, and insistent repetition of the concerto's motto themes, which include the initials of the composer's name translated into musical notation as a hidden protest against the repressive Stalin regime.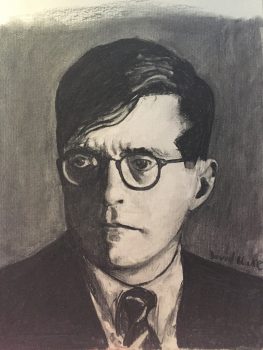 David is also expert at drawing; his charcoal portrait of a pensive Dmitri Shostakovich adorned the reverse side of the Carnegie Hall program.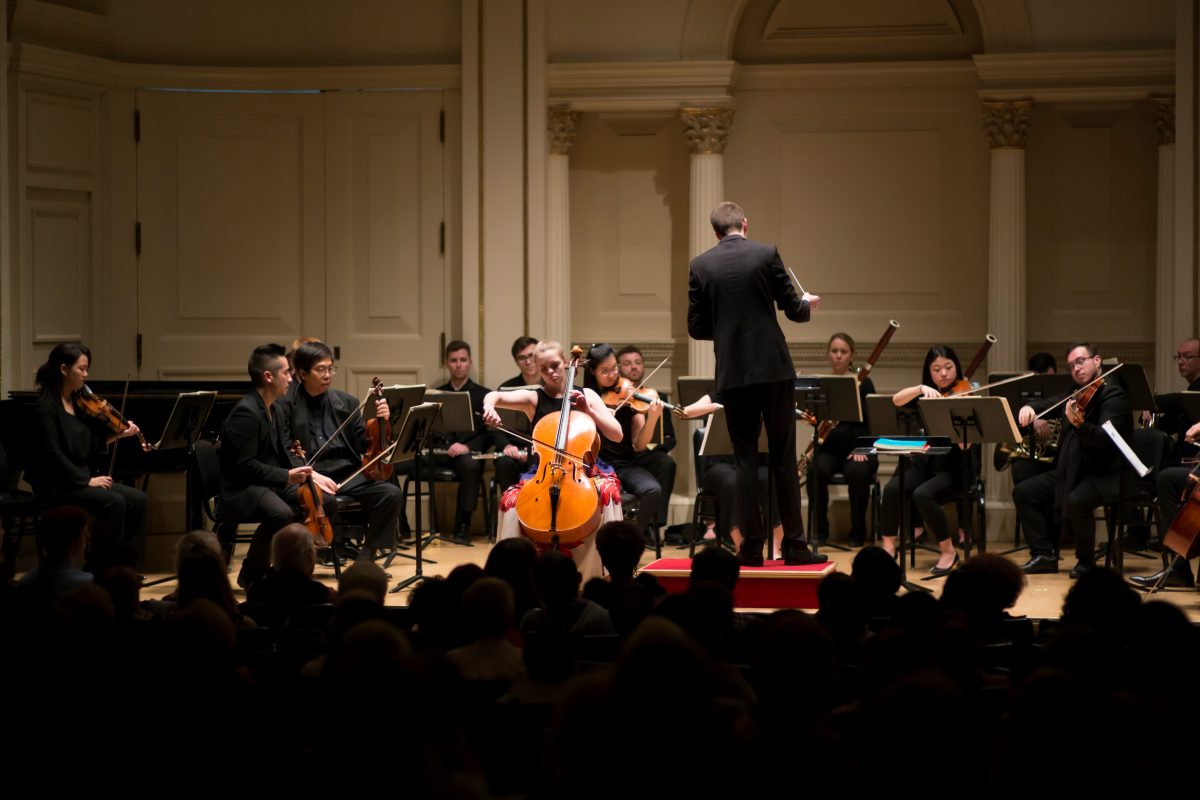 Seventeen-year-old Zoë Nagle, from Cork, vivified Tchaikovsky's "Variations on a Rococo Theme," Op. 33 (Fitzenhagen Edition). Effectively reflecting the work's varied moods, she exhibited fleet fingers in the virtuosic passages, and soared in the lyrical variations in a manner reminiscent of the great Tchaikovsky ballets. It was a confident, highly musical performance of a technically demanding work.
Graceful Guitar
Eoghan Doody, who currently studies with the distinguished Irish guitarist John Feeley, gave a refined account of Francisco Tárrega's "Capricho Árabe." It was atmospheric, hypnotic, and haunting. Doody is the 18-year-old son of Deirbhile Brennan, who performed Beethoven's Fourth Piano Concerto with the NYCS in Oct. 2014.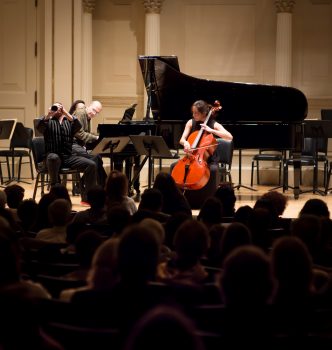 Engaging Ensembles
The Carnegie concert opened with Brahms's gorgeously autumnal Clarinet Trio in A Minor, Op. 114. Stanley Sisskin most recently appeared with NYCS in the Schumann Piano Concerto in May 2017; Todd Palmer is principal clarinet of NYCS; while Taiwanese cellist Yu Yu Liu—making her debut with NYCS—is enrolled at The Juilliard School.
It was an inspired combination of three generations of performers, but a true collaboration of equals. Rarely have I heard the trio performed with such sensitive attention to the interplay of its instrumental voices, both individually and jointly. The players phrased the work like a living, breathing organism, completely revealing Brahms's compositional genius.
The final soloists to perform with the NYCS at Carnegie were a group of seven elementary school string players from New Jersey impressively naming themselves "Violin Virtuosi." They performed Vivaldi's Concerto for Two Violins in A Minor, Op. 3, No. 8, RV. 522 (from "L'estro armonico"), with three players taking the violin one part and four players on violin two.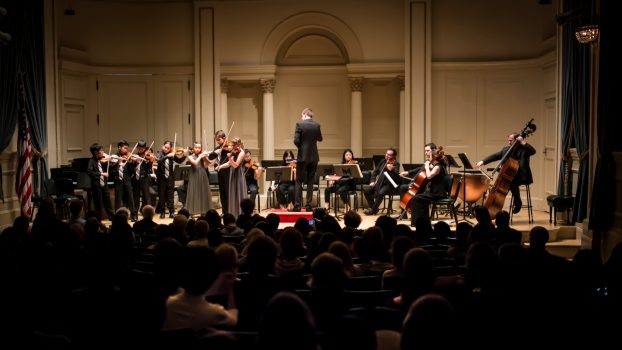 Since the diminutive violinists primarily constituted one each from the third through the eighth grades, their achievements were of necessity somewhat embryonic, but there was no mistaking their seriousness and commitment. Anyone who doubts where the next generation of musicians—and music lovers—is coming from could only find their appearance heartening.
Conductor Conor Palliser
The NYCS's complement of musicians consisted of 22 players at Carnegie, expanding to 34 the following day. Conductor Conor Palliser elicited alert, shapely, transparent, and rhythmically pointed accompaniments from the orchestra. The dynamic balance between soloists and Sinfonietta was near ideal. Altogether, this was one of the finest concerts yet presented at Carnegie by the NYCS.
In brief comments at the close of the performance, Maestro Palliser paid tribute to the high caliber and musicianship of the Sinfonietta's instrumentalists, whom he had met for the first time in rehearsal that morning. He also praised Dr. Julie Jordan for her indefatigable efforts at organizing these concerts.
Artistic Director Julie Jordan
Pianist, pedagogue, and impresario, Dr. Jordan is the founder and artistic director of NYCS and its international competitions. A Steinway Artist, she has served for more than three decades on the piano faculty of The Juilliard School Evening Division, where she created the Piano Concerto class and Solo and Collaborative Piano classes. As a prelude to the Oct. 28 supplemental concert, Dr. Jordan made an unscheduled cameo appearance, playing Chopin's Nocturne No. 20 in C-sharp Minor, Op. Posth., with her customary poetry and luminous tone.
The New York Concerti Sinfonietta will next perform at Carnegie Hall on June 1, 2018, and St. Malachy's Church on June 4. Annual auditions and master classes will be held in Ireland, California, Nevada, Utah, Colorado, Texas, Florida, Washington D.C., and New York City.
For information, or to apply for forthcoming competitions and debuts, contact dr.juliejordan1@gmail.com or newyorkconcertisinfonietta.com
Michael Sherwin has written for The Epoch Times, Wagner Notes, The Juilliard Journal, Musical America, and other publications. He recently produced a 2-CD album of "20th-Century American Choral Treasures" for the National Endowment for the Arts.