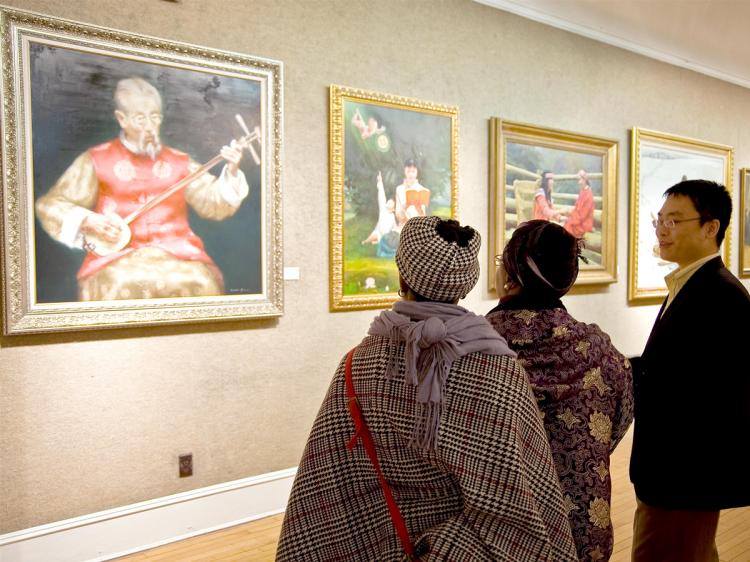 NEW YORK—New Tang Dynasty Television's 2nd annual Global Chinese International Figure Painting Competition opened the exhibition of finalist entries at the Salmagundi Club on Fifth Avenue on Sunday Nov. 29.
Of the 42 finalist entries chosen from paintings submitted, 35 oil paintings were displayed. The panel of judges responsible for selecting the finalists in the Chinese International Figure Painting Competition will be composed of senior professionals of fine arts.
Wei Xing Wang, from NTDTV, said there were some artists who said it was risky to send their paintings overseas, because they were from China, where NTDTV is blocked, and the Chinese government did not want people to be affiliated with the channel. She also said that last year an artist from China sent his painting but it was never received.
Wang said the amount of paintings sent in and chosen for finalists are about the same as last year, but the quality has improved this year.
"This year some artists who submitted last year have improved," she said. "They changed their style, their quality, so it's better this year. They know what we're looking for and they've improved."
NTDTV says the purpose of the competition is to promote cultural exchange and the art of figure painting that portrays pure truth, pure compassion, and pure beauty; and in doing so provide artists the opportunity to purify themselves and elevate their painting skills.
The exhibition is open to public and the paintings will on display until Dec. 5. The awards ceremony for one gold, two silver, three bronze winners, and a number of honors will be presented on Dec. 4, along with a Master Class on oil painting. The artists will do character sketches on Dec. 5, which will be auctioned off, but the oil paintings included in the exhibition will not be auctioned.
The painting competition is one of nine competitions held by New Tang Dynasty throughout the year, which aim to promote and preserve traditional Chinese culture. The competitions include piano, traditional Chinese dance, martial arts, violin, photography, Han couture, vocal, and culinary.