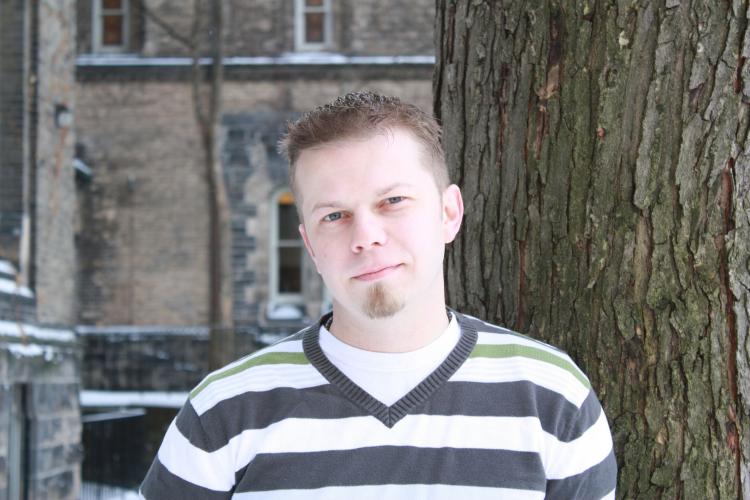 "Intense, exhausting, insane, and beautiful," is how Mark Sedore describes his experience participating in the 3-Day Novel Contest.
The contest is a literary competition in which participants are challenged to produce a novel in three days. The winner of the contest, which takes place over the Labor Day long weekend, gets to have their book published.
"The contest is the original creative pressure cooker," says Melissa Edwards, the managing editor of the International 3-Day Novel Contest.
Sedore, a communications writer at the University of Toronto, is the winner of last year's contest. His winning novel, Snowmen, is about the rivalry between two brothers. As one brother struggles to survive a record-setting trip around the Arctic, the other plays a deadly game of sabotage.
"It's a fast-paced read, but it still manages to delve into a complicated relationship between two brothers," says Quentin Mills-Fenn, of Uptown magazine. "Sedore has produced a gripping and satisfying story which betrays no clue to its origins."
"It seemed intense and that attracted me to it," says Sedore of the contest. He also liked the idea of a very short deadline to keep him on track. "From the minute you begin the contest you can see the finish line, and that's motivating."
To keep him on track writing his novel, Sedore stayed over at a friend's house with three others during the 2009 Labor Day weekend.
"It was a great feeling to be finished with everyone else at midnight on Monday, to have a glass of wine, and read aloud our first chapters to each other," he says of completing his winning novel.
Sedore, 31, had participated in the contest on two previous occasions so he knew how to prepare and what to expect.
On his first try, his novel received honorable mention and the second time around he took second-place. He was still shocked when his name was announced as the 2009 winner. "I pretty much couldn't believe it. I never, ever thought I would actually win this contest."
Sedore's mother encouraged him to write from a very young age. "I remember writing short stories from about the time I learned how to read and write," he says. He is also a voracious reader. "I have to limit myself to a certain number of books per month, or I'd spend almost every waking moment reading."
Contest Origins
The 3-Day Novel Contest started in 1977 in Vancouver when a group of writers dared each other to write a novel in three days. Arsenal Pulp Press distributes the winning novels published by the 3-Day Novel Contest under the 3-Day Books imprint.
In 2006, Book Television's 3-Day Novel Contest reality show added a new dimension to the contest when a few contenders wrote their novels under the added pressure of TV cameras and the public eye.
The contest, which runs on the honor system, is almost entirely funded by the entry fees that go toward contest promotion, prizes, publishing, and promoting and distributing the winning book. It also receives generous volunteer time from the writing and publishing community in Vancouver.
The contest normally gets between 550-625 competitors each year. Entrants come from all over the world, but mostly from Canada. Twenty percent are from the United States, with 20-30 each year from other countries around the world.
"They range widely in age," says Edwards of the contestants. "The youngest I know of is nine years and the oldest is 83 years old."
The contest has produced some very successful writers over the years. Its original winner, Tom Walmsley, is a well-known playwright and screenwriter in Toronto. Chris Millis, the 2000 winner, is making a movie of his winning novel, "Small Apartments." Brendan McLeod, the 2005 winner, is making a name for himself as a poet and tours regularly across Canada. Another winner, Stephen Miller, has recently released his third thriller novel.
Sedore has some advice for this year's participants:
– Give yourself the full three days, and make sure you don't have any interruptions.
– Ensure there is enough food in the house—preferably food that doesn't require any preparation.
– Before the contest, read one or two non-fiction books related to the topic you are writing about. This will help when you get stuck.
– As if you were preparing for a marathon, avoid writing much in the days preceding the contest. You want to enter it eager and fresh.
The contest will take place on the Labor Day weekend, Sept. 4 – 6. For more information click here