BERGEN, Norway—Norwegian artist Atle Skudal's paintings capture significant moments in people's lives. He often includes objects that are family-related or that used to belong to someone close to him, but beyond these close connections is a bigger story.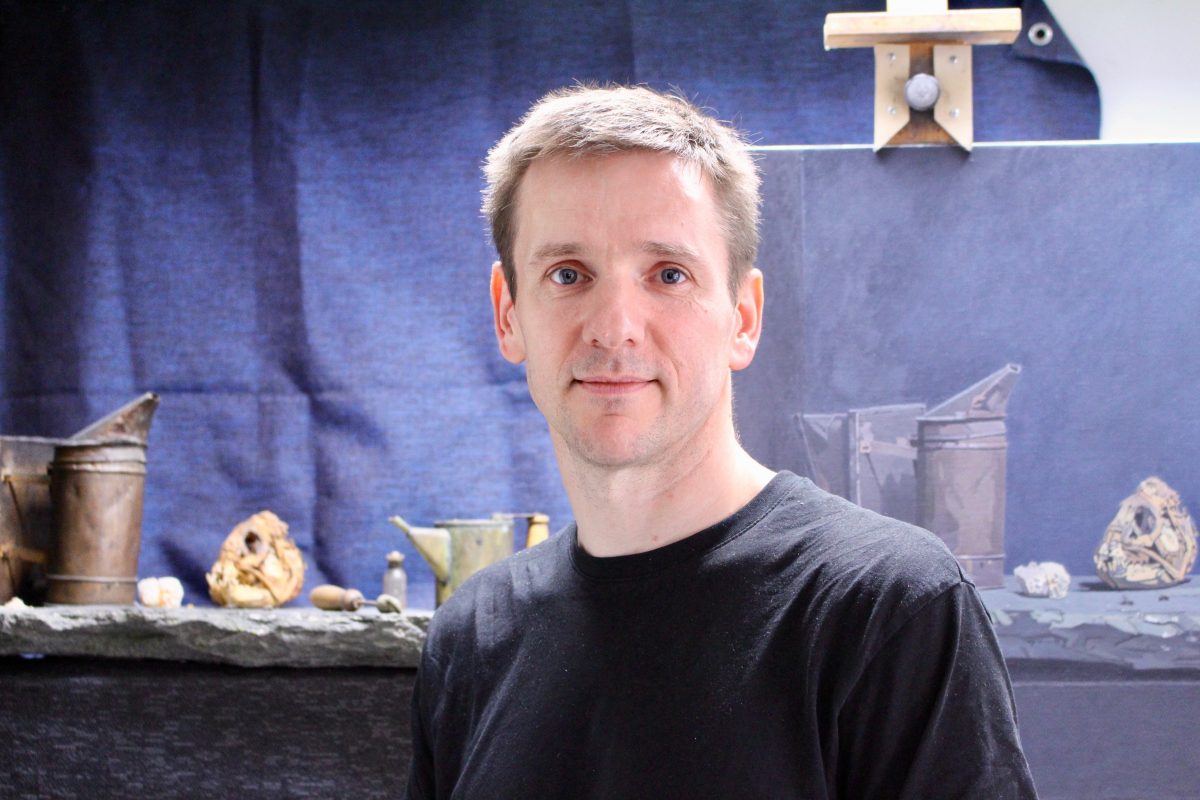 In a sense, Skudal's meticulously crafted still lifes are portraits–only without the actual people. He lovingly creates compositions wherein the story is somewhat hidden, allowing viewers to make their own interpretations.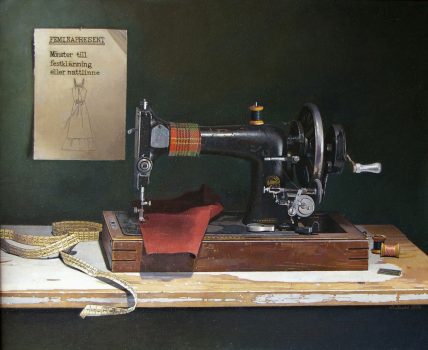 He says it's like finding a message in a bottle: "I think it's rather interesting to not open the bottle, because that lets me wonder and think and be fascinated. I think there is a beauty in not having all the answers."
In order to invite the observer into the painting, Skudal focuses on developing his craft. With light and tone variations, he establishes close contact between the subject matter and the viewer encountering the image.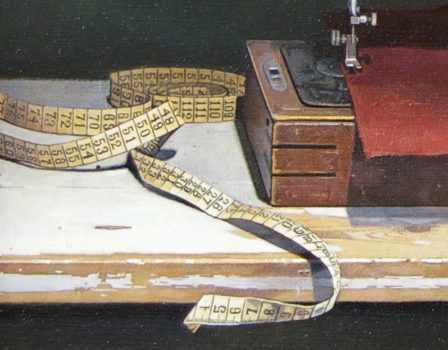 In his "Sewing Machine," set perhaps sometime after World War II,  the lady at work, Skudal's late grandmother, seems to have taken a short break. The machine's presser foot is left down on a piece of carmine cloth. Measuring tape is coiled over the desk, and on the wall hangs a dress pattern from a magazine.
The painting speaks of the thrift of people who had just made it through the war. They usually made their own clothes and didn't let anything go to waste.
Shifting Light
Atle Skudal was taught by the prominent Norwegian painter Odd Nerdrum and attended the Florence Academy of Art in Italy, where Skudal also taught. Since 2003, he's lived with his family, right next to his studio in Bergen, Norway's second-largest city.
It's a small studio, but it has a large window that provides natural light from Bergen's ever-changing weather. The shifting light makes it interesting, Skudal says, and he strives to catch different light in a single painting, to imbue it with light from different times of day.
"A painting should work in many different kinds of lighting," he says. "It should resemble nature in that way."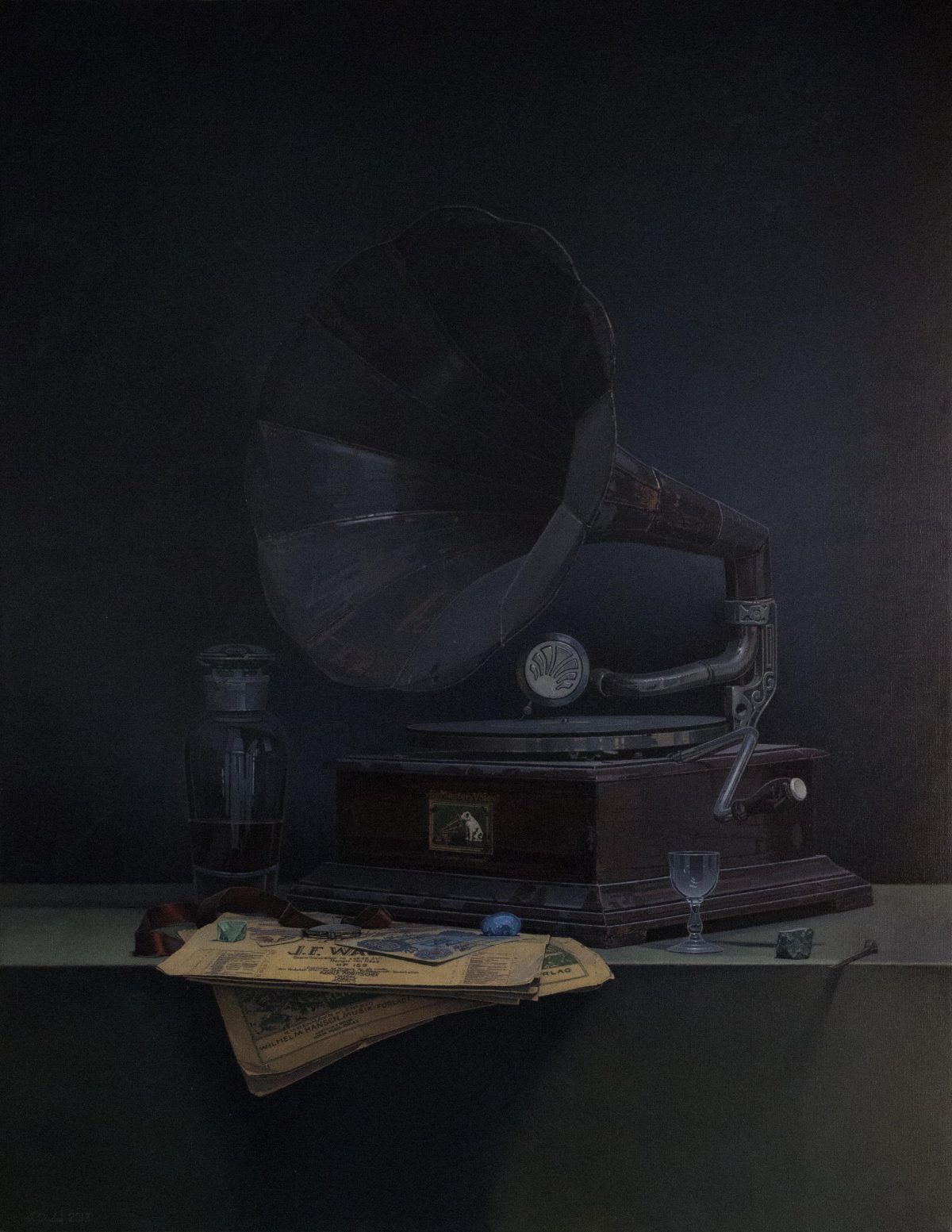 Perhaps it's the richness of tones and values in his paintings that gives the impression of frozen time. In his painting "Exit or Voice," a beautifully aged Victrola phonograph dominates the picture with its massive horn, and Skudal has managed to bring out the most subtle shifts in the dark zones of the scene. He likes to hang on to the light and work his way down into the darkness without going completely black, and excavate the nuances, he says.
"I try to paint the intermediate tones, to respect and understand them," he said.
In this scene, his wife's grandfather is present, in the form of an urn, but also represented by a schnapps glass, just below the phonograph. The rusty nail is a reference to the opera singer Luciano Pavarotti, who always kept a crooked nail in his pocket during performance, as a kind of talisman. Similarly, Edvard Grieg, Bergen's great composer, always kept a small, green stone frog in his pocket when he performed as a pianist or conductor, referenced by the green rock in this painting.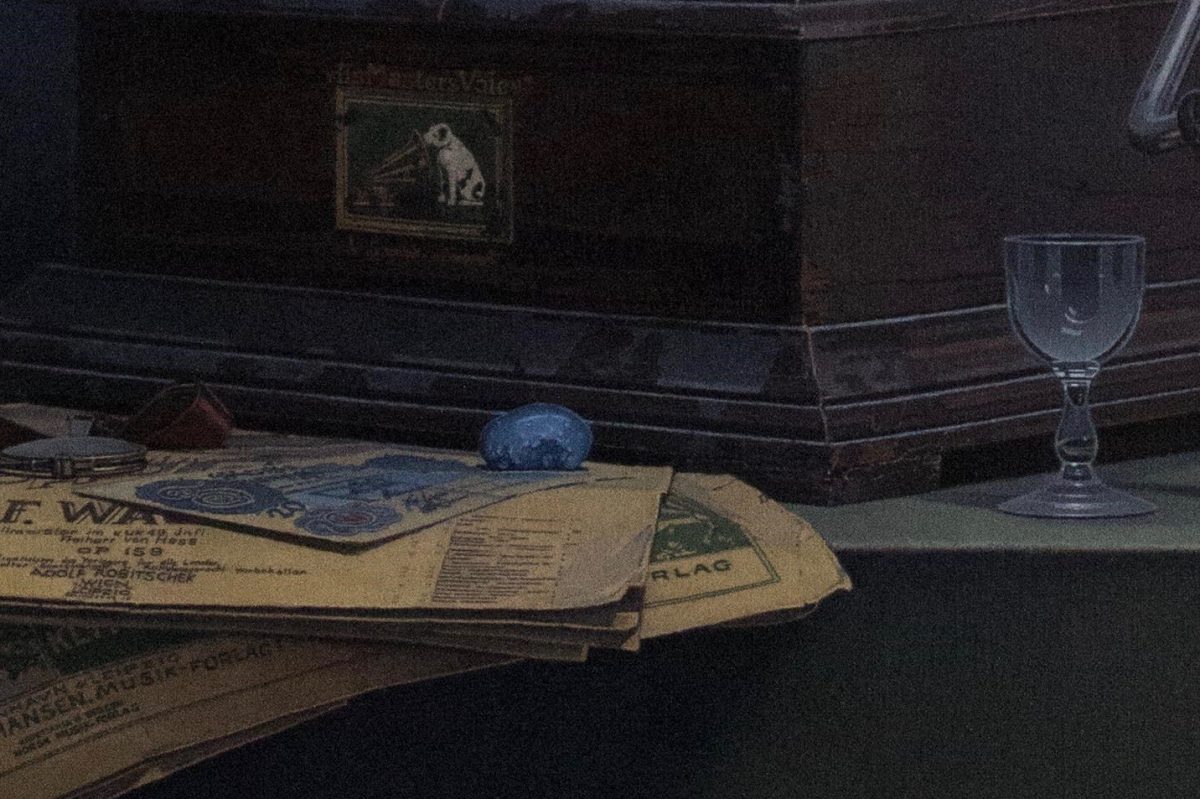 You can almost smell the incredibly detailed sleeves of the old 78 rpm records jutting out from the table. When you get up close, you realize that even the tiniest letters are present on the canvas. But at the same time, all details are carefully balanced with the whole.
"For me, everything should submit to the whole," Skudal says. "Everything I put in there is seen in relation to what's already there. That is, the different elements of the picture should not compete with each other."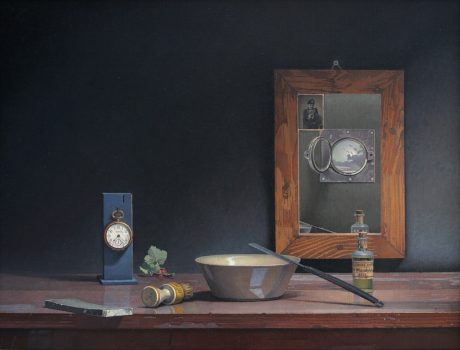 A Balancing Act
His whole painting process is a finely tuned balancing act, where opposites are juxtaposed: something light, something heavy; something hard, something soft. There is darkness and light, and the richness of various textures. These decisions are present from the very beginning, when he builds his compositions, and since every brush stroke changes something in the picture, the decisions continue all the way to the end.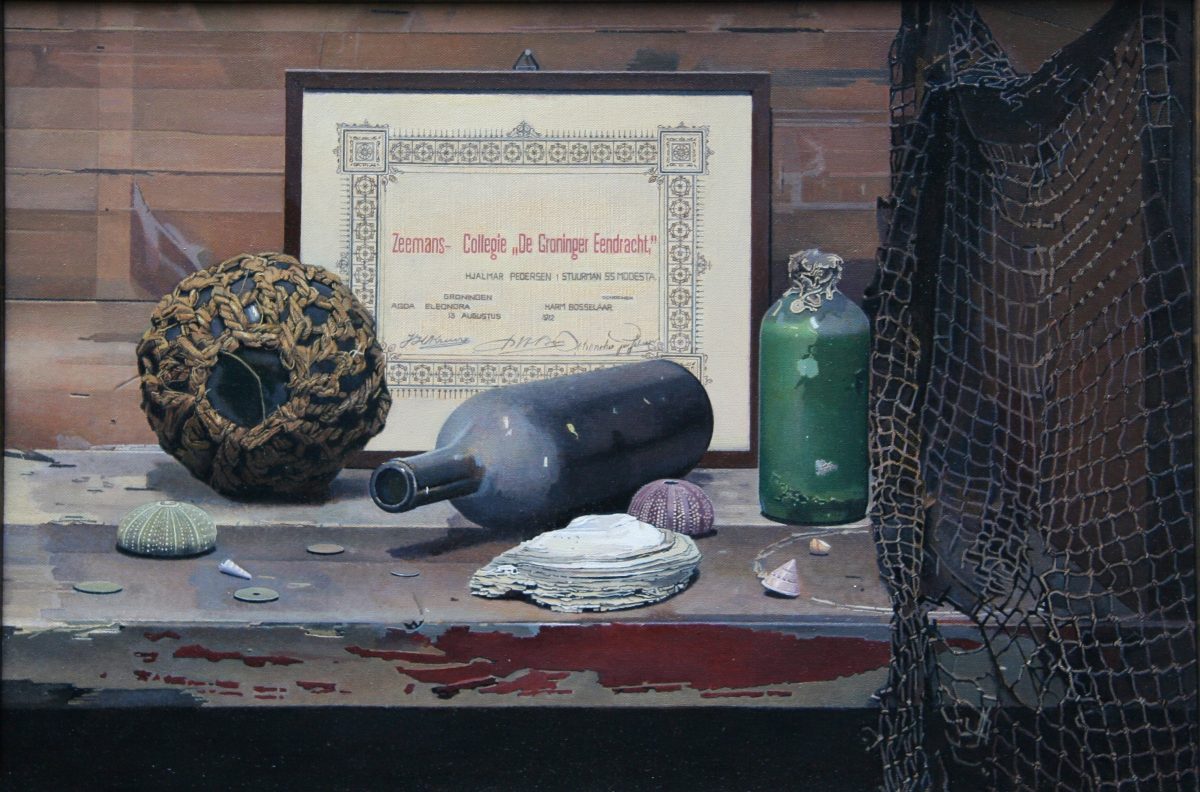 In the April 2015 issue of International Artist, Skudal describes his painting process in detail. Among other things, he emphasizes the importance of the basic drawing, the rhythm, and different textures in the composition. Rhythm refers to the relationships and distances between objects. He can spend considerable time placing the different objects in just the right relation to each other, so that they support his basic idea and don't make too large or too small a claim on the overall image.
Skudal likes to think of images as a universal language, capable of communicating and giving something to another person.
"Painting is important today, when everything is changing so fast," he says. "When you have a painting on your wall, you can find peace in it."
"It's well-made; it enriches me. It gives me something," he says.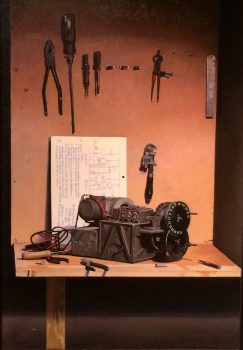 About the Artist
Atle Skudal was born in 1972 in Kamroy, north of Stavanger in southwest Norway. He works in the classical tradition of painting, drawing, and graphics.
From 1997 to 1999, he was taught by Odd Nerdrum, and from 1999 to 2003, he attended Florence Academy of Art, his last year, 2002 to 2003, as a student teacher. Since 2005, Skudal has worked with mezzotint, a graphic printing technique that he learned from the Norwegian artist Erling Valtyrson.
Skudal has participated in several international exhibitions and competitions and has had solo shows in Norway and the United States. This year, he was a finalist in the international Art Renewal Center salon. In 2017, he was featured in an exhibition celebrating the Norwegian Queen Sonja's 80th birthday in Oslo.
He has a painting in the Birger and Annie Mowinckel Collection, as well as in Eidsvoll Museum in Norway, the latter a painting of one of the founding fathers of Norway's 1814 constitution.