Just weeks after the U.N. Security Council imposed new sanctions on North Korea over its nuclear weapons program, the regime admitted that the restrictions were having an impact.
The new sanctions were passed on Sept. 11 in response to a sixth underground nuclear test by North Korea. They ban all natural gas sales to the North, limit the amount of oil that can be sold to the country, and ban its exports of textile products.
President Donald Trump, who pushed for the sanctions, originally had wanted a complete halt to the sale of oil, but received pushback from Russia and China.
North Korea's state media said on Sept. 29 that the sanctions are causing a "colossal amount of damage." The media also threatened the United States with extinction.
It is a rare admission by the North Korean regime—which frequently prides itself, in its propaganda, on being a model socialist nation that is indispensable to the world—of the effects of sanctions.
Secretary of State Rex Tillerson said while visiting China that new sanctions imposed on North Korea are starting to have an effect.
"The Chinese are also telling us that it's having an effect, and they have a pretty close-up view of it," Tillerson said during a joint press conference with U.S. Ambassador Terry Branstad on Sept. 30.
Dictator Kim Jong Un has relentlessly pursued the development of nuclear weapons. The program was initially started by his grandfather, Kim Il Sung, and further advanced by his father, Kim Jong Il.
North Korean state media reported last month that its state nuclear program is nearing completion.
The regime has a history of continuing its expensive nuclear program despite the great suffering experienced by its people. At least 1 million people have died from starvation and disease in North Korea over the past 10 years, according to the U.S. Commission on International Religious Freedom.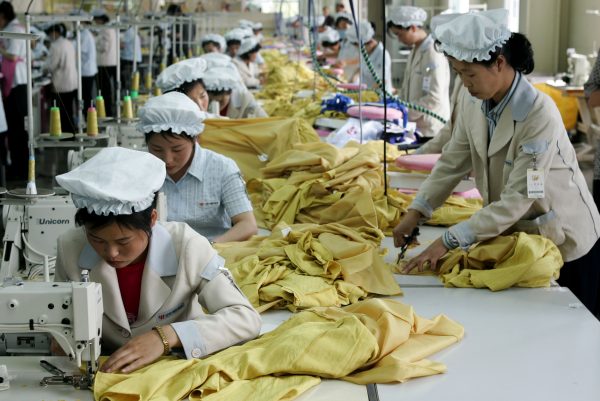 A former guard at one of North Korea's prison camps said in a witness testimony released by the U.S. State Department on Aug. 25 that many of those imprisoned are like "walking skeletons, "dwarfs," and "cripples in rags."
The regime spends up to 24 percent of its gross domestic product (GDP) on military expenditures, according to the most recent numbers from the State Department.
By comparison, NATO members have a target of spending 2 percent of their GDP on defense each year, with most members falling short of that. The United States spent 3.6 percent of its GDP last year on defense.
While visiting China on Sept. 30, Secretary of State Rex Tillerson said the United States has up to three direct lines of communication with North Korea at the moment.
"We can talk to them. We do talk to them," Tillerson said.
Trump said on Twitter on Oct. 1 in response to Tillerson's comments that he'd told him "he is wasting his time trying to negotiate with Little Rocket Man," referring to Kim Jong Un. "Save your energy Rex, we'll do what has to be done!" Trump wrote.
I told Rex Tillerson, our wonderful Secretary of State, that he is wasting his time trying to negotiate with Little Rocket Man…

— Donald J. Trump (@realDonaldTrump) October 1, 2017
Sen. Bob Corker (R-Tenn.) also dismissed the idea that talks with North Korea would result in an end to its nuclear program.
"[Tillerson's] working against the unified view of our intelligence agencies, which say there's no amount of pressure that can be put on them to stop," Corker said.
Kim sees nuclear-tipped intercontinental ballistic missiles as "his ticket to survival," Corker said.
Speaking at the U.N. General Assembly last month, Trump said that while the United States has "great strength and patience," it would "have no choice but to totally destroy North Korea" if it is forced to defend itself or its allies.
America's highest-ranking military officer, Chairman of the Joint Chiefs of Staff Gen. Joseph Dunford Jr., said that it should be assumed that North Korea has the ability to strike the United States with a nuclear-armed missile.
"Frankly, I think we should assume today that North Korea has that capability and has the will to use that capability," Dunford said before the Senate Armed Services Committee on Sept. 26.
China
Under pressure from Trump, China has agreed to impose stricter sanctions on North Korea. On Sept. 28, China gave North Korean companies 120 days to close down.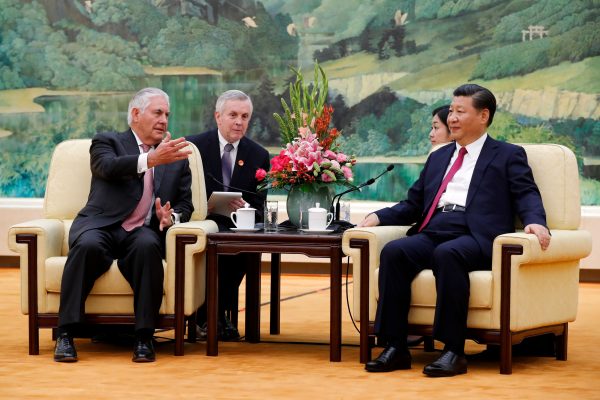 China's Central Bank also instructed other Chinese banks to no longer provide funding to North Korea.
China's recent moves have been praised by Trump, who has described Chinese leader Xi Jinping as a friend.
Communist China is a vital lifeline to North Korea, which relies on it for trade and funding. China has been instrumental in the development of North Korea's nuclear program.
However, under Xi's rule, things are appearing to change. Close relations with the North mainly had been cultivated by former Chinese communist dictator Jiang Zemin. While Xi is officially in power, Jiang still controls parts of the regime through his loyalists, limiting Xi's ability to implement reform.