China has given North Korean companies 120 days to close down. The announcement was made by the Chinese regime's commerce ministry, reported The Korea Herald on Sept. 28, and will also end China–North Korea joint ventures.
China's central bank also recently told banks to implement the United Nations sanctions against North Korea, according to Reuters on Sept. 21. Chinese banks were told to deny services to new North Korean customers and to wind down loans to existing North Korean customers.
The move follows sanctions passed by the U.N. Security Council in response to North Korea recently testing a nuclear weapon, firing a missile over Japan, and threatening to attack the U.S. territory of Guam.
China first announced on Aug. 14 it would support the U.N. sanctions, which prevent exports from North Korea including iron, lead, and coal. It also supported a second round of sanctions passed on Sept. 11.
Four days after the sanctions were passed, North Korean dictator Kim Jong Un fired an intermediate-range ballistic missile over Japan.
U.S. Defense Secretary James Mattis responded on Sept. 15, saying the United States stands by its allies including Japan and South Korea, and that "we remain prepared to defend ourselves and our allies from any attack or provocation and to use the full range of capabilities at our disposal against the threat from North Korea."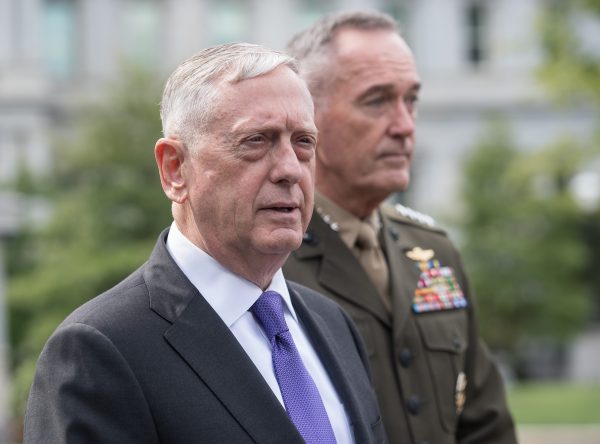 Soon after, President Donald Trump spoke with South Korean President Moon Jae-in. Trump said on Twitter on Sept. 17 that he'd asked Moon "how Rocket Man is doing."
"Long gas lines forming in North Korea. Too bad!" Trump wrote.
I spoke with President Moon of South Korea last night. Asked him how Rocket Man is doing. Long gas lines forming in North Korea. Too bad!

— Donald J. Trump (@realDonaldTrump) September 17, 2017
The next day, on Sept. 18, Trump spoke with Chinese leader Xi Jinping about China's support of the sanctions. A White House readout stated, "The two leaders committed to maximizing pressure on North Korea through vigorous enforcement of United Nations Security Council resolutions."

The United States, Japan, and South Korea proposed to cut off North Korea's oil supply—an act that Japanese financial newspaper Nikkei Asian Review said on Aug. 30 would "strike at the lifeblood of Pyongyang's weapons programs."
The oil ban was not included in the sanctions, however. The Chinese regime supplies close to 90 percent of North Korea's documented crude oil supply.
In the past, the Chinese Communist Party (CCP) was North Korea's strongest defender, and provided technology and equipment for its nuclear programs. However, relations between the two communist states have changed in recent years.
Former CCP leader Jiang Zemin fostered relations between China and North Korea, and these relations have been maintained by his political faction in China, which has challenged the current Chinese leadership.
Xi, meanwhile, has relatively cold relations with North Korea, and has signaled that he will cooperate with the United States and United Nations to begin dismantling China's support systems for the communist regime that were built by Jiang.