Probably no other county in the United States has as many waterfalls as North Carolina's Transylvania County in the southwestern part of the state, about a 40-minute drive south of Asheville. It's also home to the highest cascade east of the Rocky Mountains.
The heavily wooded quarter-million-acre picturesque countryside—Transylvania means "across the forest land"—encircles the pleasant town of Brevard (pop. 7,500), which Budget Travel calls "one of America's coolest small towns." The Brevard/Transylvania area is widely known by the nickname it long ago got tagged with: "The Land of Waterfalls."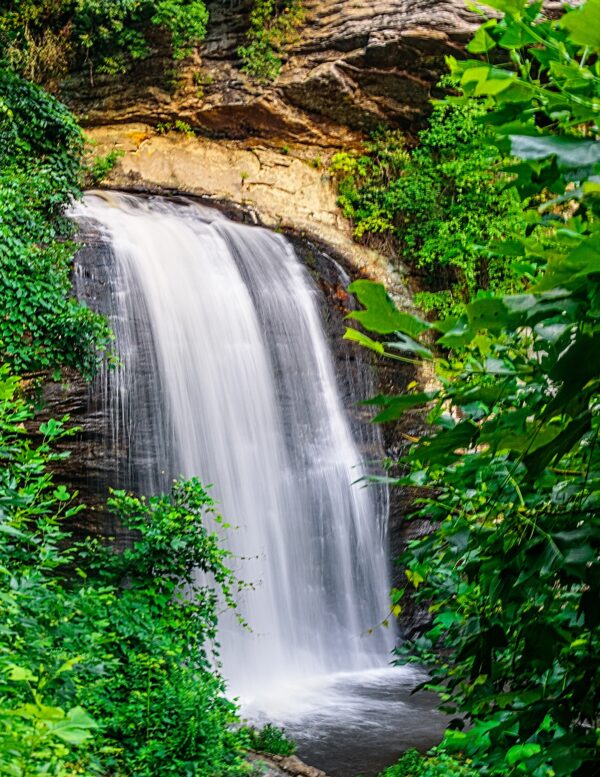 No one knows for certain how many waterfalls there are in Transylvania County, although everyone who lives in the area or has visited knowns the number is staggering. Easily more than 250, says the Brevard/Transylvania Chamber of Commerce. More like 500-plus, according to the late Jim Bob Tinsley, a local expert whose 1988 book, "The Land of Waterfalls," is a valued reference work.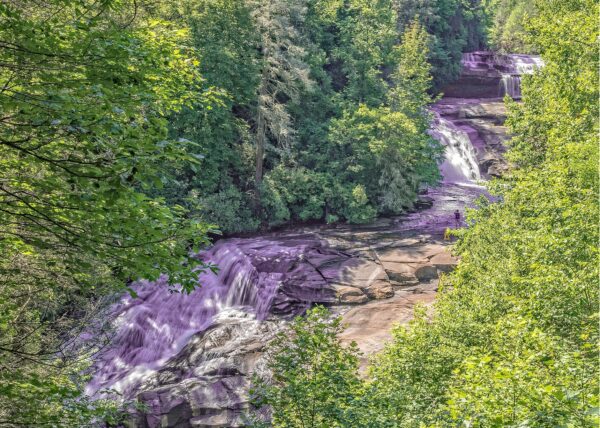 The explanation for such a wide spread in the estimated number of waterfalls, when each estimate counts only ones considered sizeable, is simply that different people define sizeable differently. Add in the not-quite-sizeable ones and the number of waterfalls along the hundreds of miles of Transylvania's tumbling streams becomes truly astonishing.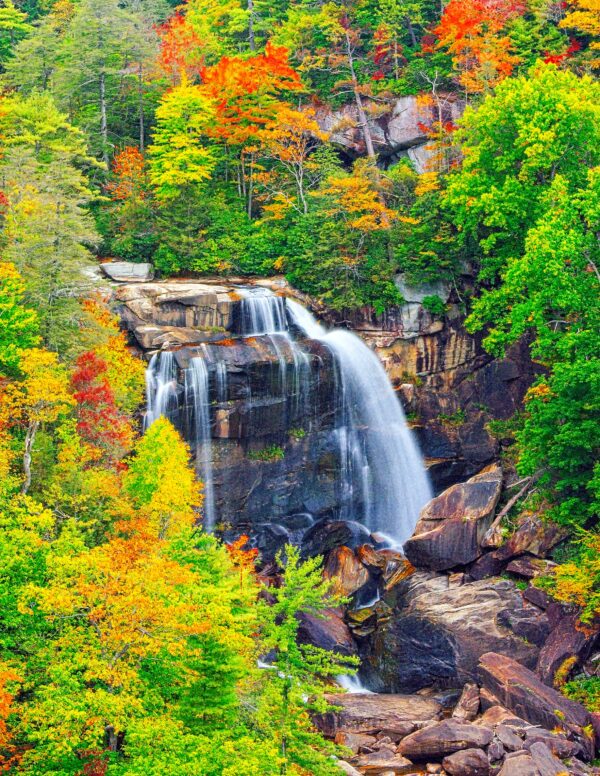 Why so very many waterfalls in this particular North Carolina county? Because its topography and its rainfall together is a perfect mix for creating a waterfalls wonderland.
Few other spots in the eastern United States contain such great differences in elevation within such a short distance. From a towering height of 6,025 feet in Transylvania's northwest section descending down to 1,100 feet in its southwest section—almost a 5,000 feet difference!—an incredible volume of water is constantly cascading through the county.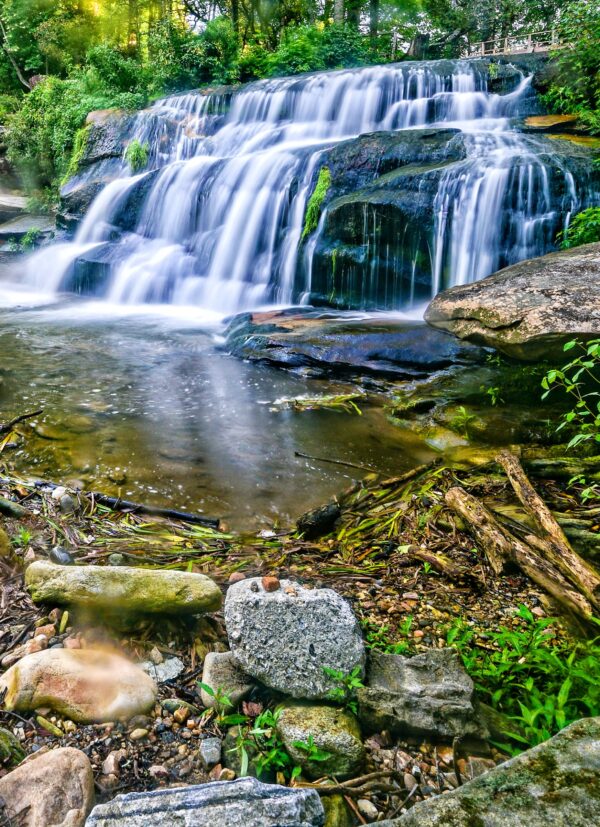 Transylvania's mountains are the first serious obstacle that north-bound low-pressure weather fronts from the Gulf of Mexico and Caribbean-area Atlantic Ocean hit up against, causing moist air to rise and cool and form clouds that release precipitation to an extent that gives this area one of the heaviest rainfalls in the eastern United States.
The fact that Transylvania has such unusually heavy forest cover—one-third of the county is public forest land; another one-third is private forest land—gives it both great scenic beauty and an exceptionally healthy watershed so beneficial for waterfalls. Its scenic beauty has been displayed in numerous television programs and in several films, including "The Last of the Mohicans" and "The Hunger Games."
Hardly any falls in this area of the Appalachians is a single drop. Nearly all are what locals call "a set of falls"—a waterfall interspersed with multiple drops above, below and alongside one another.
With such an abundance of beautiful waterfalls to view, how do you decide which ones to take in?
Easy. Visit both these websites: VisitWaterfalls.com and BrevardncChamber.org. Check out the articles, watch the videos, and download the Waterfall Guide and Travel Planner. Call 800-648-4523 to request information or ask questions.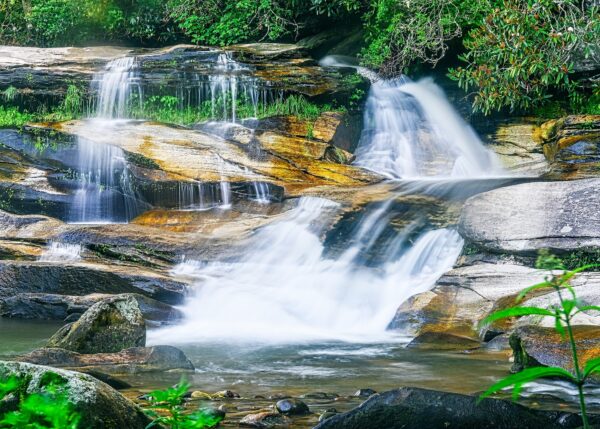 The downloadable guide, also available as a printed brochure, lists 22 of the most commonly visited waterfalls. Each is ranked by degree of effort required to view—from Park and View, to Easy Hike, to Moderate Hike, to Strenuous Hike. Directions are stated very clearly. Its map is easy to follow. Coming up with a plan that meets your time and effort limitations requires little effort.
For an even better experience you might want to consider doing what I did my last visit. For a very reasonable fee I retained for half-a-day the guiding services of Craig Miller of Miller's Land of Waterfalls Tours (Tourwaterfalls.com, 828-884-8982, kohner@comporium.net).
A 57-year-old with a degree in tourism from the University of South Carolina, he knows Transylvania and its waterfalls as few others do—he's visited 180 of them! In my half-day with him, Craig showed me five waterfalls, including one that does not appear on any list or map because it's on private land that he has obtained special permission to visit.
Besides knowing the waterfalls, he also knows photography and was spot on with his recommendations about what time of day to go—or not go—to some particular waterfalls; where the best angle from which to shoot might be; which lens or lenses to take, etc. Hearing my thoughts about ones I intended to do on my own, he nixed one because the flow wasn't up to normal, added in another, and suggested which times to be at each to view it at its best.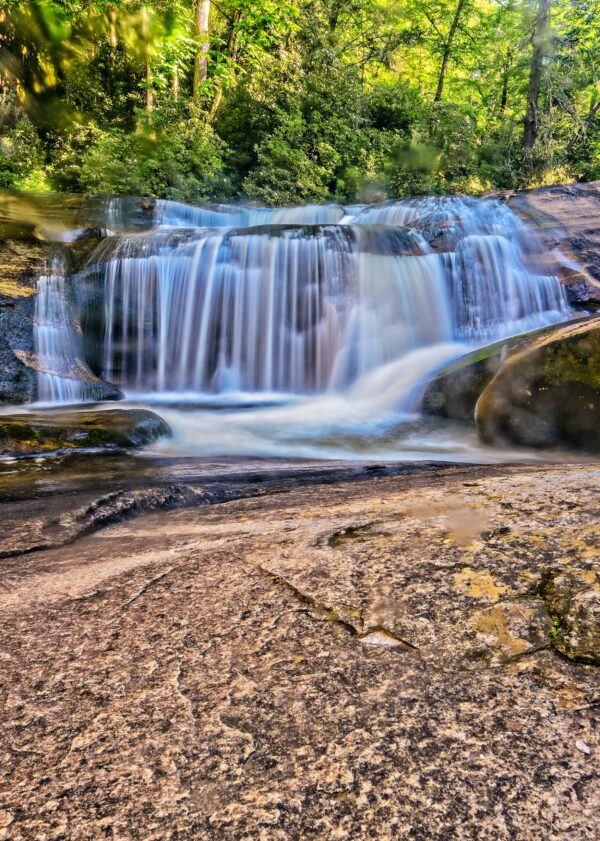 If your time is limited, or if you just want to do something extra to get the most possible enjoyment out of a visit to "The Land of Waterfalls," you should consider that a good guide can tailor a tour that's best suited to match the particular day with your preferences, including how much you feel or don't feel like hiking.
This much is certain: If you visit Transylvania County you will be able to view more beautiful waterfalls in close proximity to one another than you likely ever imagined possible.
Fred J. Eckert is a retired U.S. ambassador and former member of Congress. His writings have appeared in many leading publications, including Reader's Digest and The Wall Street Journal. He is also an award-winning photographer whose collection of images includes all seven continents.
If You Go
For information about the Brevard/Transylvania area that's known as North Carolina's "Land of Waterfalls," visit ExploreBrevard.com/thegreatoutdoors/waterfalls/ or CityofBrevard.com/239/Visitor-Information, or call 828-883-3700.
For information about nearby Asheville, visit ExploreAsheville.com or call 828-258-6129. 
For information about Linville Falls, visit Inspirock.com/united-states/linville-falls/linville-gorge-a721332745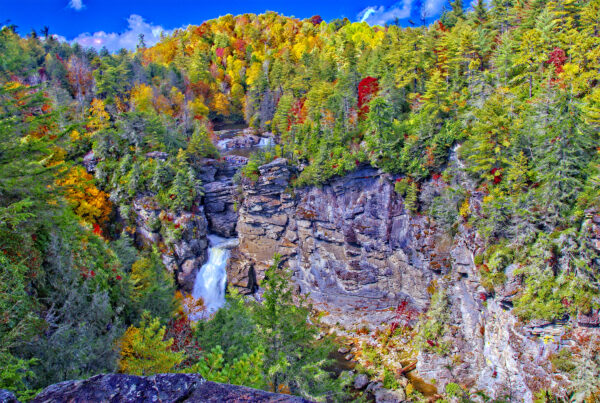 Linville Falls
If you love viewing magnificent waterfalls, then depending on where you're coming from on your drive to the Brevard/Transylvania County area or where you're heading afterward, you might also want to visit Linville Falls.
It's about a two-hour drive from Brevard. While Ashville is much closer—only about 40 minutes—and a more likely choice for most tourists, especially given the fame of its stunning Biltmore Estate attraction, whether your plans call for driving along the scenic Blue Ridge Parkway or traveling the east-west Interstate 40, it'd be a shame to pass up visiting Linville Falls. From the Blue Ridge Parkway, turn off at Mile Post 316 and you're almost there. On Interstate 40, from either the Nebo or Morganton exits, Linville Falls is about 40 miles north.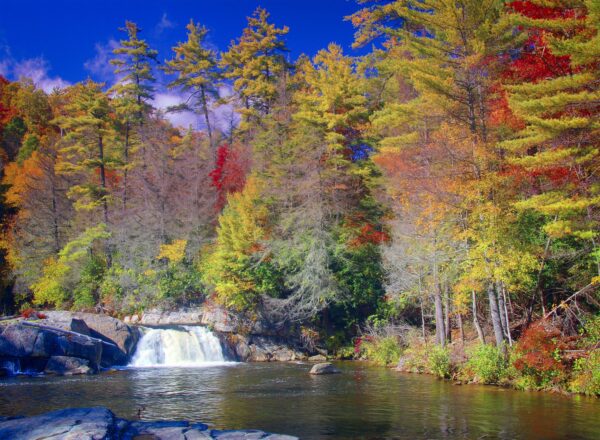 Because of its very close proximity to the Blue Ridge Parkway, this spectacular three-tiered waterfall is the most popular waterfalls in the Blue Ridge Mountains chain.
The Linville Gorge Wilderness, maintained by the United States Forest Service, is often called the "Grand Canyon of the Southern Appalachians." The third-largest wilderness area in North Carolina and one of only two wilderness gorges in the Southern United States, it covers 11,786 acres around the Linville River.
From the visitor center, two main hiking trails lead to views of Linville Falls passing through a virgin pretty forest of mixed tree species. In spring, colorful and varied wildflowers decorate the trails. In fall, beautiful red and golden leaves contrast with the green of hemlocks. Trails range in difficulty from quite moderate to strenuous. A moderate 1.6-mile round-trip walk offers hikers four distinctly different overlook views of the Linville Falls area. To help you plan which spots to check out, consult the folks at the visitor center.